This is an updated Feature Friday from 2013, with brand new pics and lots of new rooms. Enjoy!
*********************************************
Meet this week's Feature Friday, Julia from Cuckoo 4 Design, a German born mom of 2 who came to the states, fell in love and stayed. She lives in PA in a suburban home, but it's far from cookie cutter in how Julia has designed and decorated her space.  She has long been a design lover from an early age and studied that in school, so after becoming a stay at home mom, it was only natural for her to start a blog and share her home decorating progress.  I think you'll enjoy seeing it all.
With a degree in visual merchandising, Julia says art and design have always been her passion.  I'd say she has a keen eye for details!
Exterior of Julia's home, which packs a lot of punch in this smaller s.f. home.
She's made the most of her small home, packing it with personal style and pretty décor.
Julia is a DIYer all the way, working magic on her home. It's completely changed since I featured her years ago.
She mixes up patterns very nicely and I enjoy her choice of colors too.
I love this banquette dining area off her kitchen. So cozy and personalized.
The art, the light fixture and the whole vibe is so cozy and fresh.
Right next to the kitchen which she's also renovated along the way.
Of course, I love her two toned cabinets and that green shade is beautiful. Love those stools too.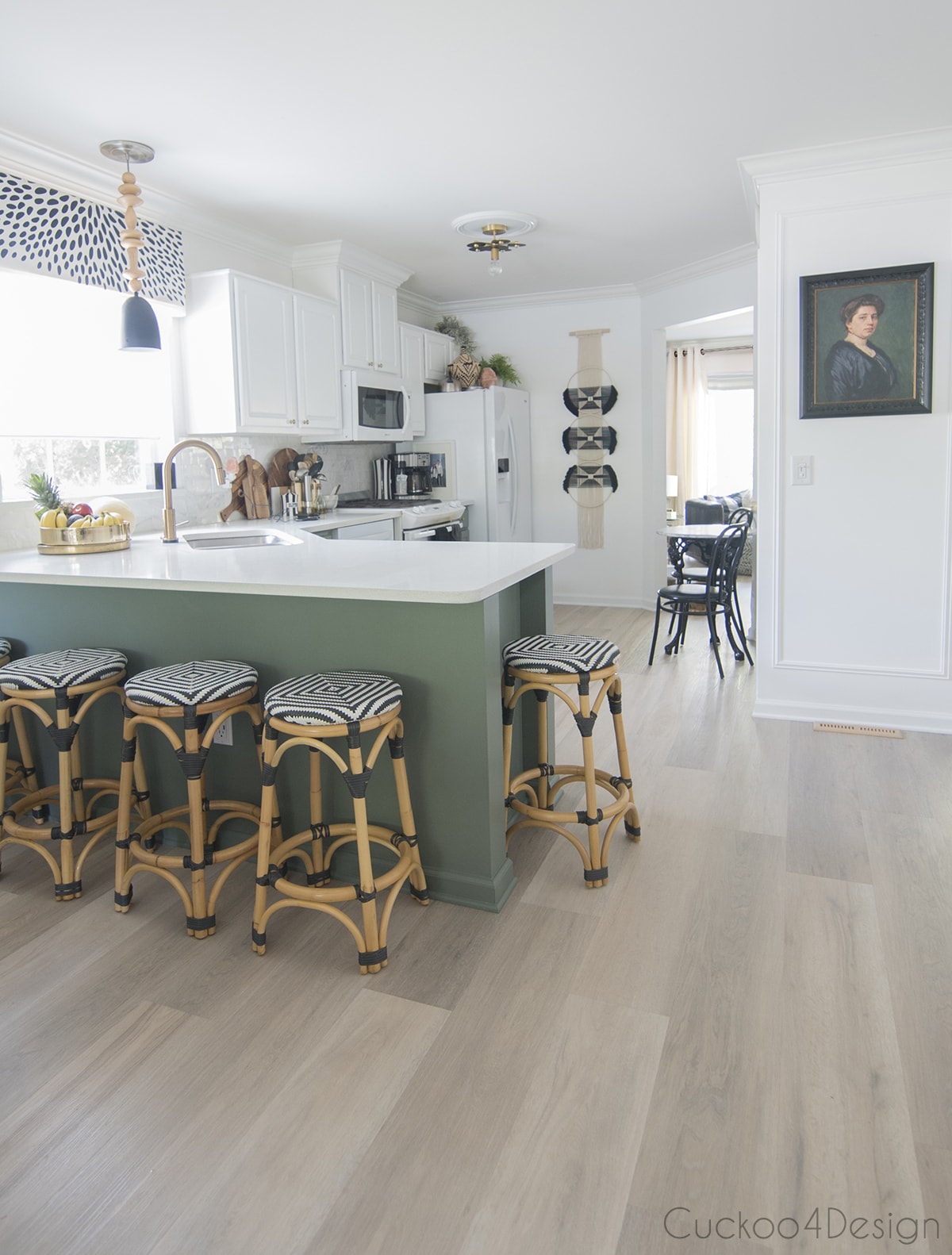 Julia has done a wonderful job in her home.
The master bedroom.
Her daughter's room
Son's room
Bathrooms are very modern and creative.
Blush and white bathroom.
Outdoors, Julia and her hubby have worked hard on their yard. Wait til you see this space!
Julia's 3 cats have their own outdoor room with these cat tunnels that Julia made for them, with a cat door out the living room.  What feline wouldn't love this kind of treatment?
A patio right outside is great for entertaining.
A small covered porch is packed full on inspiration and I love all the fabrics and how cozy it feels. Also love how she painted the concrete in black and white stripes, that's gorgeous!
Such a cozy seating spot.
Table and chairs with pretty bamboo outdoor chairs.
The next backyard feature is one that made my jaw drop. See that stock tank pool in the backyard?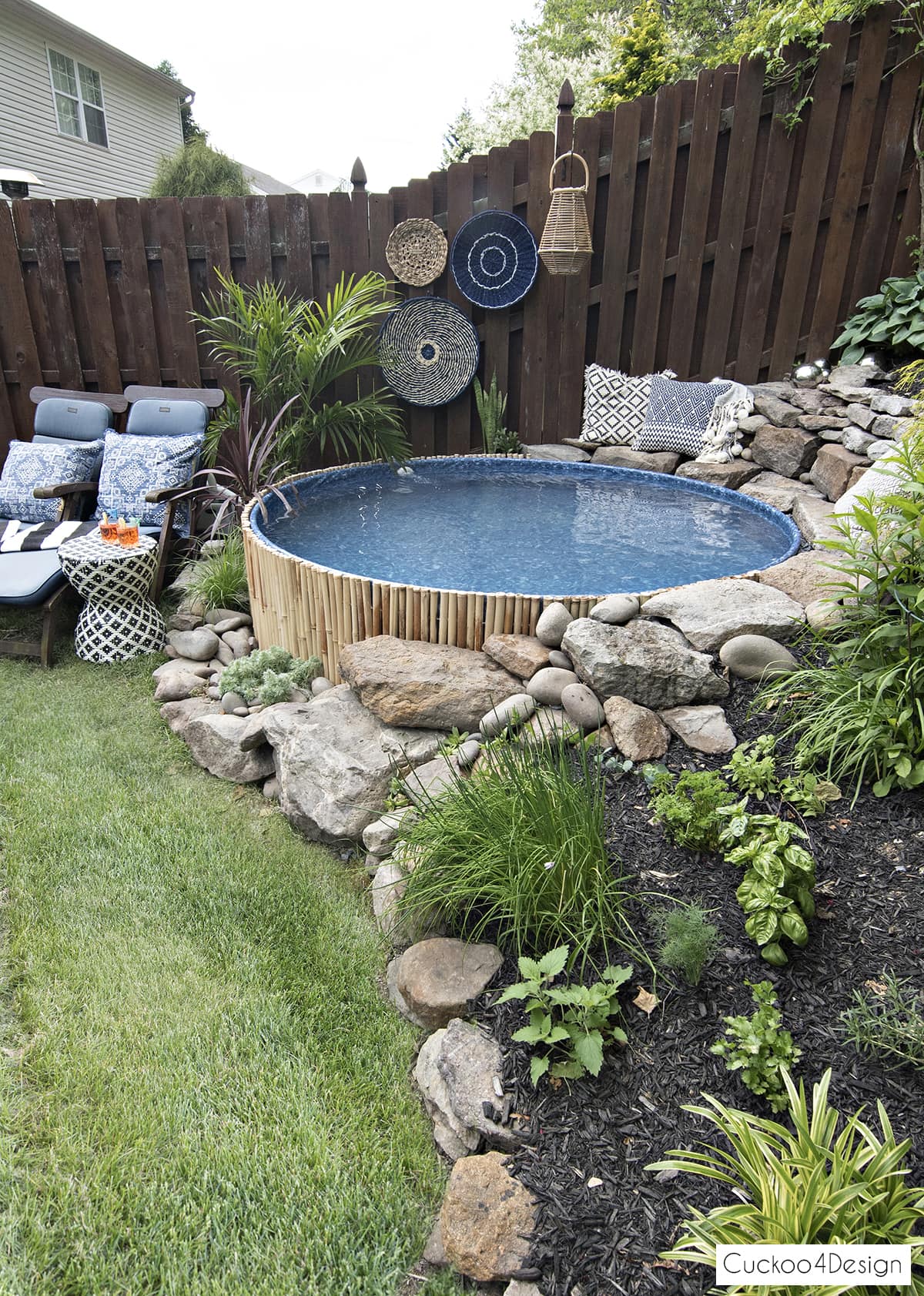 When Julia posted this a couple of years ago, I just thought it was the best idea. They have a sloped backyard and added this stock tank pool from Tractor Supply. These pools have really caught on in the last few years and you can see lots of them online. Julia's is the best landscaped one I've seen though.
The way they added rock and plants and lined the outer pool with bamboo is genius and really sets their pool apart.
Looks like the perfect spot for summer dipping. What fun!
Night time shots are equally beautiful.
I  know you enjoyed seeing another beautiful home tour by Julia. She has a wonderful eye and some fun design style:  quirky, modern and classic as well.
Don't Miss a Post, join my list!