Meet Darlene,  a new bloggie friend of mine.  We haven't met in person yet, but we will meet at Haven next year.   Darlene and family live in a nearly 200 year old farmhouse in PA.  A historic stone farmhouse to be exact which she lovingly calls Fieldstone Hill, her blog of the same name and it is beautiful.  She has lived here for 6 years and lots of renovations have taken place.  You can see her house tour here.
Darlene is an interior designer and has loads of talent.  She shares a lot of inspirational posts at her blog, a well as gives glimpses inside her old stone house.
I so love being able to look inside the homes of other bloggers around the country.  Isn't that a fun perk of the blog world?
What a beauty of a home, it just oozes charm and character.
I have never owned an old house, but I can just imagine how rewarding it would be to renovate and bring one back to life.
You just can't get old character like this in a new build.  Not very often anyway, unless old items are used.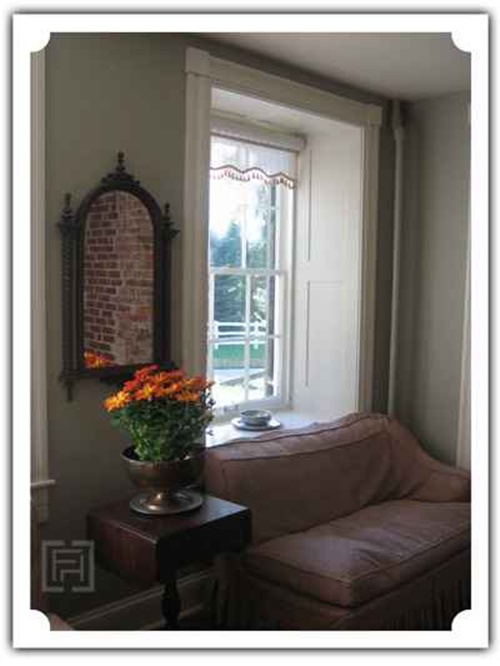 I can tell that Darlene loves her home and has enjoyed making it a haven for her family.
Stone walls inside would be a big plus.
Lovely!
Master bedroom and get a load at those beautiful old floors.
Clawfoot tub, what is not to love?
I think this is one of her boy's rooms.
And the other.
Beautiful vintage chandy.
Real vintage brick. 
You have to see what she did to her kids' room.  Instead of doing a fancy floor, she finished the subfloor with large painted squares.  See it all here!  I adore this!
Speaking of adorable kidlets, check out these 2 cutie-pies!
I imagine living in the countryside with a creek nearby is pure bliss.
Here's the house in the Winter months.  Looks just like a postcard from Currier and Ives.
Please hop over and say hello to Darlene! I know she  would love to meet you and she is the nicest person.
Don't Miss a Post, join my list!