My friend, Debra with Bungalow and I go way back as online friends and have shared a lot of decorating inspiration together over the years.  When I saw her newly done outdoor patio space, I just had to share it with all of you, just in case you missed it.
I've had outdoor rooms on my mind all spring and summer, since creating my own porch space on our deck, which I'm SO enjoying by the way, and Debra's turned out SO cute too.  Her colors of turquoise and lime green were actually at the top of my list too for fave colors until I found another fabric that floated my boat. This color combo is hard to beat!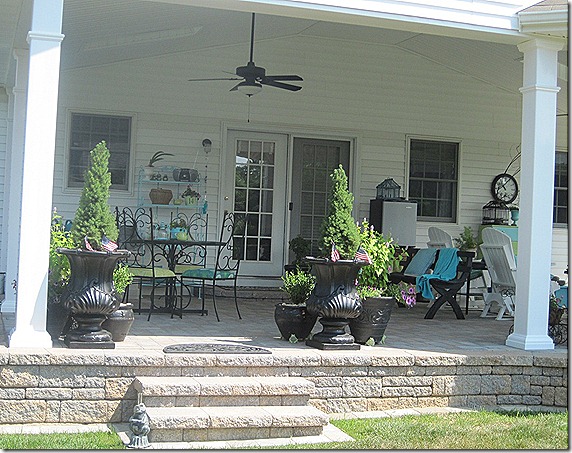 Debra has a really nice large porch at the back of her house, with a beautiful stone work around the edge and those columns are just gorgeous too.  And she has a roof over it, which is a huge plus.  Lots of space to entertain here.  You can click on the above link to Debra's blog to read all the details on this space.
This swing looks so inviting and I love how she covered the chain in some yummy fabric.
And painted this old child's desk in lime green for a nifty plant stand.
This old dresser was rehabbed in both colors to serve as storage space for all her outdoor linens.  How clever is that?
A graphic rug anchors it all and I love the white Adirondack chairs with their cozy new cushions.
Looks like the perfect place to curl up with a book to me.
The turquoise bakers rack hold some pretty accessories, which she found a lot of those at yardsales (she a fellow yardsale-aholic like me!).
It's all picture perfect now.
Great job, Debra!
I love the fabrics on these chairs too.  It's so colorful and inviting, a perfect summer spot.
Please go on over and say hello to Debra and I hope you got some inspiration from her beautiful new porch.
It just says sum-sum-summertime to me!
**************************************
Speaking of friends and blogging, the blogosphere just amazes me with the generosity shown among our groups.  I just have to mention this and give a huge shout-out to my friend, Richella with Imparting Grace, in NC, who gifted me with 3 outdoor furniture covers that are brand new. She had bought them and never used them and when I mentioned on my porch post that I'd like to find some covers for my outdoor pieces for Winter months, she emailed me offering to GIVE them to me and promptly mailed them out to me.
Richella, I am SO thrilled to have these covers, you just don't know, thank you SO much.  These were not inexpensive covers and I'm so happy to have them.  They will be put to good use and now I don't have to hunt down a bargain. 🙂
Blogging is a special kind of place, isn't it??

Don't Miss a Post, join my list!