I've met so many great women since I've been blogging and my friend, Emily who blogs at Décor Chick is one of them.  She's been blogging a little over 2 years and I met her at Blissdom first and then got to spend a little time with her earlier this year at the SNAP conference in Utah.  She's mom to 2 beautiful little girls and lives in Houston, TX in a really pretty home. I've so enjoyed watching Emily hone her decorating skills the last couple of years and her home has grown in style so much during that time.  She's focused in on what she loves, added lots of architectural moldings to her house and all of that really  makes her house feel homey.
And isn't that what we all want?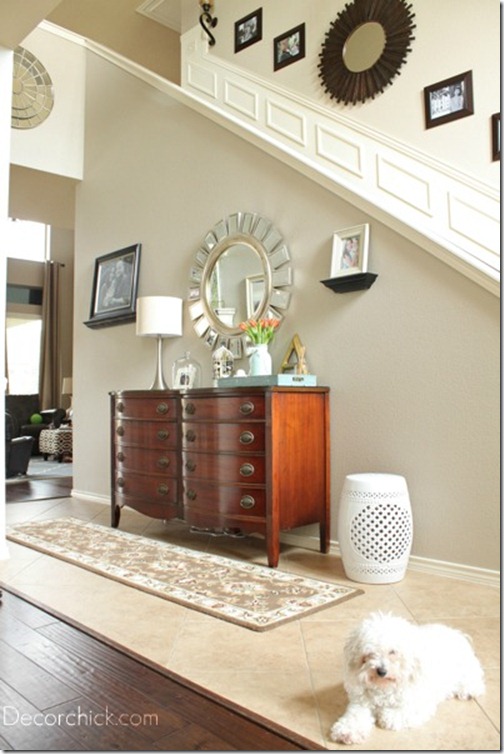 Emily's foyer is ever changing, as she found this pretty dresser and uses it as a foyer table to change out for the seasons.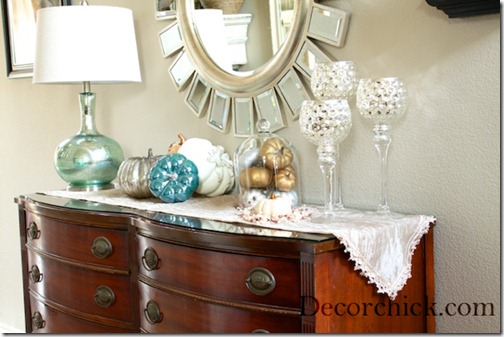 This is Fall décor.
I love how Emily has added lots of molding to her home, it's such a great way to add architectural details to a home that is missing those features.  I plan on adding more to my house too.
Her family room is another great spot that she added board and batten and see what a focal point it puts on that 2 story wall.  Adding the gallery frames is another way to personalize.  I just love this space now that she has made it over and it was a fun process to watch.
Her kitchen recently got a new backsplash and it's lighter and airier now.
Pretty!
Breaksfast room with neutrals and textured.
She decided they didn't need a dedicated dining room, so she turned it into a home office and it's so pretty.
Love the colors in here too.
The laundry room got a makeover with beadboard and some pretty colors.
Her oldest daughter's room, pretty in pink.
And her stepson's room got a board and batten treatment too.  It really does add a lot.
The new baby, Ellie, to her own Scrabble tile wall and this is so cute.
More board and batten in the game room.
And another great idea for adding architectural details.  Just go up on a plain doorway and add crown molding.  I'm taking notes!
Outdoors, their back patio got a nice makeover with the addition of the roof and columns and now this is one beautiful entertaining area.
She found the wicker on Craigslist and now it's a cozy spot retreat.  Emily  loves shopping thrifty and making things over and she's made a beautiful home for her family with all the details and decorating ideas.
Hope you enjoyed seeing how a family in Texas lives and some ideas you might incorporate in your own homes!  I know Emily, the Décor Chick would love it if you stopped over and said hello!
Don't Miss a Post, join my list!