Jennifer with Dimples and Tangles has been blogging for 3 years now, but somehow I just found her recently.  There are so many bloggers now that it's impossible to keep up with them all, but when I find some talent out there, I love to feature them and Jennifer has loads of style. She and her family hail from Edmond, OK and she is a pastor's wife with 2 children, a boy and a girl.  I love her eclectic yet traditional style and the way she has put her home together.  She's not afraid of color either, love that!
The lovely red brick exterior with black accents.
Her lush ferns make a nice welcome at the front door.
Inside the front foyer, you can see that Jennifer loves color and mixing patterns and she does it very well. You'll also note accents of black and white around her home, a combo near and dear to my heart too.  There's just something so appealing about black and white.
Using gold accents with black and white is really appealing and I love this black traditional dresser that she painted for the foyer. Those lamps and that mirror are stand outs too.
What a beautiful vignette in the foyer.  So welcoming and pretty!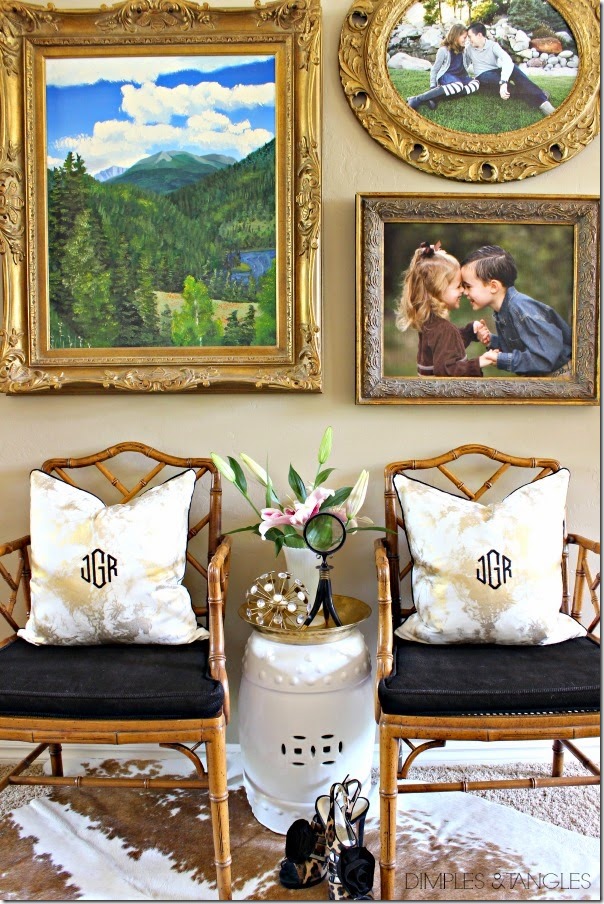 Jennifer is also an avid DIYer and found these Chinese Chippendale rattan chairs on Craigslist, giving them a facelift.  This is beautiful too!  Are you noticing all the gold accents around blogland lately?  The younger generation is discovering gold/brass all over again and making it look fresh again.  I'm glad I didn't get rid of all my gold.  You know how trends come around again.
More black and white accents in the living room.  What a cozy space!
She did a DIY on those stools adding fur and painting the legs metallic gold.
Mantel vignette.
Sofa table with lots of pretties to see.
I love her mix of pillows and accessories.
Jennifer has a great eye for details.
Love her bookshelf styling too.
Their kitchen got a facelift with painted cabinets and a new subway tile backsplash.
Beautiful space!
Peeking back to the living area from the kitchen.
Those lanterns over the island are statement makers.
The dining room with a green painted china cabinet that grabs attention.
Lovely space to dine.
The breakfast nook with a cowhide rug layered over a natural fiber rug and wow, look at that wall of framed botanicals.  Love, love it!
A pretty table setting on the breakfast table.
Her interior doors all got painted black recently and she has a wonderful display of green mirrors in a back hallway.
Stripes in black and white for her daughter's room is fresh and energizing.
A painted blue dresser is fun in the mix.
An office/media room.
And a gallery wall in the laundry room.
Her son's room with a rustic plank headboard wall is super fun and a nice mix.
Great bookcase storage too.
Out back, the fun continues with outdoor seating.  So pretty!
Lovely place to dine outside.
Especially with that pergola overhead.   Ahhh, I love those strings of white lights.  How inviting!
I  know you enjoyed Jennifer's home tour as much as I did. She's very talented and has a wonderful way of putting things together.  Go over and say hello if you get a chance at Dimples and Tangles.
Don't Miss a Post, join my list!