This house is worth another look, so I'm sharing again. I don't think Cindy is blogging anymore and when I click over I got an error message, so I'm going to link to her Facebook page. I know they moved out of this house to another one, but this house was definitely a stunner that you'll enjoy seeing!
******************************
I began seeing this fairly new blogger around in the last year or so and finally checked out her blog and am getting to know her a little better.  This pretty lady has had an online shop for a few years now, but really started blogging to share her 1970's house renovation and wow, is it a stunner. If you like French Country style, you will love Edith and Evelyn Vintage.  Cindy is the blogger and she named the blog after her late mother and mother-in-law, Edith and Evelyn. I think you're going to enjoy this renovation story!  I love to see a down trodden, good bones home come alive with new owners and Cindy and her hubby have definitely loved on this home, making it their own.
The pretty Cindy, the lady behind the blog.  She has always been a lover of vintage things and learned it from her mom and I love how she scours estate sales and finds the deals to use in her home.  It's so lovely and I think you're going to love it.
They live in Missouri, where Cindy grew up and purchased this 1972 fixer upper, a custom built home that had been neglected and had never been updated.  But, it had some amazing architecture for its time and had great bones.
The exterior even has some Old World charm and with all the hard work Cindy and her hubby did inside, they have transformed many rooms already.  I think there are a few more to go, but today I'm showing the finished parts.
You have to see the Before and After foyer pics! They've just completed this project and it is a WOW factor for sure. Their 1970's home had such great bones with iron railings, woodwork, planked ceilings and more, but the rose carpeting on these stairs had to go.  Be sure and check out Cindy's post on that for all the details.
The living room got a major makeover and Cindy put her finishing touches on the decor.
It's all cozy and calming and very inviting.
Of course, the old brick fireplace got painted as well as many of the built-ins throughout the house.
Cindy has a beautiful style and has that magic touch in all her rooms.
Doesn't this look so cozy now?
I couldn't resist showing a few Before pictures, since I know how much  hard work goes into a home renovation when you are doing it yourself.
Adding planks to the ceiling, lots of paint and trim details on the cabinets later, Cindy has one beautiful French Country kitchen now!
They splurged on marble countertops and even repurposed the original island.
It now oozes charm and quaintness.
I just adore all the details that Cindy did to this house.
They knocked down a wall between the kitchen and breakfast area. You can see all the details on Cindy's blog.
The brick round detail is original to the house and it's so charming.
They added lots of built-ins and made them special with shelving and paint.
Cindy has collected some gorgeous pieces in her thrifting journey during the years and it definitely shows in her home.  She also has an Etsy shop with lots of her finds for sale.
Peeking into the dining room.
Let's see what this space looked like before!  Wow, a time capsule of the 70's, with parquet floors (she kept those and they are charming), fancy drapes, and damask flocked wallpaper.  But it definitely has good bones.
Just look at that same view now!
What a difference lots of hard work, a good eye for details, and vintage style can do for a space.
Those original stain glass windows can now be showcased without all the frou-frou in the way.
An original brick wall and charming arch going to the family room adds such architectural appeal.  I think Cindy found a gem in this house, don't you?
The master bedroom got a huge makeover and I just love it.  Check out that planked ceiling again, sure does add a lot of character to a space.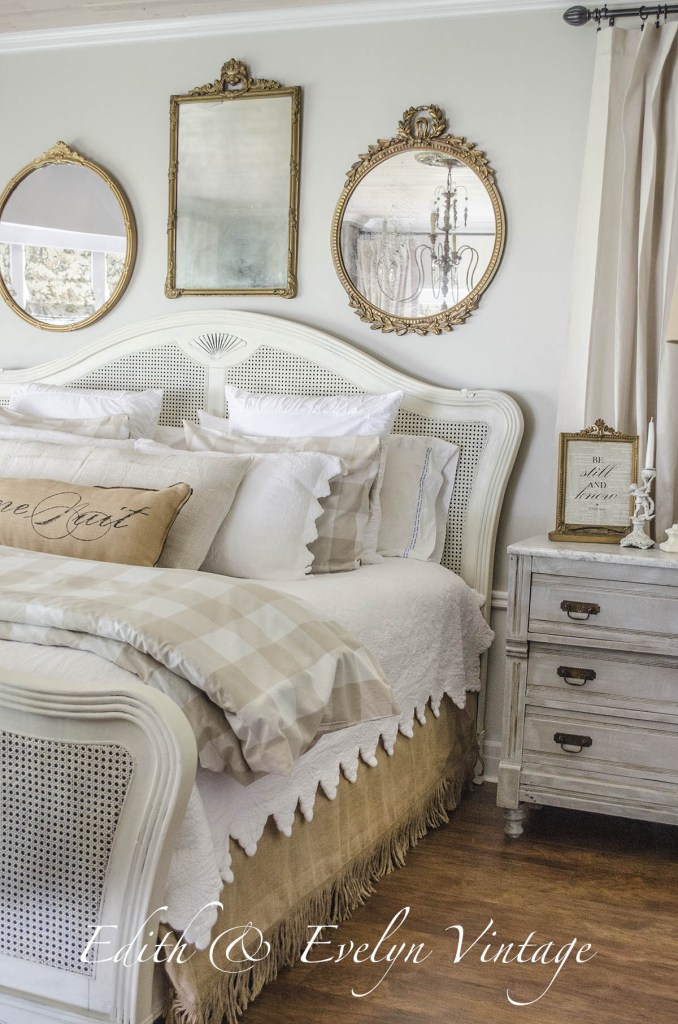 A found settee got a makeover for the window area.
They added those built-ins, but they look original.
Cindy and her hubby have created a beautiful house out of a 1970's classic home.  It has been brought up to date for the 21st century and a new lease on life. I love to see renovation stories like this!  Hope you enjoyed the tour through Cindy's home and stop over and say hello to her at Edith ad Evelyn Vintage. I know you'll enjoy checking out her blog!
Don't Miss a Post, join my list!