Today's Feature Friday is a real treat for me.  I met Emily Clark in person back in 2010 and she is such a delightful Southern gal, from Charlotte, NC.  Mom of 5, she writes a beautiful design blog of her own name and shares inspiration and creative ideas with her readers.  She's very down to earth and approachable in her design style, which is a mix of traditional and modern.  I love how she puts things together, doing it on a budget and making it look high-end and beautiful.  Emily has a great eye and she's a darling person to know, so if you haven't met her blog yet, I'd suggest you head on over for a peek.
Emily has a wonderful sense of style and puts things together so well.  I love this bold striped wall in her foyer and even a regular upright piano looks great against it.  The white gallery wall adds a punch of interest to the wall as well.
Her family room is a mix of pretty colors an textures.  Love the gray wall and how it all works together, with accents of orange and black and white.
She's got another eclectic gallery wall going in here with an array of fun prints on the wall, totally taking away from the big TV in this room.  Makes it look so much better.
Artful accessorizing.
Emily is all about repurposing old furniture pieces and has been painting things at her house too.  She's great at vignettes and colors.
Her dining room turned office is a stunner with that wall of bookshelves and her rustic desk with a mix of eclectic chairs.  That chandelier was a painted DIY project too.
Sitting area in the office.
She took off some of the doors in her kitchen for a more relaxed and casual feel.
I love this wall of windows and those beautiful drapes just highlight the backyard scenery.  Pretty spot for breakfast!
The master bedroom is a mix of colors and textures too.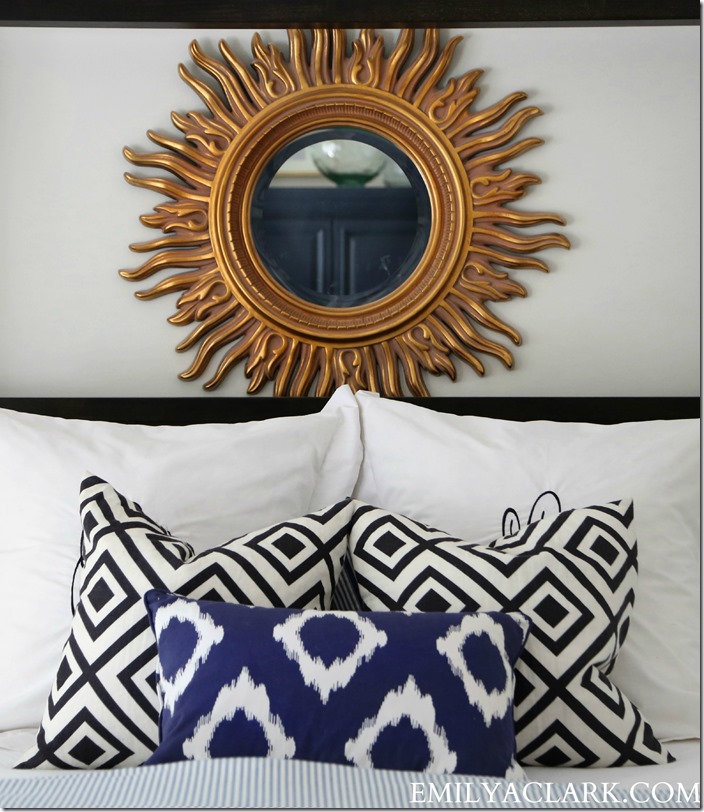 Pretty blue and white and a sunburst mirror over the bed is appealing and elegant.
She has a mix of white nightstands and a black bed, which totally works with her eclectic vibe.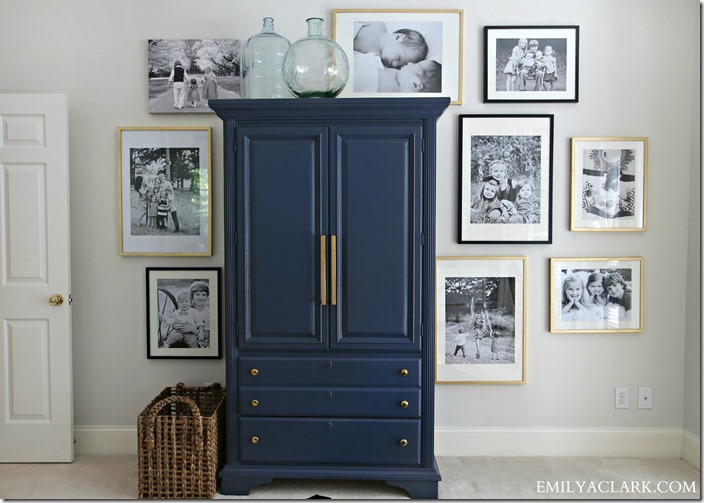 This was probably a painted piece by Emily too and it's a nice focal point for the room.  Adding family pics (of those 5 adorable kids!) around the armoire really works.  Notice they are large and not small.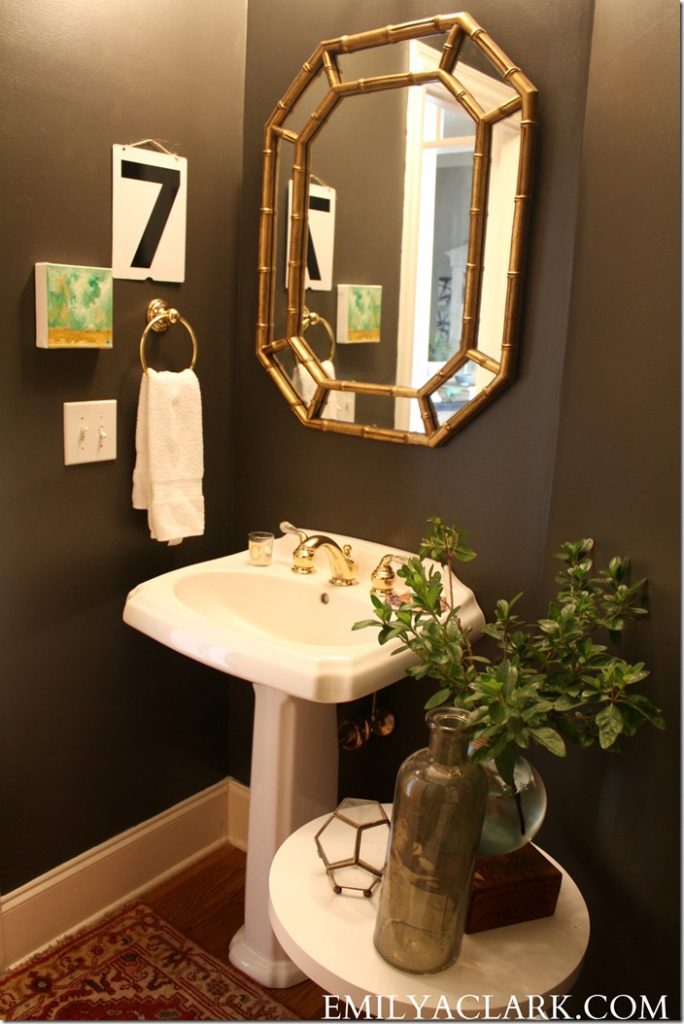 Her powder room is moody in dark brown, which is nice in a small space.  Love that gold bamboo mirror.
Sweet words of encouragement on the stairwell and I spy some kid's artwork.
Her boy's room is fun and colorful.
And the boy's bathroom is equally cute and functional.  Love the masculine and rustic feel it has.
What a pretty green vanity and those sconces work so well.  Love all the textures in here.
And last but not least, Emily's back patio space.  Wow, does that look inviting!
I hope you enjoyed the tour of Emily's Charlotte home.  I have always admired her style and how she puts things together and seeing her decorate 2 houses while we've all been blogging has been fun.  Stop over and say hello to Emily Clark!
I'd love for you to stop over and see my latest style guide at Ebay, all about creating Christmas cheer with red and green in the kitchen.  Set up a coffee/hot chocolate station and be ready for guests!
 I'm off on another adventure this weekend!  This one I'm really excited about.  I was invited to come to the Grove Park Inn for a long weekend and I'll be one of the judges for the gingerbread house contest that is held there annually.  I'm also taking my niece, Lauren, with me and she is beside herself. She's been following this competition for the last 10 years and knows more about it than I do. We are going to have a blast up there together and of course, I'll be sharing all the details when I get back! 
Don't Miss a Post, join my list!