If you haven't met Emily Clark yet, you are in for a treat today. A stylish and so adorable,young interior designer from Charlotte, NC, Emily is a force to be reckoned with in decorating a space.
I'm sharing her newly designed office space today, which she shared here on her blog recently. We are stylin' office space sistahs now! Her's is moody, fresh and modern.
Emily says this about her office space:
It had inevitably become "that room" after we moved in, where we threw all of the stuff we weren't using elsewhere.  When I decided to get serious about my design business last fall, I knew this was no place to get inspired.  So, I went to work creating a home office–on a budget, of course.
She opted for dark gray walls with pops of color to bring in some style and sophistication.  I love this green painted campaign dresser she found thrifting.  It works perfect in her space and gives it that WOW factor.
Emily used a combination of flea market, vintage finds that she personalized herself and some smart shopping at Ikea and Overstock, produced some great items for her space. 
I'll let you go over to Emily's post for all the details.  She has another post up too that answers even more questions, in case you have them.
Her aunt made the window treatments and I love the pop of texture and print on the windows.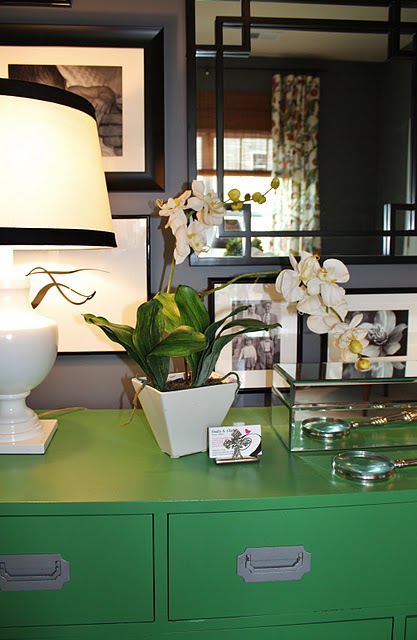 She shopped wisely and inexpensively for her room and it all came together so beautifully.   This dresser color is just genius.  Don't be afraid to go bold on a piece like this to add some modern effects to a room.
I also am partial to Emily's gallery wall.  It's so very stylish!
I hope you enjoyed seeing yet another office space done on a budget.  I just couldn't wait to share this with all of you who might not have seen it otherwise.  Having a great space to work in is the best thing!
And I hope you'll go on over and say hello to Emily.  She's a sweetheart!
Don't Miss a Post, join my list!