Today's Feature Friday is a blog friend right here in the Atlanta area, blogger Erin Spain.  She's a mama to 3 adorable boys and a busy gal who's been blogging for several years now.  She does a beautiful job in decorating her home on a budget and she and her family have been in their home, bought as a foreclosure for about 3 years.  It's a brick traditional and Erin's done a lovely job of making it a beautiful place for her family.  She's a savvy shopper and loves to paint furniture and finds deals out there that can be repurposed to fit her needs.  Come along for a tour of Erin's house.  She says it's still in progress, but here are the rooms that are finished.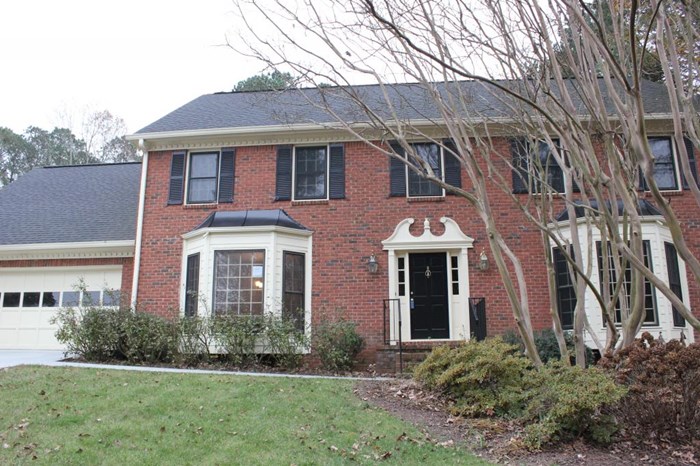 Erin's home is a lovely brick traditional in the Atlanta suburbs.
It already had really good bones (I looked at the Before pics!) and she's definitely made it her own with lots of DIY projects and decorating tricks.  Erin's style is clean lined and modern with a traditional base.
Love how she added wallpaper to the backs of her bookcases.
The fireplace was painted too to update the space.
She took on this coffee bar (aka Butler's pantry) last year and made it really gorgeous and functional with DIY marble tile and floating shelves.
Such a glam little space now!
The dining room is pretty and practical with bench seats for those 3 boys of hers.
More furniture that Erin has found and repurposed, with a mix of modern and vintage.
An antique table got a new life with a painted white base.
The master bedroom looks so pretty ad spacious.
Looks very inviting and cozy.
Erin has painted a lot of furniture and it's a great mix of painted and natural pieces.
Even her closet is glam and beautiful.
Two little boys share a room with pretty twin beds.
She's not afraid of adding color to her spaces and I love this combo of bright hues.
The nursery space for the little one.
The boys have their own playroom and Erin has added lots of fun touches in there.
Great space for kids to hang out.
Erin has an office/mom cave as well, how fun is that?!
Card catalog file cabinet holds of lot of things. I'm loving those bamboo chairs I see.
Desk and board keep things organized.
One more touch of pretty at Erin's home.
One of the most fun and hilarious posts that I've ever seen Erin do was when they hired goats to eat the ivy in their backyard, so they could gain control of it again.  Stop over and read about that one!
I hope you enjoyed this tour at Erin's house! It's all so lovely and she's done a wonderful job with her home. Stop over and say hello if you haven't been by before, I know she would love to meet you all.  Erin is a sweet gal!
Don't Miss a Post, join my list!