Back today with another Feature Friday and this one is blogger, Anita, with Far Above Rubies. We were in a home tour together this spring and I noticed her colorful and eclectic style and wanted to share with all of you.  Bold color might not be for everyone, but I love how Anita embraces her own unique style and displays it proudly in her NC home that she shares with her husband and 3 children.
I love Anita's description of her home and property and how much it means to her family….can you imagine  her land being in the family for 5 generations?
We live in a newer house on property that has been in my family for five generations in the mountains of western North Carolina. It was my great grandfather's summer home away from the heat of Hypoluxo, Florida. Some of the original structures are still here and house lots of treasures from the past. When the original victorian farmhouse was torn down, my grandfather painstakingly bundled and stored all the doors, windows, trim, stair treads, tongue and groove boards, and more, which we have been slowly restoring and adding to our house.  Now when I refer to the "old house" you'll know what I'm talking about:-) Most of my furniture, art and accessories have also been passed down, and I have added to that with items from antique and thrift stores as well as our travels around the world. Every single thing means something, and that's what makes it *home* for me.
The original Victorian that was torn down and a new one built.
Anita's charming home today in the mountains of North Carolina.  These photos are from her Fall tour last year and are so pretty!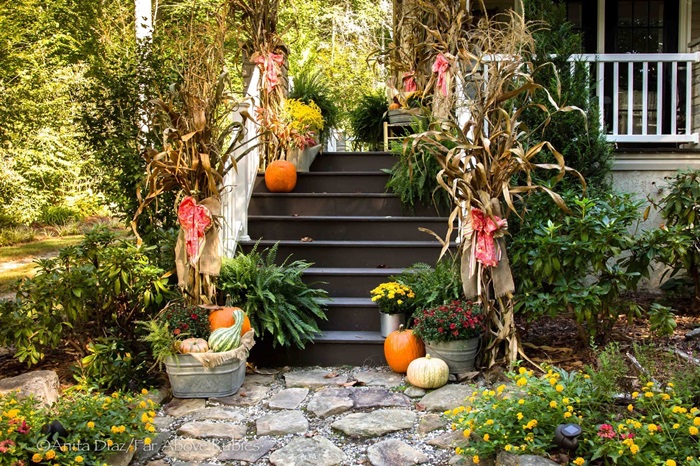 What a welcoming front porch.
Anita says that this antique Harden settle was in the house originally and had gotten sold at some point, but found its way back to her and the house.
She and her husband are both musicians and have instruments all over the house.  Anita is an accomplished singer and has quiet the resume of famous people that she has sung with.
I love that that there are so many styles and expressions of home all over blogland and Anita's is uniquely hers.
I see warm and welcoming when I look at Anita's home.
The kitchen continues with collections and eclectic beauty.
This kitchen shelving makes me smile, so charming.
Beautiful fruit and floral display on the island.
This just gets me in the mood for Fall!
The dining room houses Anita's bold pink rug and she loves mixing orange and pink.
And in her house, it all works in harmony.
Her 2 daughters share this pretty and cozy space.
And the master bedroom rounds out the tour.
I hope you all enjoyed this wonderful whimsical tour of Anita's colorful and eclectic home.  It just exudes fun and colorful hues that are so happy and inviting.  We don't all have to have the same taste in decorating to enjoy and appreciate other styles.  When I saw Anita's home, I just had to share it with all of you too!  It's a happy, happy home!
SaveSave
Don't Miss a Post, join my list!