Happy Friday!  I'm so glad it's Labor Day weekend and we get an extra day off (well, my hubby does and that's a good thing for us!) to get things done around here.  This has definitely been the hardest move, at least it feels that way. I guess we forget the pain of moving until it rolls around again, but this one has just kicked my butt.  But, everything's moved now!  I had to make sure my house was cleaned up and everything out for my step daughter to move into this weekend and so that was an extra step to get things finished.  Cleaning out the fridge and transferring things to our fridge and freezer, all of that stuff.  Hopefully we'll be able to breathe in another week or two as we began the process of sorting and unboxing and figuring out the puzzle of putting this house together.
In the meantime, I was invited to blogger day and visited the HGTV Urban Oasis house in Knoxville, TN this week and it was a nice diversion from moving for a day.  It's located in the 4th and Gill area of downtown Knoxville and is a Craftsman style 1925 bungalow.
The exterior is very striking and designer, Brian Patrick Flynn, designed the house from the exterior colors to the interior design.
He mentioned that he got some flack for this Millennial pink color that he chose from Sherwin Williams and the actual color is Hopeful. It really is a color and it seems that the younger generation is all gaga over using this shade of pink.  Not sure what that's all about, but colors definitely cycle in and out of favor.  I happen to think it's very pretty with the deep charcoal blue exterior and all the blue and white he used.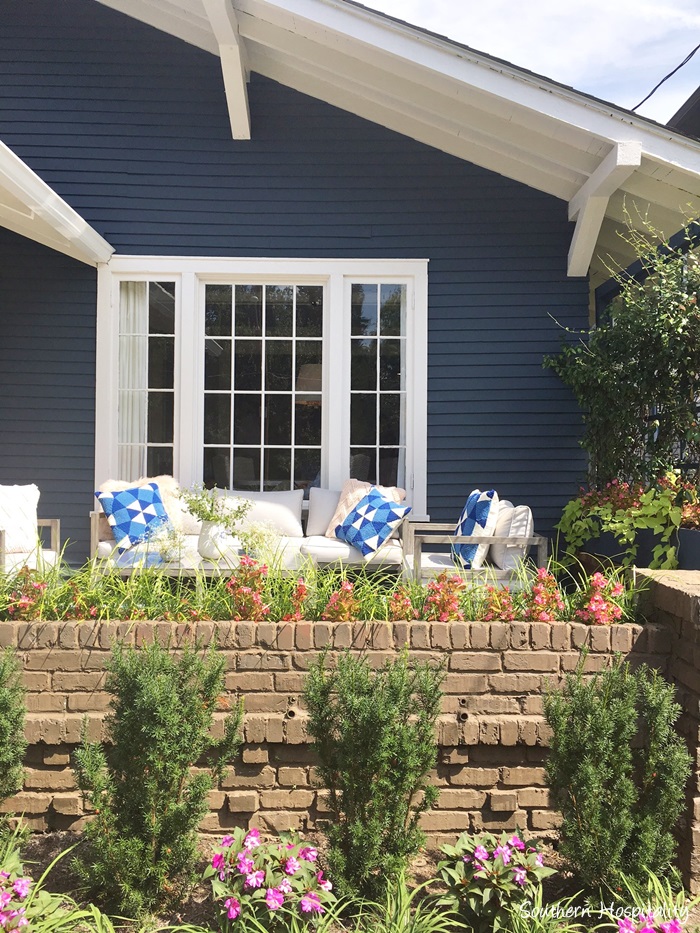 This was an existing home that the builders and architects for HGTV renovated and made over completely.
I love the porches in front and it has a very welcoming curb appeal with the landscaping and the porches, not to mention that soaring open ceiling.
Exterior siding:  Sea Serpent, Sherwin Williams
Exterior Trim:  Incredible White, Sherwin Williams
A pretty sofa is set up with pillows and comfy cushions and how about that trellis behind with a vine starting to trail.  Isn't that pretty?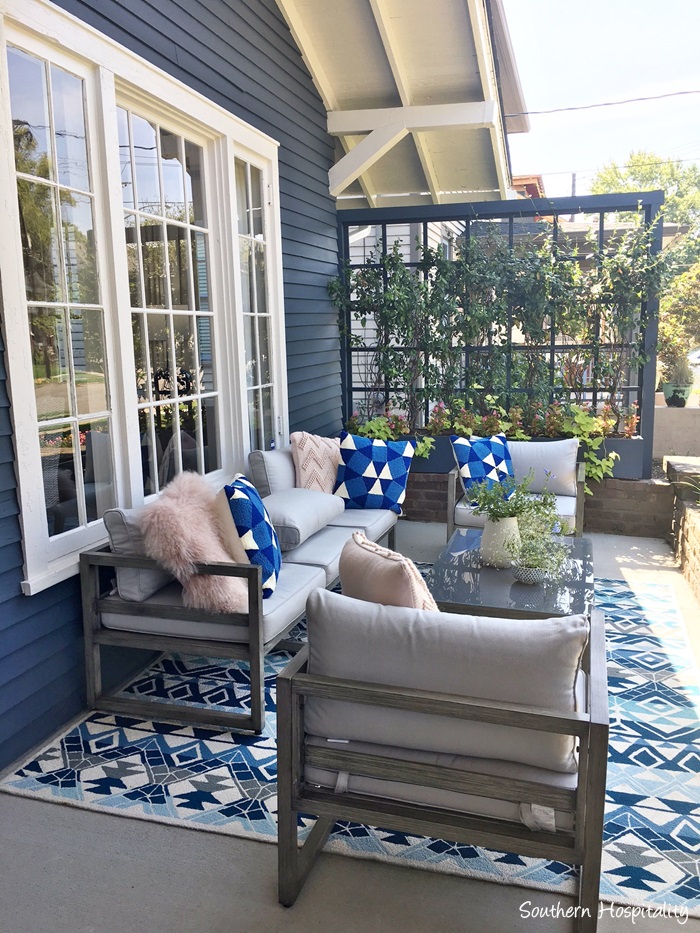 The front porch is open and so gorgeous too. Brian said that all the furnishings (or most of them) came from Overstock.com.
That pink door again (Hopeful by Sherwin Williams)!  Of course, that door was the first thing we all noticed.
Inside, Brian used lots of blue and white, because as he said, most everyone loves blue and white and he wanted to appeal to men and women. I think he hit a homerun with all the blue and white.
Living Room Walls:  Swanky Gray, Sherwin Williams
Living room chairs.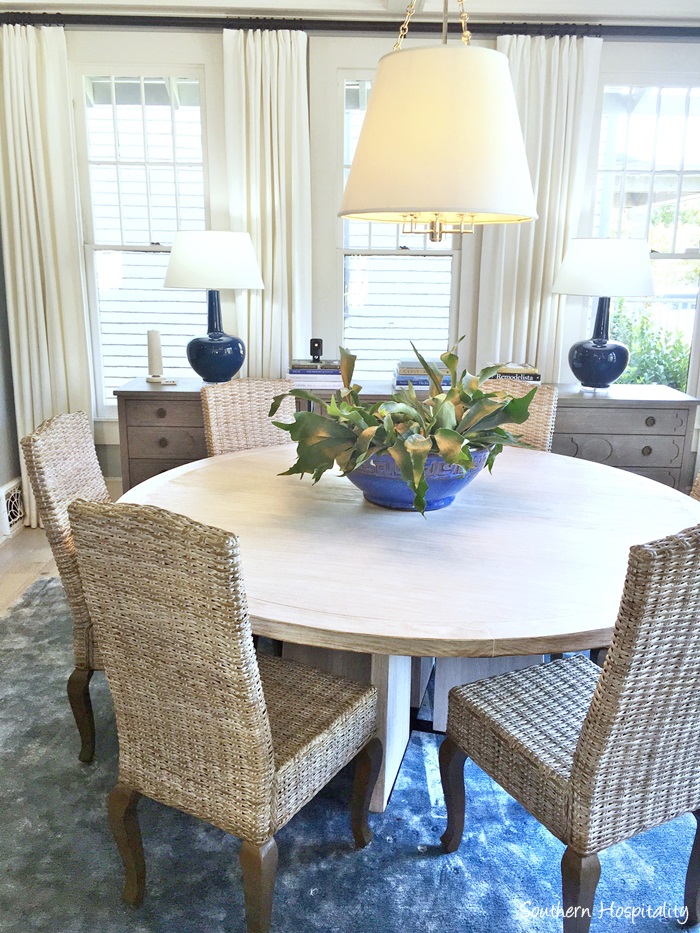 Dining area with wicker chairs and a pretty light wood round table.  And that rug is so soft and cozy…and blue.
Instead of trying to get one long buffet shipped to him, he opted for 3 chests all alike and lined them up and I think that looks nice too.  The 2 lamps anchor it all. Lots of storage in those drawers.
Dining Room Walls: Krypton, Sherwin Williams
The home is very open from the front door back with this view looking towards the kitchen.  I loved that blue chair there in the corner, he had a pair of those in the entry area.
Deep navy blue painted cabinets are topped with a lighter countertop.
Kitchen Cabinets:  Van Deusen Blue, Benjamin Moore
Notice the blue and white dishes in the glass front island.   And what an island it is, made from Walnut. Those 2 large wicker light fixtures add lots of drama to the island.
Left side of the kitchen with double ovens and the fridge.
Pretty view over the island.
And the stainless kitchen apron style sink.
Looking back to the dining room area.
Love those checked Roman shades.
Embossed wallpaper, I think?  I didn't touch this so don't know what the material is.
The existing brick wall was whitewashed to blend right in and add immediate age and character.
In the hallway, board and batten treatment adds a lot of character to the long hall with a pretty tree wallpaper above.
Wallpaper:  Woods Powder Blue
Trim:  Incredible White, Sherwin Williams
Bedroom one is masculine in feel with lots of neutrals.
Wall color:  Passive, Sherwin Williams
Trim color:  Grey Matters, Sherwin Williams
The bathroom for that room is pretty in green.
Wall color:  Composed, Sherwin Williams
Vanity:  Raging Sea, Sherwin Williams
Walls:
Three light fixtures shine down the hallway.
Master bedroom is done in black, white, and blush pink.
Master Bedroom Trim:  Tricorn Black, Sherwin Williams
Love those black and white checks.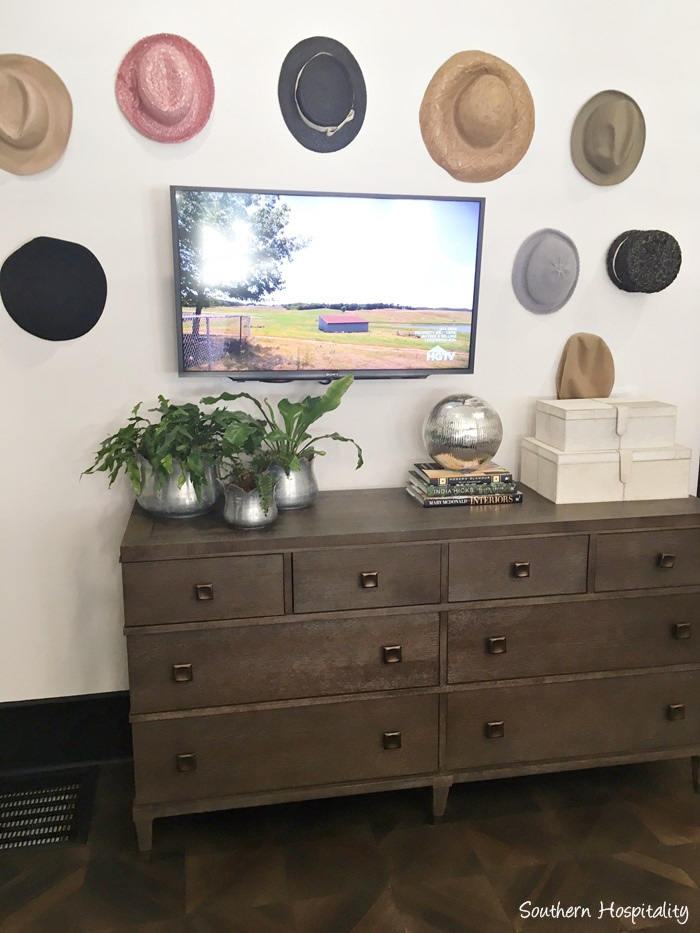 Master water closet done in Flynn Wallpaper, a floral moody black.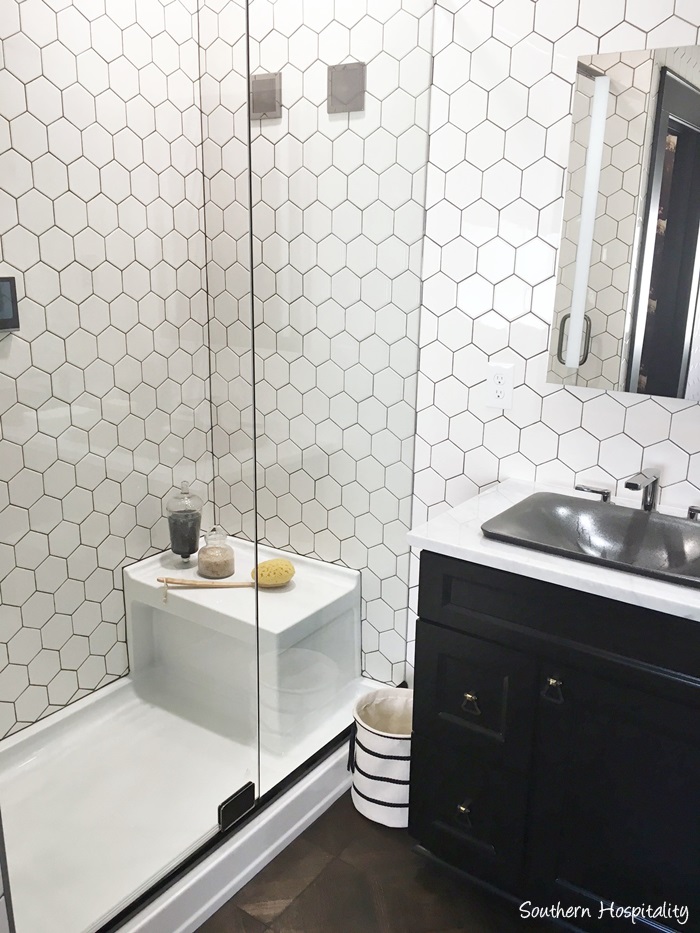 Loved the retro white tile all over the master bath.
Master vanity:  Universal Black, Benjamin Moore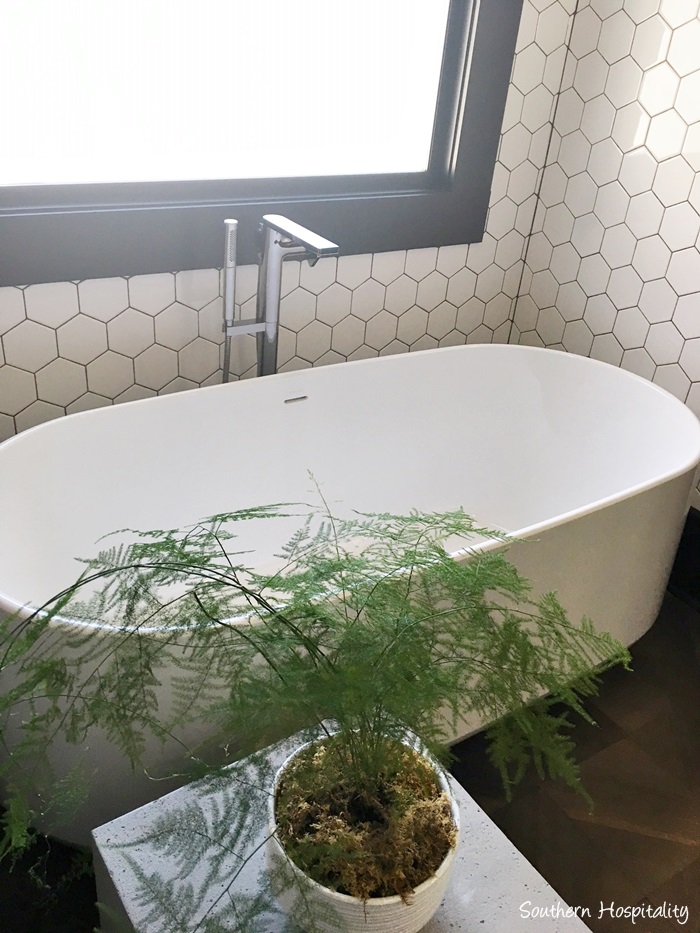 Nice soaker tub.
Closeup of the tile and those pretty pink towels.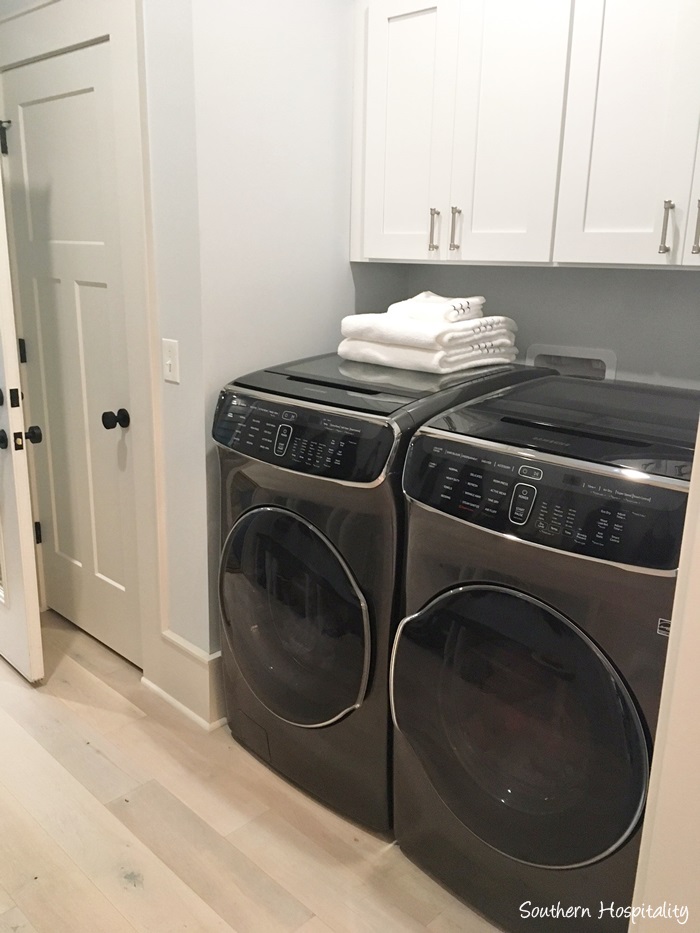 The laundry area is in the hallway heading out to the back porch.
Right next to the laundry is the 3rd bedroom, a bunk room.
Bunk room:  Incredible White, Sherwin Williams
Hallway hooks and bench in front of laundry space.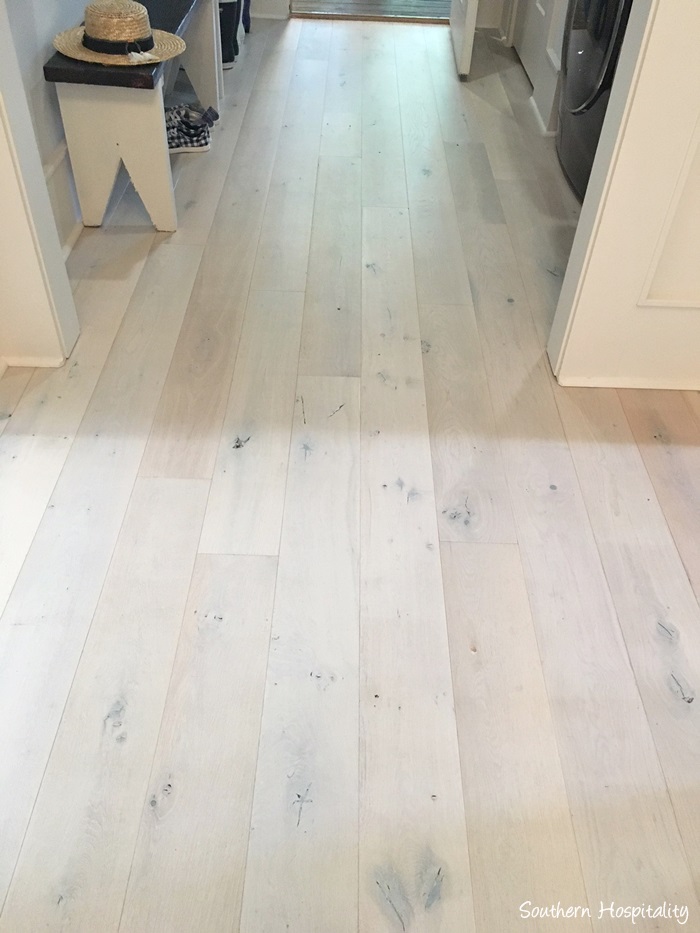 Beautiful vaulted ceiling screened porch.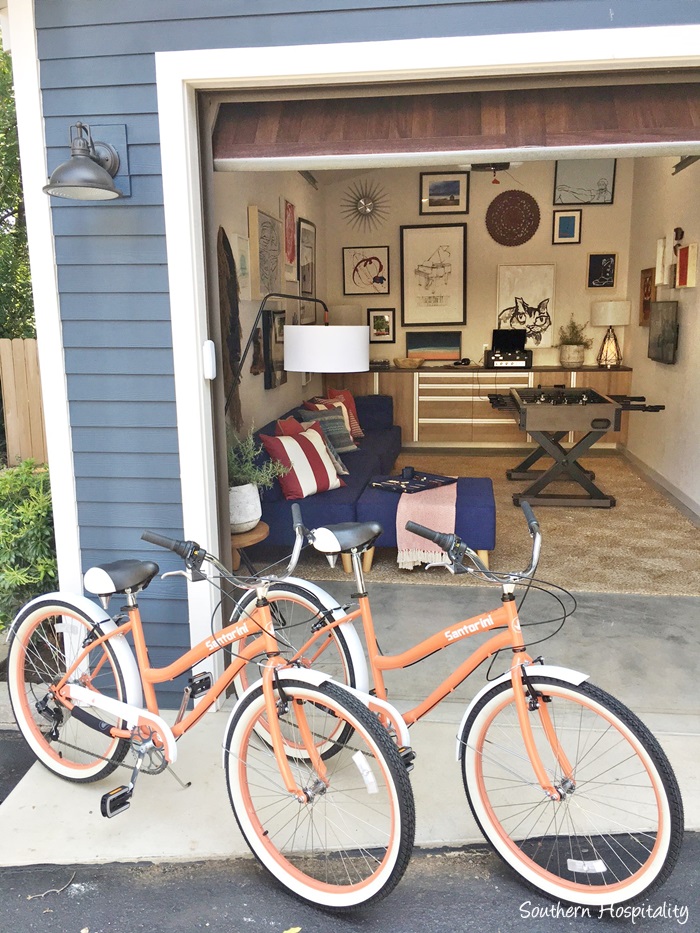 In the backyard is a one car garage, made into a fun get away space.
Hang out rec room.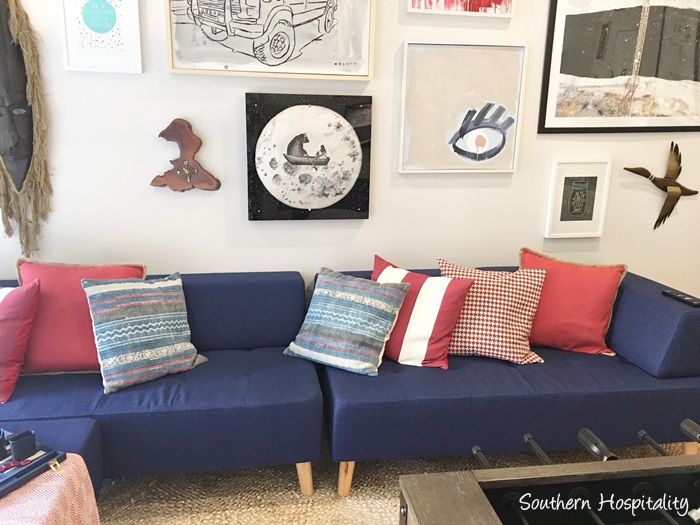 And a look back at the back of the house with the screened porch above and a covered patio area underneath.
Off the garage is this pretty landscaped area with a fire pit.
A sign on the garage gives a nod to the neighborhood.
Firepit and Adirondack chairs, perfect for Fall.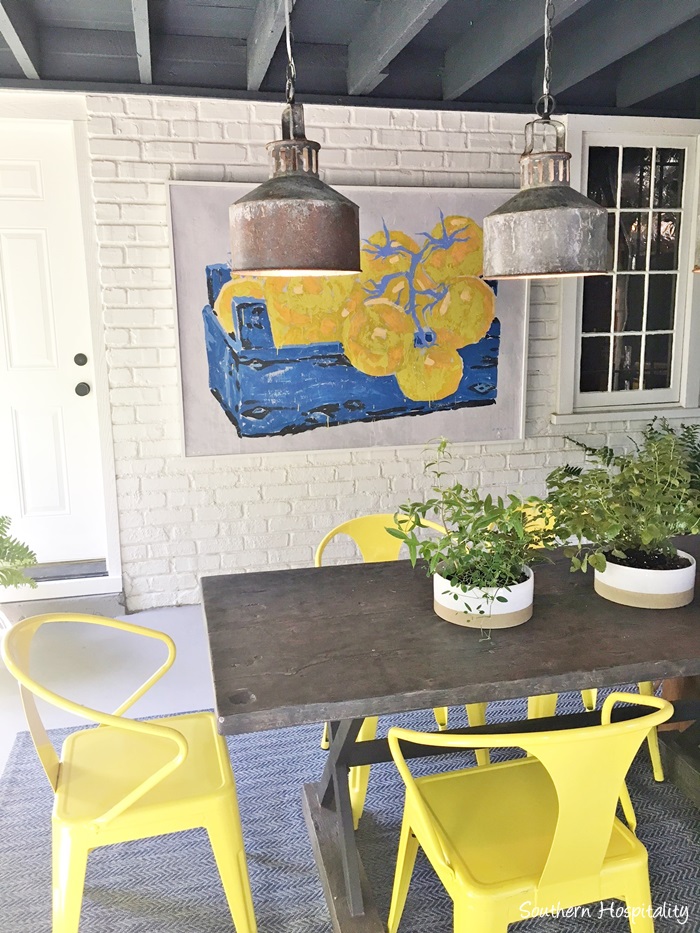 A peek at that covered patio under the porch, decked out with a table and chairs.
And right off their is an art station.
It was a lot of fun to see Brian in his element of designing beautiful spaces.  I've seen at least one other house that he designed and they are always full of inspiration and surprises.  He loves bold and beautiful designs! Brian was with us at Haven this year too and that was a treat. Being the HGTV designer for the Urban Oasis homes as well as the Dream Home giveaways, he's one busy guy.
I had the chance to sit down with him and do a fun little interview, so I hope you'll take a look at it, only 7 minutes long and Brian talks about the house and his inspiration for it.
I've got most of the source list for the house too, so if there's something specific you'd like to ask about, let me know and I can look on the list. There's way too much to list here in this post, but I tried to cover most of the paint colors.  
The Urban Oasis house will be given away, as HGTV does every year and it starts October 2, so you can check out the HGTV Urban Oasis page for more details.  Don't miss the chance to sign up for the sweepstakes and maybe win this thing! Wouldn't that be fun, someone is going to win, it might as well be YOU! 
There were 20 bloggers there and I was happy to be one of them!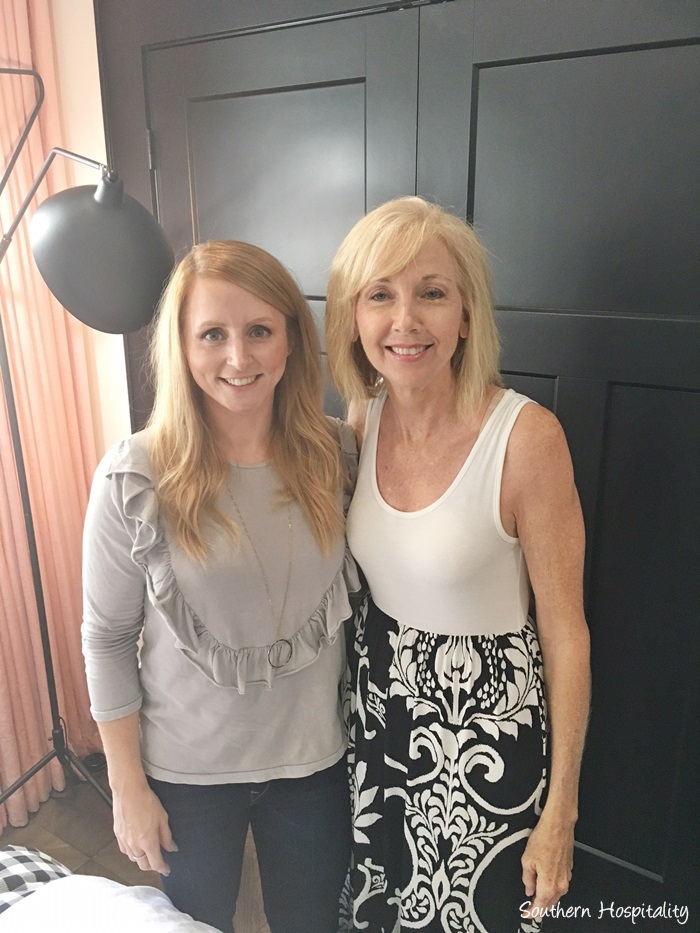 One of the other bloggers there who I met at Haven this year is this sweet girl, Sarah from Our Vintage Farmhouse.  If you haven't met her, check out her blog. She's a single mom to the most precious little girl, Harper and she lives just outside Knoxville.  We went out for dinner in Knoxville that night and had so much fun together.
She picked up Harper and then came back to town and picked me up and we headed to the Market Square area and it is such a neat place, filled with shops and restaurants. I had never been to downtown Knoxville before, but wow at the ambience in this smaller city.  Sarah is such a doll and I've enjoyed getting to know her.  She's a powerhouse on Instagram, so check her out there too.
Harper took to me right away and wanted to sit by me at dinner, hold my hand and it was just so sweet. How about that cute pink tutu?!  There was live music going on and I loved the vibe at Market Square.
We strolled on the sidewalk to dinner and had dinner at Tupelo Honey, one of my favorite restaurants.  I first went to one in Asheville and it's so good.
Tupelo Honey gives out biscuits as appetizers, now that's a delicacy only found in a Southern restaurant, I'm sure.
I had the pear salad with salmon and it was delicious.  We had a great time in Knoxville taking in the atmosphere of Market Square and I stayed the night downtown and headed home the next morning.
Now, it's time to tackle this house unpacking.  I don't know what I'll be posting next, but I'll be back when I can. Thank you all for hanging in there with me!  It will definitely be awhile before this house looks picture perfect, months probably before we get things together as far as furniture and really finishing things up.  But I'll share the process along the way and keep it real, you can be sure of that!
SaveSave
SaveSave
SaveSave
SaveSave
Don't Miss a Post, join my list!