Happy Friday friends! I have a fun and a little different Feature Friday for you today. Meet Paula from England. Paula blogs at Hill House Diaries and her house looks like it's out of a storybook or British movie set. This Georgian house of hers has the most beautiful setting and it's charming inside and out.
Paula has a nice introduction on her blog page, so I'm going to share her words here:
I am an interiors obsessed mother of 3 who, having been born and brought up in London, and after many years working in the fashion industry as Head of Press for Elite Premier Model agency (when Supermodels such as Naomi Campbell, Linda Evangelista and Christy Turlington were in their heyday) and producing shoots for Elle magazine,  thought it would be a great idea to bring her children up in the English countryside.  I'm a lover of traditionally English interiors – think  Nancy Lancaster, John Fowler et al – but with a 'shabby chic' twist.  I adore finding bargains at auctions, carboot sales and on e-bay and am an avid hunter at local flea markets and antique fairs. I now write about interiors and lifestyle, while painting and restoring furniture to sell at a local decorative antiques emporium in Norfolk.  This is my blog about interior decoration to suit all budgets, vintage finds, traditional British design and English country house inspiration.
I love Paula's bio and she sounds like such a fascinating lady. She sounds like so many of us too, loving bargain finds and she has created a beautiful sanctuary with those finds. I know she has a son and then twin daughters were born after that and she wanted to move to the country to raise her children, out of the busy world of London. I think you'll enjoy her home!
Isn't this a beautiful setting?
Paula and her faithful companion, Coco at her side. You'll see Coco in many of Paula's photos.
Paula's home is the quintessential English country home.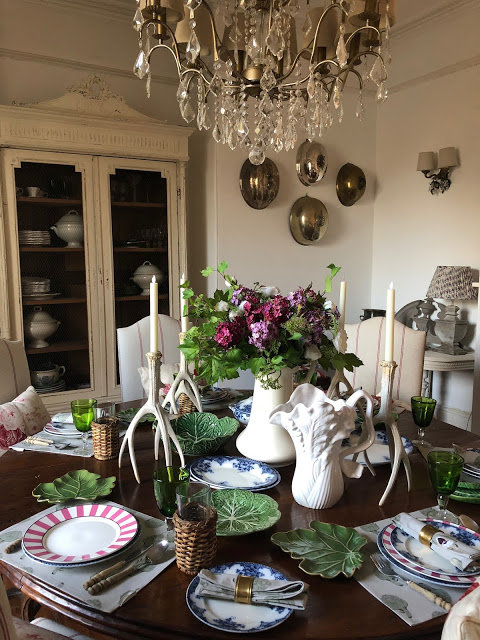 And this is her twin daughters' bedroom that she did for them.
I couldn't resist adding in a Christmas pic, how cozy is this?
Paula's words and pictures really draw you in and I couldn't help but notice her on Instagram, so go over and follow her there if you aren't already.
Don't Miss a Post, join my list!