Happy Friday!  I hope you all had a wonderful Thanksgiving. We sure did and enjoyed both of our family time, with lots of good food and fellowship.  Families are the best, aren't they?  We both are so thankful for our families, a lot to be grateful for.
Today, I'm sharing the Atlanta Homes and Lifestyles magazine Home for the Holiday's showhouse tour.  I'm always invited to the preview and so enjoy getting a first peek into the home before it opens to the public.  You're invited if you live in the area to tour the home in person.  It's open until December 9th, so be sure and get by there if you can.  I really loved this one. Some showhouses are beautiful and a little over the top. This one was definitely more Traditional in style with color and beauty everywhere. I loved it so much!  So many spaces spoke to me and I think you'll enjoy this one too.
The proceeds for this event go to Children's Healthcare of Atlanta this year.
Here's a little about the showhouse this year.  This is the 10th annual Home for the Holidays Designer Showhouse and Atlanta Homes and Lifestyles is partnering with Harrison Design, Steve McGlamery in partnership with Blackstone Custom Homes and the city's top design talents for this beloved seasonal event.
This year's showhouse is a new, 8,232 s.f. Buckhead estate on 1.5 acres. Inspired by the site, the English country abode features a locally sourced limestone and brick exterior and open spaces filled with daylight.  It has 5 bedrooms and multiple bathrooms.
Check out the schedule on the link above to order tickets and find the days and times it's open.  I really think you'll enjoy this tour, I sure did!  I'm going to share the designers name of each space and the paint colors, since they gave us that info too.
It was a rainy day when I went, so didn't get a lot of photos outside, but you can see a few of the grounds and how pretty it all is.
The designers didn't all coordinate their spaces, but I think you'll see how well it all coordinated together.  There were touches of pink all around and i just loved this display in the front of the house with all the fresh greens and pinks.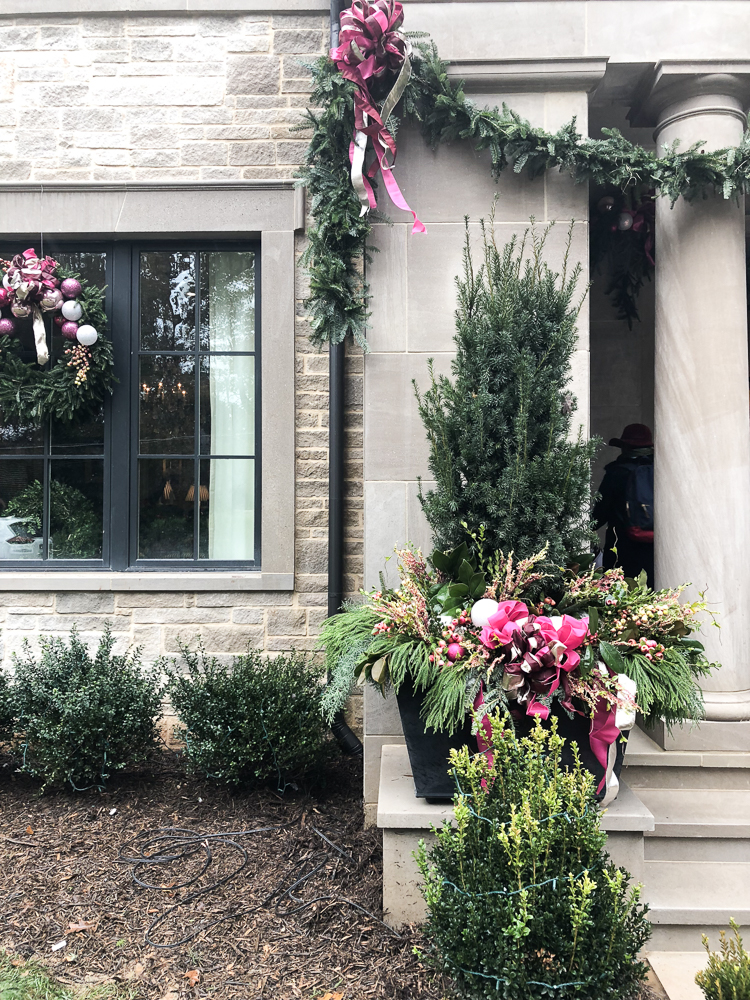 Foyer, Dining Niche, Library Niche, and Main Level Stair Hall:
Randy Korando & Dan Belman, Boxwoods Gardens & Gifts
This tree was inside the foyer before going upstairs and it was a show stopper too. These pics don't really do it justice, but it was a glowing beauty in pink.
Those balls looked like big bubbles ready to pop.
I tried to take pics of all the fresh greens on the stairway. Aren't they gorgeous?!
Study:
Chris Holt, Designer
Paint:  Gateway Gray, Sherwin Williams #7644
Powder Bath:
Susan Brady, Susan Brady Interiors
Lower Master Bedroom
Jessica Bradley, Jessica Bradley Interiors
Master Bath and Master Closet:
Chris Socci, C. Socci Interiors
Living Room:
Lauren DeLoach
Breakfast Room and Kitchen:
Margaret Kirkland & Zach Weiler, Margaret Kirkland Interiors
You know I was drooling over this space and all that bamboo!
Back Entry, Pantry, Baker's Passage & Pool Bath:
Latham Gordon & Cate Dunning – Gordon Dunning
I loved this fabric covered wall behind the kitchen.
Loggia:
Kristin Kong, K. Kong Designs
Butler's Pantry and Laundry:
Lauren E. Lowe – Lauren Elaine Interiors
Dining Room:
Carol Weaks, C. Weaks Interiors
Paint: Kale Green, Sherwin Williams #6460
Bonus Room:
Katie Hardwick, B.D. Jeffries
Paint: Dovetail, Sherwin Williams #7018
Upstairs Stair Hall:
Lisa Joublane, Lisa Joublane Interiors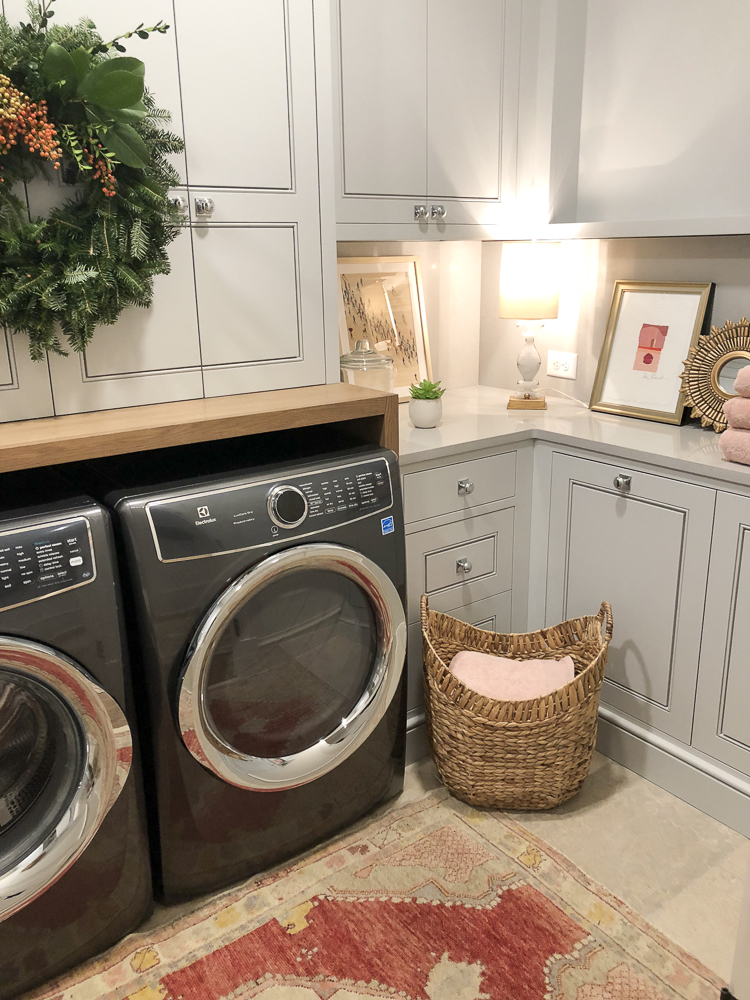 Teen Suite Bedroom:
Julie Montgomery & Michele Gratch, Montgomery Gratch Interiors
This is my friend, Julie's space, with her partner Michele.  Love what they did in here.
Those are hand painted walls.
Using this fabric as the inspiration, the artist added this beautiful hand painted wall.
I just love their space!
Bedroom:
Jessica Roan & Mandy Mayers, Interior Philosophy
Upstairs Sitting Room:
Lauren Davenport Imber, Davenport Designs Ltd.
Paint: Roycroft Bottle Green, Sherwin Williams #2847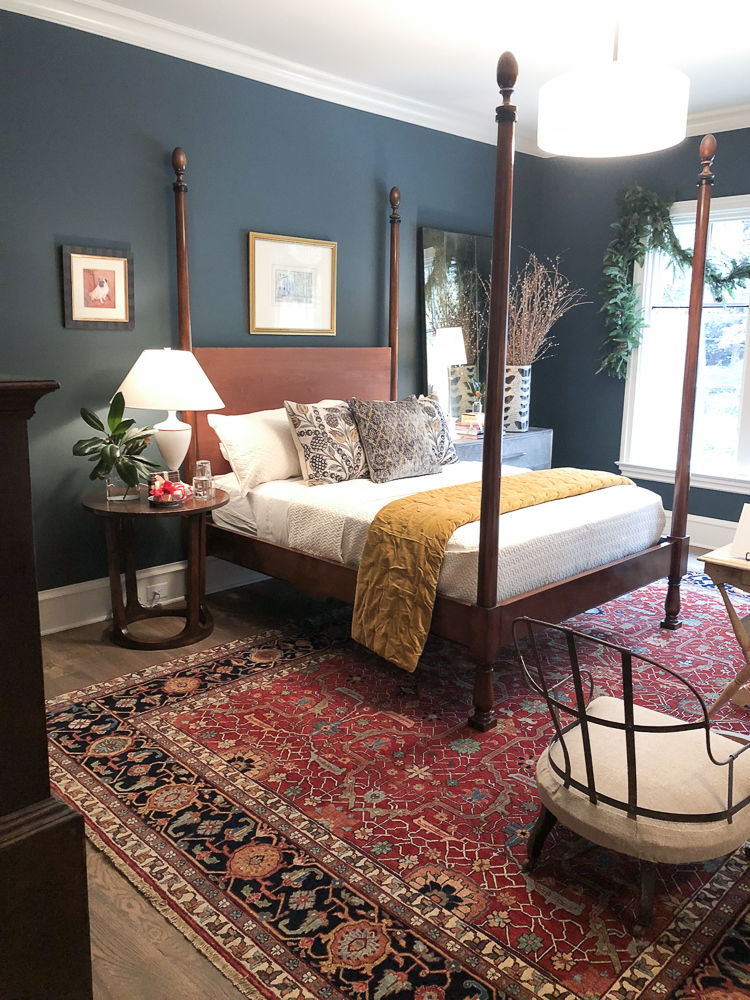 Bedroom:
John Fernandez, John Fernandez Interiors
Paint:  Mt. Etna, Sherwin Williams #7625
So I really loved this bedroom, a total nod to Traditional style. This designer wasn't there while we were touring, but another designer said he was really inspired by Cape Cod and New England and I can definitely see that since I just visited there.
I knew you all would love this Traditional bedroom, so pretty.
Loved those cafe curtains.
Upstairs Master Bedroom:
Joel Kelly & Whitney Ray, Wyeth Ray Interiors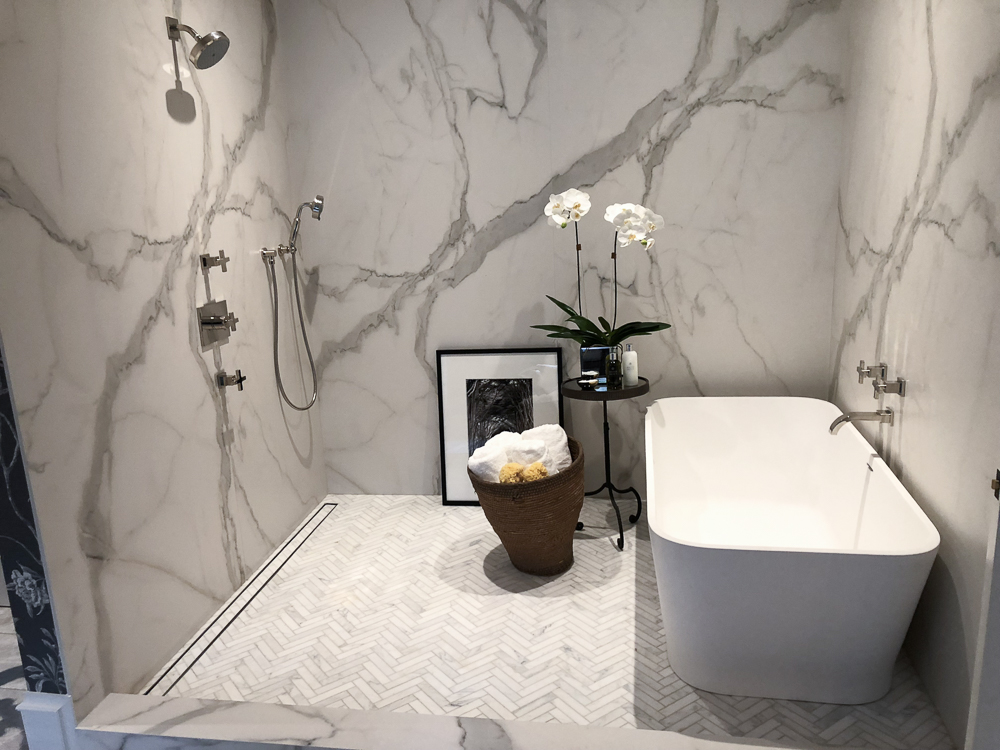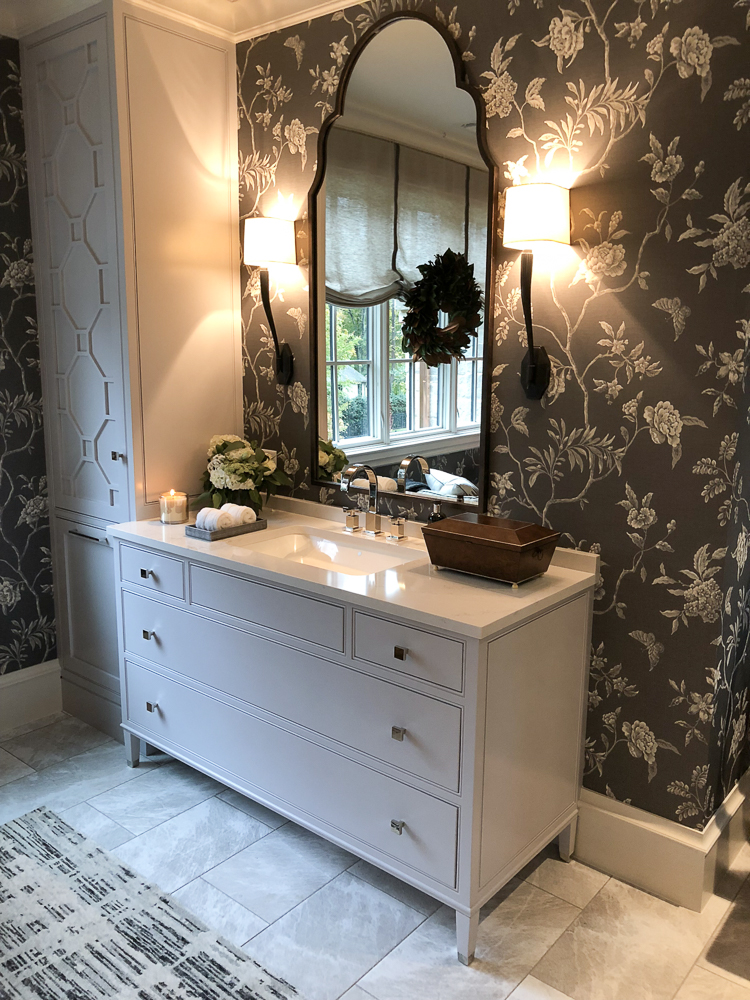 That's the tour this year of the Home for the Holidays house. Hope you enjoyed this one as much as I did. I just loved the spaces and thought they were all livable beautiful spaces and they all flowed so well together even though it was all different designers doing each space.
If you have any questions about paint colors, let me know and I can try to answer. I do have a paint swatch that they gave us of all the rooms as well as the wallpaper.
Don't Miss a Post, join my list!