If you read that caption title, you're probably saying, whhhhhhaaaat, doesn't she know what day it is?  Yes, I do, but I'm starting Feature Friday a day early this week and I'll continue with it tomorrow.
Here in Atlanta, there are countless opportunities to see show houses and all sorts of gorgeousness out there in home design.  I had the pleasure of getting to tour the House Beautiful kitchen of the year last weekend in Buckhead and it was a fun one.  Even though I can't really relate to million dollar homes, which are the norm around here, I can still enjoy a tour and take away plenty of inspiration for myself.
You can see lots more information about designer Matthew Quinn, on that link above as well as professional shots of the kitchen.  Matthew is the recipient of numerous national design awards and this kitchen is state of the art, cutting edge design!  He's based out of Atlanta at Design Galleria Kitchen and Bath Studio.
He's just released a new book, Quintessential Kitchens:  Volume One. (affiliate link, warning not inexpensive book!).
The house is a new build and a single mom with 3 kids has just closed on the house.   I have no idea how House Beautiful finds houses to feature like this, but this one in an established Atlanta Buckhead neighborhood, Peachtree Park,  is very charming.
It was open to the public for 2 days last weekend.  The builder is Ladisic Fine Homes and they definitely do a great job with their building.
My longtime blog friend, Sherry Hart, did all the design/decorating of the main living areas of the house, including the kitchen.  She's very talented and does beautiful work!  Great job, Sherry!  If you haven't met Sherry, hop on over to her design blog, Design Indulgence.
Here's the professional photo from House Beautiful, photo by Emily Followill, styled by Ginny Branch.   Much better than my iPhone pics, but you'll get an idea how pretty the house is from mine as well.
All photos above used by permission from House Beautiful. These are MUCH better than any photos I could have taken.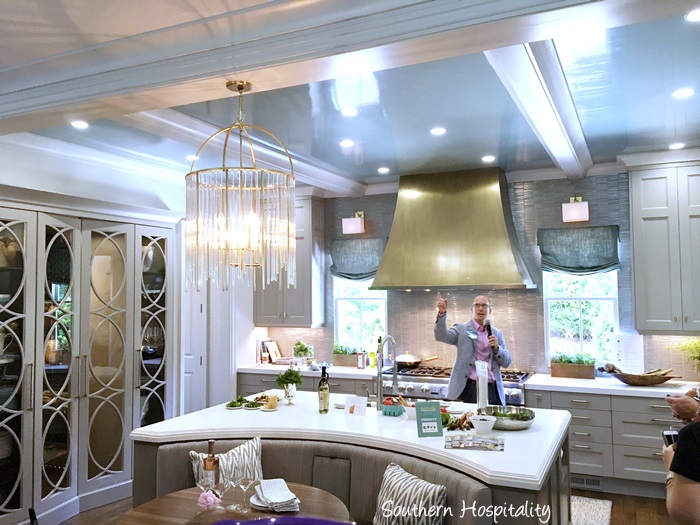 Those ceilings are high gloss from Farrow & Ball in Oval Room blue and it's quite dramatic.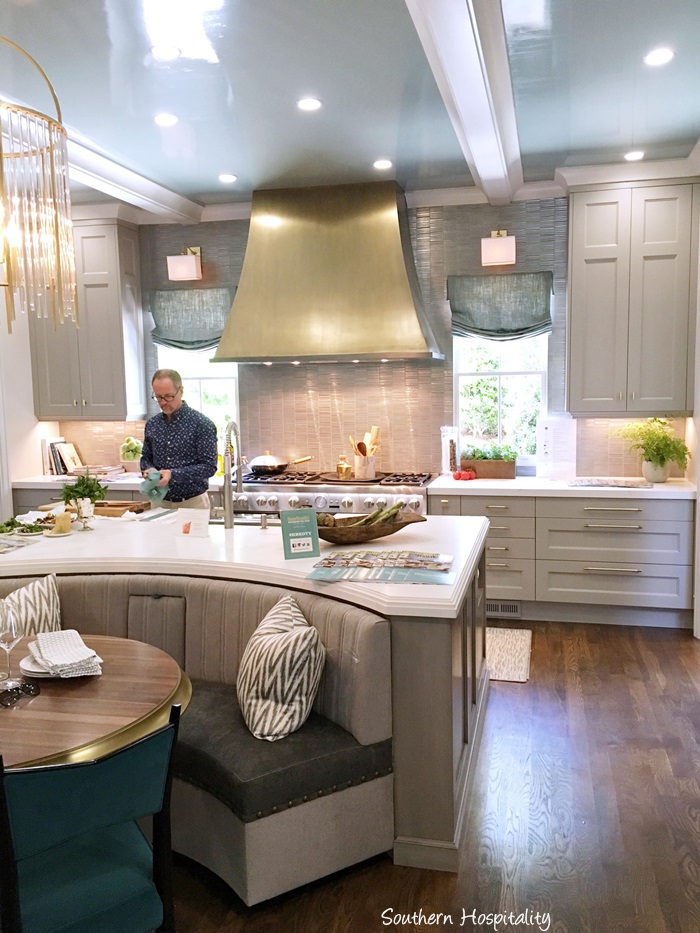 Loved this banquette tucked by the island with the round table.
Built in refrigerator was seamless.
The vent hood over the range was very stunning and dramatic, from Francois & Co.
Range is 60″ Pro Grand Steam Range from Thermador.
Backsplash tile is by Akdo and is called Satin Silk.
Stainless sink is from American Standard Hillside 36″ stainless steel kitchen sink.
Caesarstone quartz countertops in honed Calacatta Nuvo.
Aren't these cabinets beautiful?  Love the pulls.
The pantry is super impressive with those glass doors.
Very elegant way to hide away the pantry.
Between the kitchen and dining room is a little butler's pantry with this cool coffee machine, also Theramador.
Sink and backsplash are gorgeous.  I am not sure what that gold stripe is, but it was really gorgeous.
It may be part of the marble itself, I see tile lines here.
Ceiling with one of the beautiful light fixtures in the house.  This one is called Element from Corbett Lighting.
Peeking into the dining room from the front door.
It's very elegant and minimalistic in design.
Dining room wall color:  Farrow and Ball Oval Room Blue
Not sure where this lighting is from, but it was very stunning in here.
That's the kitchen and dining spaces.  I'll be back tomorrow to share the rest of the main level of this house.  It was a very fun tour and I'm glad we went.  Also fun to see how other people live.  Quite differently than I live, but it still makes me appreciate my cute little house all the more!
Don't Miss a Post, join my list!