One of my very sweet blog friends, Richella with Imparting Grace is my guest today and wait til you see her beautiful Southern home in North Carolina.  It's another dream home, full of love and family and beautiful furnishings, but I can just tell that it's a house that is cozy and warm, even though it looks quite large.  Richella has done an outstanding job making her house a home and I know you're going to love it too.
Richella is a wonderful Christian friend and I've so enjoyed getting to know her in blogland.  She is as dear as they come.
From the outside, it's quite impressive with the columns, stonework and beauty.  Not to mention those big garages, that's nice to have.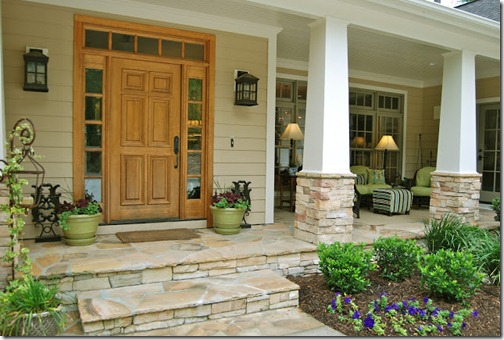 Coming up to the front porch, which is all stone (wow, love that!), see that porch tucked away to the right.
What a nice and cozy spot to sit and enjoy the outdoors under cover.
Inside the family room has a nice bank of doors and windows letting in lots of light.
Notice the arched doorways and all the beautiful crown molding and trimwork.  Richella's collection of crosses are on this wall.
The fireplace in the family room is cozy and this looks like a great spot to hang out.
Notice the built ins and the arched door frames.  Just stunning!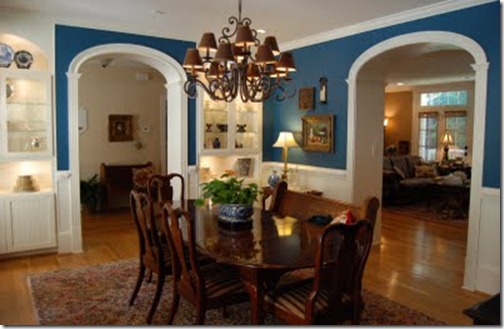 Richella recently repainted her dining room from red to this vivid blue and I just love it.
With her beautiful Karastan rug and white woodwork, that blue just pops.
Her kitchen is one big space with a large breakfast table in the room as well.
Oven wall and huge island is so dreamy.
What a gorgeous kitchen!
With a built in desk space in the corner too.
The master bedroom is cozy in green and blue. Richella sewed the pillows and coverlet.
She's a smart cookie and does lots of DIY projects at home.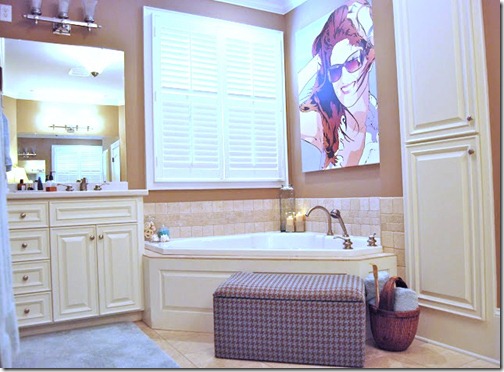 Large master bath with a corner tub and that's a painting of Richella above.
Part of the master bedroom with a vanity area.
She recently refreshed her guest room too and it looks so pretty.
With 3 boys, Richella really needs a bonus room and this one over the garage is a nice one.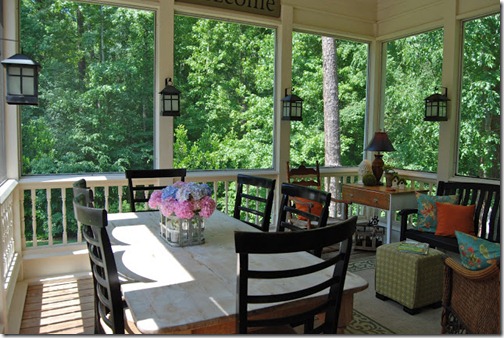 Now this space could really make me envious, a beautiful screened porch high up in the trees.  Look at that, looks like a tree house!
This is where I'd be spending a ton of time.
I know you enjoyed this tour of Richella's home as much as I did.  I hope you'll go over to Imparting Grace and take a look around.  You will love Richella and her sweet self!
Don't Miss a Post, join my list!