I met Diane with In my Own Style back in 2010 when I went to NYC for the first time. She's a friendly and down to earth lady from PA and has been blogging for several years now.  Her background is in design and she's been decorating and styling for a long time too.  Her blog is a great representation of all the DIY projects she has tackled.  She's more organized than most people I know and I'm envious when I see her office/craft space looking so pretty with everything in its place.  I definitely need to take notes on that part, I'm so not as organized as I want to be.
So, enjoy the tour of Diane's pretty home, where she's made over just about every room in her house, making it better and better.
Welcoming front door to her traditional brick home.  Notice the planters and the curb appeal that adds.
Stencil walls in the foyer add some detail and design.
Diane's studio/office space is the formal dining space that she took over early on and since there is no real door to close things off, she built a DIY folding door screen on wheels. Genius!
I love how organized and beautiful Diane's studio office looks.  So creative and so organized!
She has lots of space for hiding things away and for keeping things organized on pegs and hooks too.
I'm taking notes, how about you?  My office space is going to get a revamp soon since it's is overrun with too much stuff.
Organized drawers and a place for wrapping paper and more.
The family room with white slipcovers.
She loves adding color and has done lots of furniture painting projects.
Map wall and more organization looking into the kitchen.
She painted her kitchen many years ago and added lots of details to the room.  So pretty!
Bright and sunny sink window.
She even built a banquette for the breakfast table.
And there it is, the breakfast table.
Dining room with a mix of furniture finishes and the chairs got slipcovers for the backs.
She collects white dishes too and has them displayed in the dining room.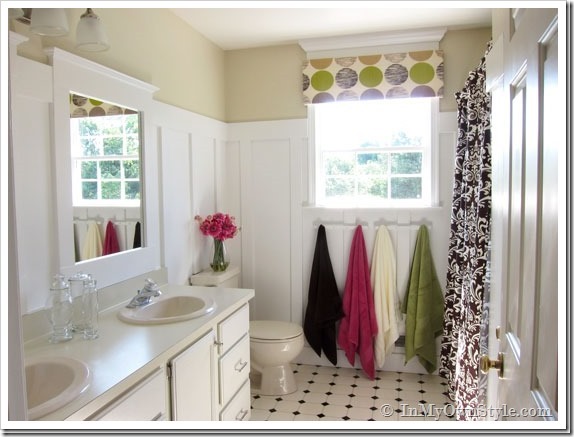 Another great redo, this board and batten hall bath looks very updated now.
She even made the diamonds on the floor black to further update the space and added a beadboard treatment to her built in tub frame.  Love this!
Master bedroom in summer colors.
Because she had too many doors in one area, she built a sliding door for the master bath.
The mudroom is another area that is totally organized.  OK, Diane, you're making me jealous!
Last but not least, the outdoor pool in the backyard is such a great space for entertaining.  I'm sure this beautiful space gets lots of use in the hot summer months.
They have a nice large deck too and it has plenty of seating and areas for entertaining and relaxing.
What a pretty house Diane has created for her family.  If you haven't been over, check out In My Own Style for lots of decorating, organizing, and DIY tips.  Diane is also one of the featured bloggers in this year's Better Homes and Gardens Christmas Ideas magazine, so look for it on your newsstands now.  It's a beautiful feature!
If you're in the South and happen to be going to the Country Living fair this weekend, I will be speaking today (Friday) at 3 pm on one of the stages.  I'll be sharing about thrifty decorating with lots of before and after pics.  Hope you'll say hello if you are there!  I'll also be hanging out with some blog friends on Saturday, so please say hi if you see me.  I'll be sharing the fair next week on the blog too.
Don't Miss a Post, join my list!