Today's Feature Friday is one of my long time blog friends, Beckie, from Infarrantly Creative.  We met for the first time in 2009 at a Blissdom conference and we've been friends ever since.  The girl has some big blog brains and knows a ton about how to do lots of behind the scenes stuff with blogging and I'm so glad I know her.  She's helped me many times with questions and how to do something.  She's a wealth of knowledge not only about blogging, but DIY projects.  She's much more of a crafter than I am. Me and crafts don't exactly get along.  I do a few things like that, but hand crafting everything in my house isn't something that I want to do or have the patience to do.
Beckie really has done some great projects and I can't wait to share them with you.  She also runs three blogs, which also boggles my mind, but she is full of energy and know-how, so gets the job done. Her other blogs are Knockoff Décor, which features knock-offs from well known stores and Roadkill Rescue, featuring cast-off mostly furniture items repurposed and all are doing well.  Me, I'll stick with one blog, thank you. That's all I can handle!
Beckie regularly features her projects on her blog, like these pretty striped drapery panels she painted on Ikea panels.  Now, I do have a project similar to this in the works.  I've already got some Ikea panels and will be stenciling mine.  Soon, I hope!
Nothing is off limits to Beckie!  A pair of old crutches, don't throw those out, make a lamp.  Clever girl!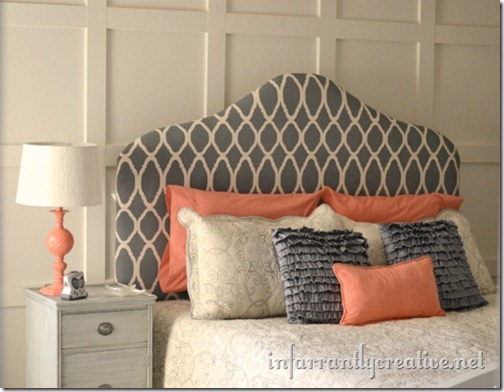 This upholstered headboard project really got my attention.  This is beautiful and she shows the step by step on it.
Another headboard project, this one was a roadside old door she rescued and reused.  So pretty now!
She got an old end table from the grandparents and instead of keeping it as is, she sawed it in half and stacked them for shelves in a small space!  Now that is creative.
With her Silhouette machine, she printed out measurements for her kitchen door.  Love this idea!  How handy  is the back of a cabinet door for that?
She also master-minded a complete printable blog planner that she shares for free on her blog.  I really need to do one of these, but I'm still not quite that organized yet.
And one last project for her kids, this cute toy box she DIY'd herself.  Cute, cute, don't you think?
So, wanted to introduce to one of my blog friends, Beckie, a witty and fun blogger who I have loved getting to know and a great friend of mine.  She's energetic and smart too.  So, if you love learning new things and really getting into the DIY, you might want to visit Beckie's blogs.  There is a lot of inspiration to gather!
Don't Miss a Post, join my list!