Hey, friends, it's Friday again!  Wow, the days are flying by and I can't believe June is here and summer is well on the way.  I do love this time of year, except for the heat and humidity, but we have to take the good with the bad.
Today's Feature Friday is a lady I found on Instagram, Cindi with Ivory Home Design.  I started seeing her beautiful Mississippi home float by on my Instagram feed and checked to see if she had a blog. She doesn't, but she does have an online page and has been featured at other websites. She's very active on Instagram and I was mesmerized by her gorgeous Southern home.  I think you'll love it too!
Cindi and her husband met at church and married young, having 2 children along the way, with a new grandson recently.  She's passionate about home, family, and interior design. Sounds like us, right? She also loves antiques and mixing things up with neutral backgrounds, raw wood, and fresh greenery.  Her style is beautiful, as you will see!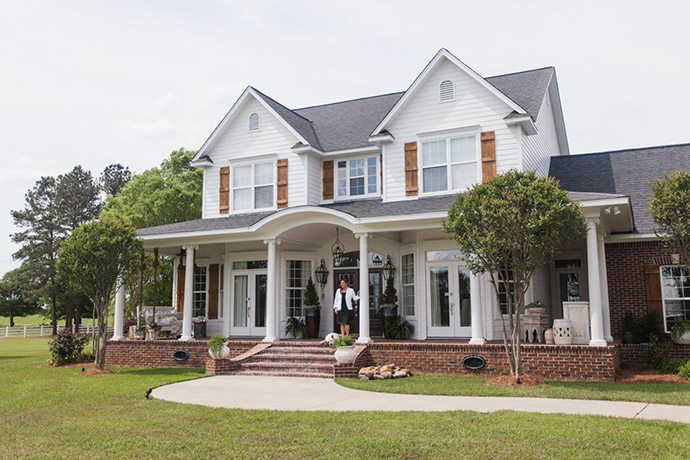 Isn't this gorgeous?  This style home is truly what I love the most, a Southern classic traditional with that brick skirt and brick front porch, with all the classic elements that make a home feel and live well.
Cindi's been featured by a couple of websites, so I am using a few of her comments from there to describe her house.  Here are Cindi's words….Seventeen years ago, we built our house. When looking at house plans, I wanted a modern farmhouse with an open floor plan, big rooms, high ceilings, a wood burning fireplace and lots of windows.
Ivory Home Design Home Tour
I'd say Cindi achieved her dream and created a beautiful home that will stand the test of time.  I'm impressed she had this vision 17 years ago and it still holds true.
What a swing and what a view!  See her cute dachsund, Mr. Darcy, he looks right at home.
This is the quintessential Southern front porch to me! I just love a brick porch, don't you?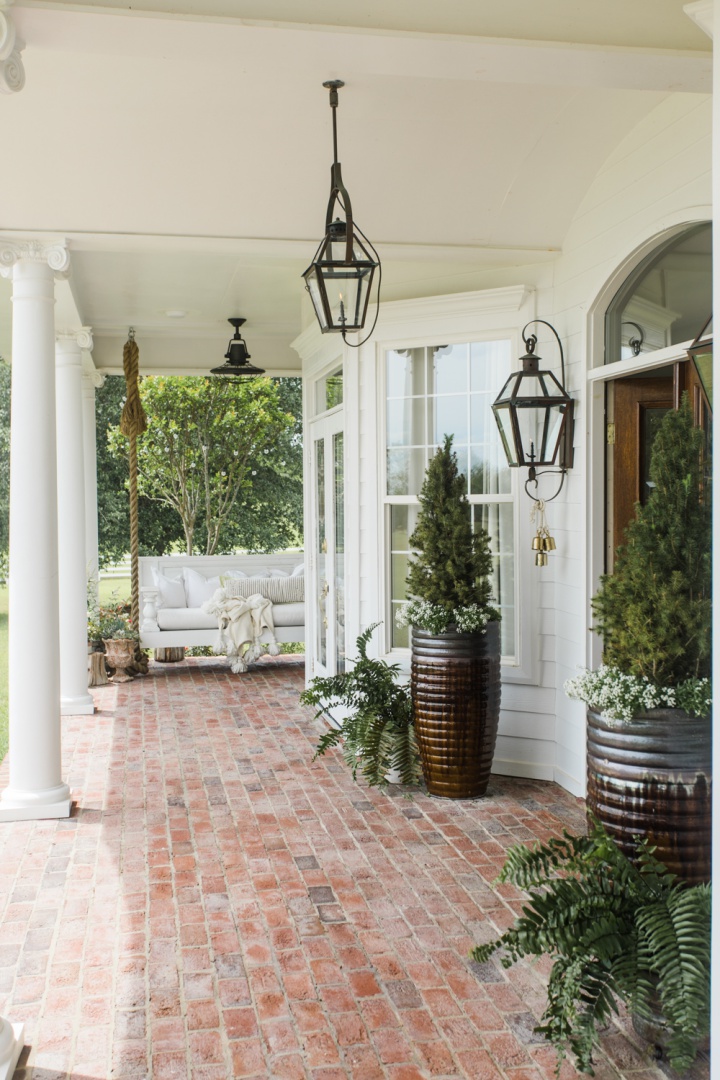 Those lanterns just scream Southern Living and make this home feel so welcoming and classic.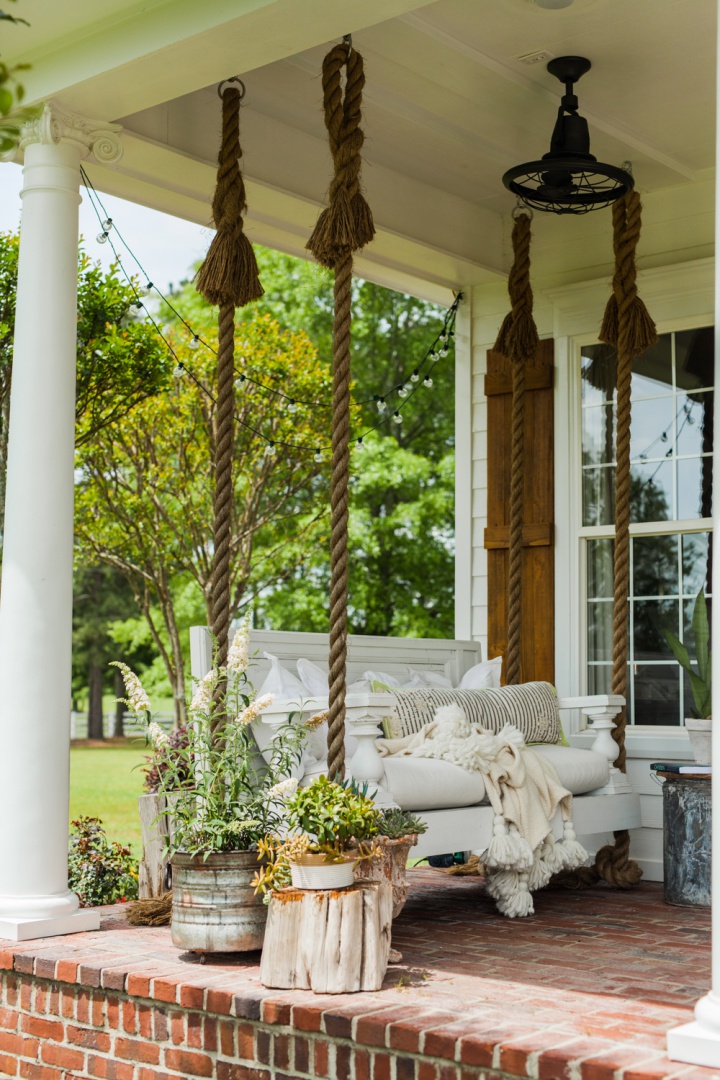 There's that swing again. I'm coveting a swing bed and hope to get one next year!
Let's go inside those beautiful front doors!
Inside, Cindi uses a lot of neutrals, but she really mixes it up well with so much texture and interesting things. She loves a mix of vintage and new and does it well.
The kitchen is creamy white with lots of architectural interest.
I love how she incorporated these antique corbels under her island.
And some reclaimed wood shelving in the kitchen.
This breakfast table is beautiful, so open to the other parts of the house and those windows make it all so spacious.
Cindi ha magnificent taste in everything!
The master bedroom looks equally cozy.
Now, let's move outside!  If you were impressed with Cindi's home and the interior shots, you're going to be gaga over the outdoor spaces.
Entertaining paradise!
Yep, they have a pool and a gorgeous fireplace outdoors with views for miles it looks like.
What a gorgeous country setting they have for their dream home.
The pool has a waterfall feature and lots of cozy seating.
Truly magnificent!
I would be out by the pool all the time and I saw that Cindi says her outdoor spaces are her favorite too. I can see why!
Table and chairs for entertaining.
A truly gorgeous home inside and out, don't you agree!  A big thanks to Cindi for letting me feature her stately home.  I was smitten from the first look and I knew you all would be too, so I hope you'll go and follow Cindi on Instagram if you're not already!  She has a beautiful feed showcasing her gorgeous home in Mississippi.
Have a great weekend, y'all!
Don't Miss a Post, join my list!