You all know that I'm a pretty casual girl these days.  Working at home has made me further enjoy the casual and comfy clothing that is not too dressy or over the top.  It's where I am in life right now and it suits me just fine.  I can get along with several pairs of skinny pants, boots and booties and an assortment of tops and sweaters to top them off.  You'll see me mixing things up in my closet with new things along the way too and today's post has just one new thing.  I definitely took advantage of the Black Friday and Cyber Monday sales on these new items and saved quite a bit.
I just bought a new black dress this week (from Macy's) to wear to a Christmas gala dinner and dance that my honey and I are going to this weekend, so I'll be sure and share pics of that soon.  It's a beautiful dress and will be a fun one to add to my closet for those occasions I want to be really styling, once a year or so!
Today's outfit features a new pair of skinny jeans from Old Navy.  I bought a pair of the ankle Rockstar jeans over the summer and loved them. They were in a mid-rise cut and are great for my flat shoes.  After going online and realizing that they have lots of rises in these jeans, I decided to try out the high-rise skinny jeans and love them.  Eureka!!  For us older gals who don't want our pants falling off when we sit down, these are great!  I enjoy tucking shirts in at times, but the lower cut jeans just don't look that great tucked in to me, but these hit at the waist and look very neat and tidy with a tucked in shirt and belt.  I still like mid-rise too (just below the belly button), since I wear a lot of long shirts and tunics, but these high rise will definitely be a fave of mine.  These come in Longs too, so if you're tall, you will love these.  They have Regular, Petite, and Tall sizes.  When I go in the store, I can never find the right Tall sizes for me, they just don't have many Longs in my store, so ordering online is my best bet.
This pair is in a dark gray wash and they feel really good on, with 3% spandex and are called sculpting jeans.  I loved them so much, I bought a regular darker wash blue pair in Longs as well.  When I find something I love, I have to share. These fit me really well, so I'm hoping they work for lots of shapes and sizes too.  I bought size 6 Long, by the way.
Old Navy Rockstar high-rise sculpting jeans (Stone Lake) (affiliate link)  Be sure and get the length that works for you. I love that Old Navy carries Longs. I ordered these at 40% off and then I hit the sales just right over the weekend and got the other 2 for 1/2 off.  I'm sure they will have another sale again soon.
I also got another pair of Rockstar white in Talls, with the sculpting detail (affiliate link) and a dark wash (Golden Gate) in Sculpting Tall (affiliate link).  Check out all their Rockstar jeans (affiliate link) for different rises and lengths, there's something to suit everyone. And hopefully another sale will happen soon!  They do have free shipping over $50 right now, so that helps too.
This long multi-gray ruffled sweater I got last year at the Atlanta Mart, so I can't link to it.  It's been a fun sweater to have during these cooler months where a layer is needed. It's still not cold here, but we did just get some rain, praise the Lord!
These booties I bought 2 seasons ago, by Vince Camuto.  They are a little taller than I like, but I love the way they look with skinny pants.
Here are a few similar options (affiliate links):

A simple long sleeved white blouse is underneath tucked in with a Goodwill belt I found awhile ago (by Cole Haan).  I still love my thrifty finds!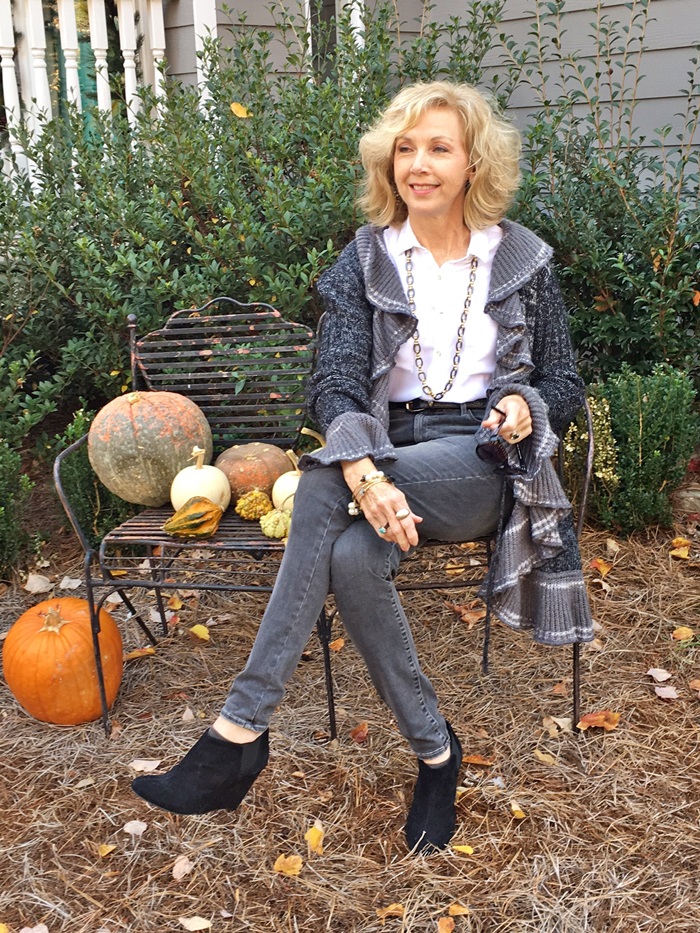 I've also been doing some research on bootie socks and found some that I like after reading about them on another blog.  You can just see them peeking out here, but you can push them down to hide them. They have a silicone strip on the back heel inside that helps them hug your foot and not come off. I had tried those flimsy sock-let things that barely cover my foot and are really thin, but I don't care for those and they had no cushion. These are made out of bamboo and are nice and comfy and are a little thicker, so help cushion those booties.  I will still wear socks that show sometimes too with my booties, especially with more casual outfits.
Bambu No-show socks (affiliate link). These come in 3 or 4 pairs and they have several colors to choose from.  I wish you could mix them up, but I don't think you can.  I figured this color would work with most of my booties which are darker and they shouldn't show either for the most part.
I did a mix of metals with the jewelry of gold, silver and black (and a little white) and it was a mix of what's in my closet.  Necklace (that's a dark gray in the loops, mixed with gold) from the shopping spree I had 2 years ago with C Wonder stores.  Earrings I have had for many years and the bracelets came from my friend, Debbie's shop, Miss Lucy's, here's a similar set. She has some great monogrammed gift ideas too!
Hope you enjoyed these ideas today.  I love sharing what I'm wearing and the deals I find!  Here's to a very fun and blessed Christmas season this year. I just love this time of year!
Don't Miss a Post, join my list!