Jessica is a fairly new blogger, blogging her projects since August at Four Generations One Roof and it has been a pleasure getting to know her these last few months.  She lives up in New England in a small town, but the unique thing about Jessica and her family is what she named her blog.  She and her hubby and son live with 2 other generations, including her parents and grand parents, all under one roof.  I can so relate to that, since I am also living with my parents right now.  Sometimes life dictates what we do and I have a feeling there are lots more out there who are doing this very thing for economical reasons.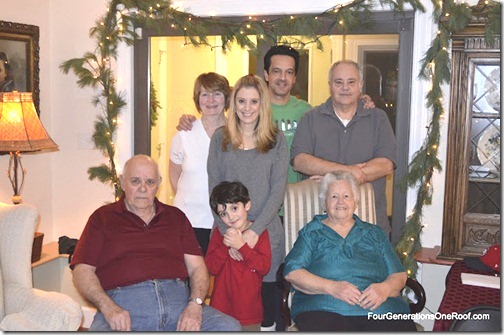 Jessica's parents have owned the house for 30 years and now Jessica gets to put her stamp on it and do what she wants as far as decorating goes.  She has mostly willing help from her Gramps and Dad, who assist in implementing her DIY ideas into full blown projects.
Jessica contacted me a few months ago about helping her with her family room. She just couldn't figure out what to do with it.  She sent me pics and ideas she had and I did a design consultation for her, long distance of course.  It was fun to see her progress along the way as she tweaked this room and got it to where it is today.  You are going to love seeing what Jessica has done and I'm so happy that I had a part in it.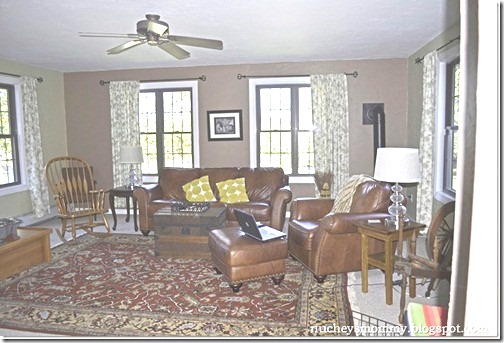 This is the room when Jessica got it, which was done by her mom.
She sent me these pics to look at as she started moving things around and making changes and I immediately started accessing the situation.
She started adding planks on the TV wall that she planned on painting white.  She asked me if she should do more of that.  I said, YES, wrap the whole room in it.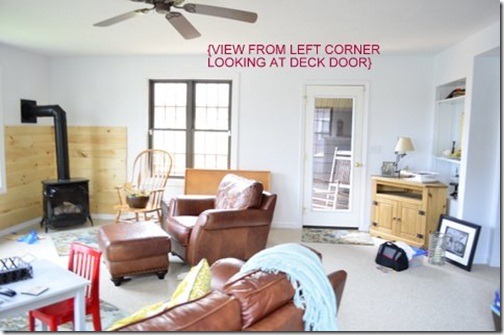 I knew from looking at the pics that her furniture was too spread out and if she would move it all in facing the TV, it would change the whole dynamic of the room. The rug wasn't working for what she wanted either and she had only added planks to one wall. She wanted to add a pretty blue above the white planks.
Bookcase area needed some attention.
So this is the whole room as she began working on it.  I gave her a rug suggestion, which she finally went for after deciding she couldn't find anything she liked elsewhere.  The winner rug is from Overstock.com.  She would email me fabric ideas and we finally got a winner in those too.  I helped her pick the lamps and gave her a few ideas on accessorizing the room.  Other that that, Jessica took it away and did a wonderful job!
Wait until you see the AFTER pics!  The room turned out fabulously.
Ta-da!  Isn't it beautiful now?  Jessica decided that she had to get a new sofa, so she found a great deal locally on this white sectional and it totally makes the room.
She added these pretty doors to the built in bookcase and accessorized the corner with some pretty shelves.   The planks had a small shelf on top, perfect for leaning some family photos.
The room is so bright, airy, and cottagey now.
I love everything that Jessica has done.
Here are the doors up close that Jessica built and installed with her Dad.
The rug really makes a statement in the room too.  Love it!  And that yellow throw is a perfect accent on the sofa.
This is one beautiful room now, don't you agree?
This is the TV cabinet that Jessica and her dad built.  Gorgeous!
Jessica saved a ton of money by buying yards of burlap and making her on non-sewn window treatments. They look fantastic and add lots of texture.
All the details combined make this a fun room, full of life and very comfortable.
Here's another DIY project in the adjoining room, barn door cabinet doors.  How cool is this?!
A peek at the space decorated for Christmas.
I hope you'll go by and say hello to Jessica and tell her I sent you.  She has lots more details on her post today and she is so happy to get this room finished and I'm so happy that I could help.  It is just beautiful and nothing pleases me more than to see a room come to completion after talking it through and getting those ideas implemented from in the head to brought to life in a full-blown room.
If you'd like a design consultation, I'm available in person or online, details here!
Happy Friday!
I'm heading down to St. Simons island, GA today with my friend, Ruby.  We're going to a women's conference and meeting up with my long-time friend, Wanda, for a little girl's weekend.  We get to hear Jennifer Rothschild speak on Friday and Saturday.  Have you heard her story, she is so inspiring?  She went blind as a young woman and has a remarkable story.  Can you believe I have never been to St. Simons?  I am taking my camera and hope to get a lot of pics. I've heard it is so cute and quaint down there.
Enjoy your weekend!
Don't Miss a Post, join my list!