Hey there friends!  You're reading this after the big monster storm Hurricane Michael came blowing through the Panhandle and I'm glad to say Destin was spared the worst of it, so we think Kim's house is fine. I'm so very sad for that area and all the devastation that we've seen on the news. I have several old friends and extended family who live in Panama City and it was hit hard as well as those other beach towns that we've enjoyed so much, Apalachicola and over to St. George Island. I haven't even heard yet how that one fared.
We were just there a week ago and Mark's sister, Kim, has a beautiful beach house that was built about 4 years ago, just across the street from the beach. We stayed nearby and had such a lovely couple of days with Mark's family. The weather couldn't have been more perfect!
I asked Kim if she would let me share her beach cottage and she agreed, so I'm excited to share it with you today for Feature Friday!
Kim loves houses I think as much as Mark and I do and she has renovated and built many houses that I know about in Atlanta and elsewhere.  This beach cottage was built 4 years ago and she added so many neat details in the house to give it old vintage charm.  It's built to withstand hurricane forces too, she went above and beyond on those regulations.  Kim did a great job with all the details and extra touches on the house.
She's a vintage and thrift shopper like I am and I'm looking forward to both of us shopping together sometime.  This house is filled with vintage finds from artwork all over to collectibles in the kitchen.
The exterior is pretty in a deep gray siding with white board and batten accents and this pretty periwinkle blue/purple door. That shingle siding is a type of concrete board that is made to withstand harsh weather.  She was telling me all the things you have to do in this area to hurricane-proof a house that's newly built.  I'm sure a lot goes into that process!
The house is not big, at 2 bedrooms, 2 baths, but it's so cozy and cottage-feeling, a perfect little beach cottage.  Stepping inside the front door is the living room seating area with large comfy white sofas. She found those from all different sources, from Craigs List to sales and they all mix together well, in all white/cream coverings.
All the windows let in plenty of light and the shades come down at night for privacy.  I love the floors, a type of luxury vinyl plank that look very much like real wood, but will wear like iron at the beach.
Natural pine planked ceilings and white planks on the wall are a perfect combo. You should have seen us picking up everything to take these pics, since 4 people were staying in the house and you know how that is.  We moved the stuff from room to room and then back where it started to get these pics.
The left wall coming in houses the TV, along with some colorful artwork.
Those darker boards were added in for a vintage feel and a special staining process was used to make them feel like reclaimed wood.
I love these cute chairs too.  Kim shops all over for things and has a great eye for putting things together eclectically.  I know we would have fun shopping together!  She was telling me this board on the wall is called German lap or Dutch lap.  It's pretty, I know that!
It's a cozy feeling space with everyone gathered here.
The living area is open to the kitchen.
She found this boat clock at a thrift store, I think she said.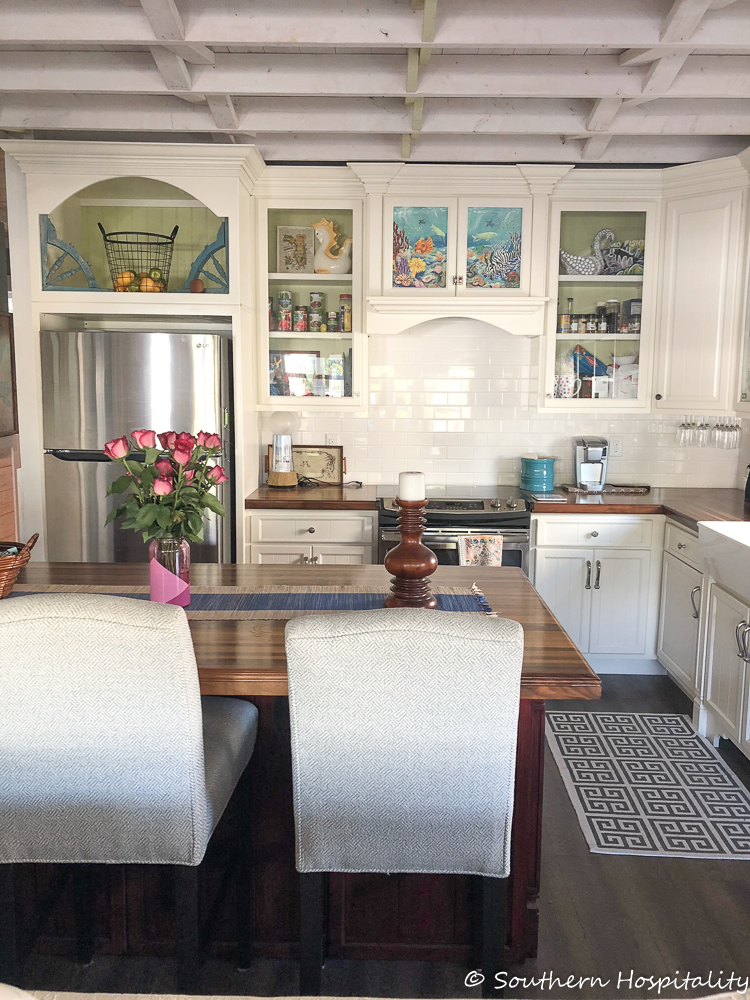 Looking towards the kitchen is a pretty view.
To the right is this open hutch that holds lots of pretty collectibles. I love the color on the back wall.  And I love that No Sandy Feet sign, perfect for the beach.
Back wall of the kitchen has hand painted coastal glass doors at the top and lots more collectibles.
These are some vintage things she picked up thrifting.
Farmhouse kitchen sink and butcher block countertops.
Cute pieces by the window.
The open ceiling in the kitchen is a work of art, love this part!
Cubby above the fridge.
Kim was wondering if any of you have ever seen anything like this swan above?  It's concrete with glass mosaic accents and she picked it up somewhere along the way thrifting.  I have never seen one like this before, have you?
Such a pretty and open kitchen with lots of eclectic accents.
Makes for a very homey feel, doesn't it?
Back of the island.
Another view of the stove.
Love this blue green color on the wall and the natural wood below.
More vintage artwork, this is sand art.  I think she said this was from her husband's family.
I love these natural doors she added. They are new made to look old.
Master bedroom.
It has the feel of a vintage cottage for sure.
Old mirror on the wall reflects the pretty bed.
Those little shutters on the windows add a nice touch too.  And I love those rattan stools at the end of the bed.
Perfect beachy bedroom!
This is an old window added looking into the bathroom.
And the master bath with a darker stained vanity and tile floor with grasscloth on the walls is very nice.
Tiled shower.
I like the contrasts of all these materials together.
Grasscloth is still a fave of mine.
The hall bath is small, but fun and colorful.
Just big enough for a tub, toilet and vanity, it's compact but cute.
This piece of art was a dumpster rescue, she told me a story about that, but I can't remember all the details other than it was an expensive piece of art that she ended up with.
More vintage art.
Hallway artwork, mermaids at the beach.
The washer and dryer are tucked away by the back door.
Another happy piece of art.
And the second bedroom with this Eastlake bed frame is so cute and quaint.
Beach and UGA fans unite! I had to shoot around the stuff in this room, but isn't it cute?
The backyard space is so cute with all the palm trees and the feeling of being secluded.  She built a deck back here out of Trex like material (might be Trex) and it's a great shady spot with table and chairs and places to sit and relax.
A chippy bench I'm sure she found out there thrifting.
A garden oasis from all the sun.
Isn't Kim's house the cutest?  I'm so glad she let me share it with y'all, I knew you'd enjoy seeing it too and I hope you leave lots of comments, so I can tell her to come and read them.  She has a great eye for detail and really knows how to put a space together with collected and found pieces.
They also have a lake house on Lake Martin that I haven't seen yet, but I'm hoping we get to visit there before too long. I know it will be gorgeous as well!
Hope you enjoyed this beach cottage tour with me!
SaveSave
SaveSave
SaveSave
Don't Miss a Post, join my list!