Somewhere in my bloggy visiting,  I visited Kristin's blog My Uncommon Slice of Suburbia before, but I had not really seen all of her posts.  But, recently I got a good look at her kitchen makeover that she and her hubby finished in January and wow, is it a stunner.  I especially love the island and wanted to show it off to all of you too, since I totally dig a DIY project like this. Her kitchen has been featured on several blogs and it was even photographed for a special edition of Better Homes and Gardens in April, to be published next year. Congrats, Kristin, how fun that must be!
So, take a look at Kristin's island BEFORE. You can get a glimpse of what their kitchen started with.  Like many kitchens, oak cabinets were the norm, but painting them white makes such a huge difference.  Kristin said she was inspired by the Something's Gotta Give house too, like many of us were.
And AFTER.  Kristin and her hubby worked tirelessly on this kitchen together, after getting inspiration from blogs and HGTV.  And it turned out fabulous. If you have a kitchen that needs a facelift, take a look at Kristin's for some major inspiration.  Here's her island post for all the details.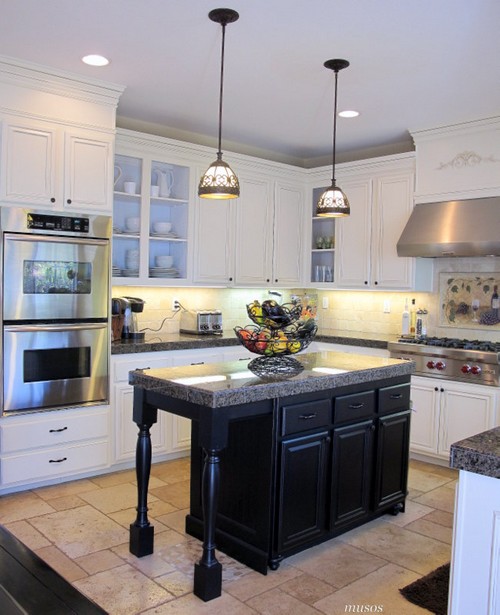 And the entire kitchen!  Isn't it amazing?  What a difference it is.  You can read all about how they achieved it on that link too.  I hope some of you who are still waffling on painting your cabinets will go for it.  It truly makes such a difference.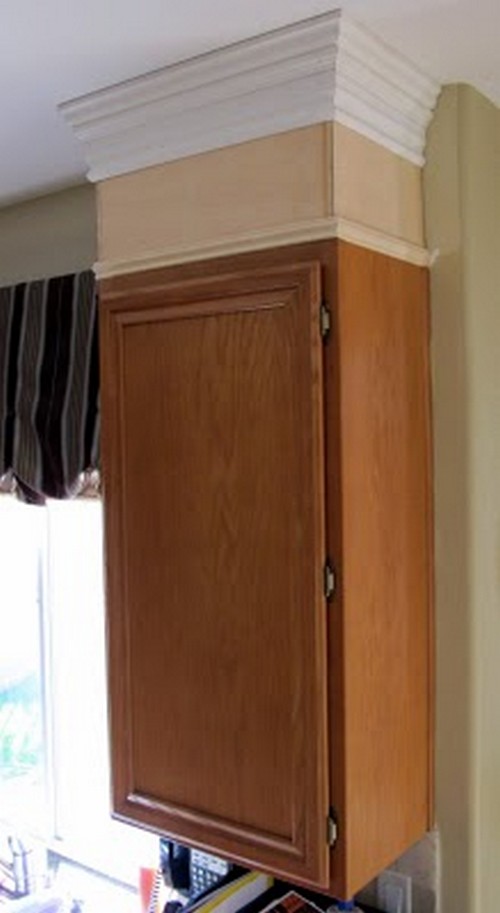 They built up their cabinets to add a lot of architectural interest.  This is the same thing that we did in my old kitchen in GA too.  Just adding plywood, molding and paint can really add so much dimension to stock cabinets. 
Kitchen, in process.
And you'll have to read about this in the island link.  They took out a bookcase from the old island and ended up with a hole in the floor that had to be filled.  Mosaic tile to the rescue!  How creative is that?
Kristin, from San Diego,  is a very talented decorator, mom of 3 boys, and married to a talented handyman, so be sure to go over and say hello.  Kristin left the workforce after she had her children to stay home and be a mom and to turn their house into a home.  I'd say she's doing a marvelous job of that and that's the most important role any of us could have.
Thanks, Kristin, for letting me share your talent and your beautiful kitchen.  There are  just so many talented bloggers out there and I'm happy to know Kristin.
Don't Miss a Post, join my list!