I'm back today with another Feature Friday sharing a blogger's home.  Meet Julie with Less than Perfect Life of Bliss. She's been blogging for about 7 years or so and I'm just getting to know her.  I saw her beautiful home and wanted to share it with all of you, so come along for a tour of Julie's Tennessee home.   She loves decorating and DIY projects and believes in doing things on a budget, but you'd never know it looking at her home.  She's a wife and mama to 4 kids, so you know she's a busy lady.
Her pretty rock and brick home looks very inviting and welcoming.
Gorgeous front doors and I love those brick and stone steps.
She's all decorated for Fall.
Family room off the kitchen.
What a cutie this one is!
Looking towards the kitchen.  I just love those large brass lanterns.
Breakfast room.
She calls this the piano room.
And the dining room is just beautiful!
Master bedroom
With 4 kids, she has had the opportunity to decorate a lot of bedrooms.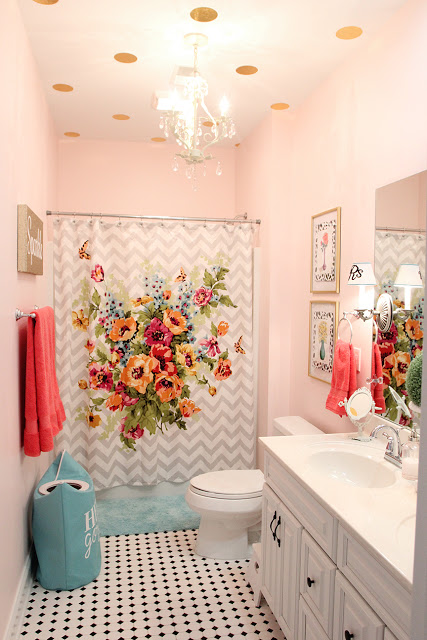 And making bathrooms special for them too.
An office space
Rec room too!
And Julie has a gorgeous screened porch, ready for lounging.
I just love Julie's warm and inviting style and knew you would too.  It's a big home, but she has done a wonderful job making it all flow together and I love seeing real life homes and how they are decorated.   Stop by Less than Perfect Life of Bliss and meet Julie, she's a sweet lady!
Don't Miss a Post, join my list!