Since moving back to where I was raised in Atlanta, it's been so great to meet other bloggers in the area.  When I lived here earlier, I was not blogging and blogging has opened up SO many doors for me and allowed me the opportunity to expand my friendships.  Lori May is one of those blessings from blogging.  She is a sweetheart of a blogger and a designer too and she lives in my area.  I had the chance to drop by her house for coffee one morning to catch up and get to know her better and I asked if I could share her house with my readers and she graciously said YES.  I first met Lori at the Room Service Atlanta project.  And she is going to be on a new HGTV show this fall, called Design Wars. It's top secret right now, but I can't wait to hear more about it.
Lori had some Before pics of her lovely home, which was built in the mid-80's.  The Before and After pics are dramatic.  See what updating an exterior can do, as well as some updates inside.  I love seeing homes built back then updated and refreshed for a new look.  They have great bones and a little thinking out of the box can bring them into the new century.  You cannot tell now when Lori's house was built
BEFORE:  A beautiful house, but take a look at the AFTER, below….
Take note of the additional dormer added, as well as the oval window above the door and see what a huge difference this made to the exterior of Lori's home.   That, along with the beautiful new paint color takes this house up a bunch of notches!  I love her exterior. What curb appeal.  Notice too the triangle arch above the entryway, that makes an impact too.  Lori told me her house color is Restoration Hardware's Silver Sage, which has long been a fave out there.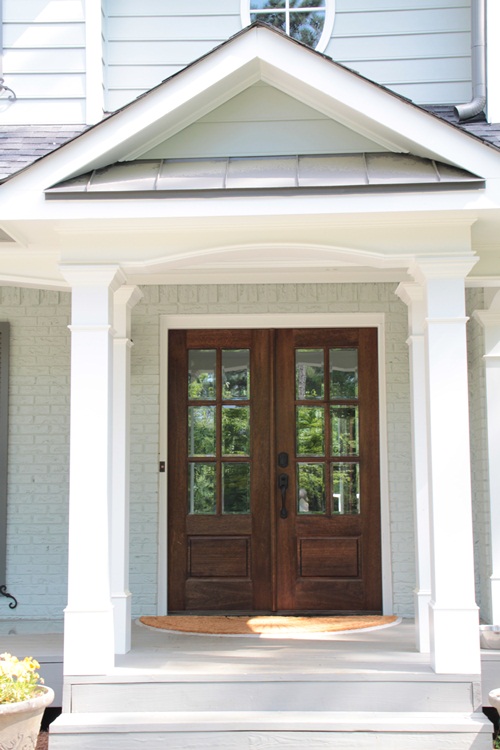 They painted out the red brick on the original exterior too, which I love.  Painted brick is so pretty.  You can see she took out the old front door with sidelights and added these beautiful wood French doors, which add a huge wow factor to Lori's entry way.
Adirondack chairs welcome guests.
The family room has Fall colors of orangey-reds, golds, browns, and feels very inviting.
Lori has a mix of traditional and contemporary accents, which I love.  They balance each other out.
Love the punch of these pillows on the sofa.
Her sofa table holds some special accessories too.  Lori is married with 2 sweet little girls.
The living room/office space is right in the front of the house and it so very pretty too.
Coming in the front door is a pretty green accent table.
Front door from the inside.  Check out that beautiful light fixture above.
Here's another BEFORE shot of the stairway off her kitchen area.  There's a fireplace in this room and all of this has been totally revamped.  From dated wallpaper and dark stained trim….
To open, airy and beautiful.  Amazing again what paint and removing wallpaper can do.  I don't think we'll ever get attached to wallpaper again like we did in the 80's, do you?  
Here's that same space now, with the updated fireplace and new paint and trim color.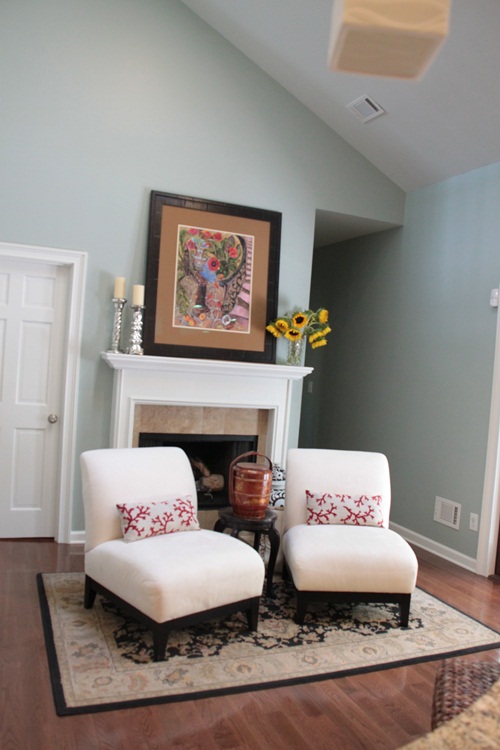 This keeping room is just big enough for a couple of pretty slipper chairs. 
And I love the colors Lori has used in here. 
Another kitchen BEFORE….wait til you see the after. 
Lori did a complete gut job on the kitchen and it is now WOW to the max.  New cabinets, island and granite countertops, Lori made some great choices in here.
I love her cooktop and mantel in here.
Gorgeous job, Lori. 
The diningroom is simple and elegant, with the zebra rug acting as the pop in there.  Love this room too and check out the beautiful chandy.
I hope you enjoyed seeing Lori's Before and After pics!  I love featuring homes that have been renovated and hopefully this will give you ideas on what you can do to update and change those dated rooms that need some help.  Amazing what paint can do, once again!
Thanks for stopping by.  Be sure to go by Lori's blog and say hello, I know she would enjoy hearing from you and she is just a sweetheart.
Don't Miss a Post, join my list!