Not long ago, I met up with Maggie, a newlywed here in Birmingham, who recently got married and moved into the cutest little bungalow in the Mountain Brook area of Birmingham.  This house has so much potential and Maggie and her new hubby will have so much fun making it their own.
This is a different kind of Feature Friday, in that decorating the house isn't finished yet, but I wanted to give you a sneak peek at this fun project.
Maggie found my blog and contacted me, then asked me to come over for an in-home consultation to give her ideas on paint colors.  As you can see, the previous owners painted all the woodwork dark brown, which can be a great look, but not if you're trying to lighten things up.
Coming in the front door, Maggie has decided to paint all the trim a creamy white and the walls a golden color.   The previous owners also really loved orange, which you'll see in various places around their house.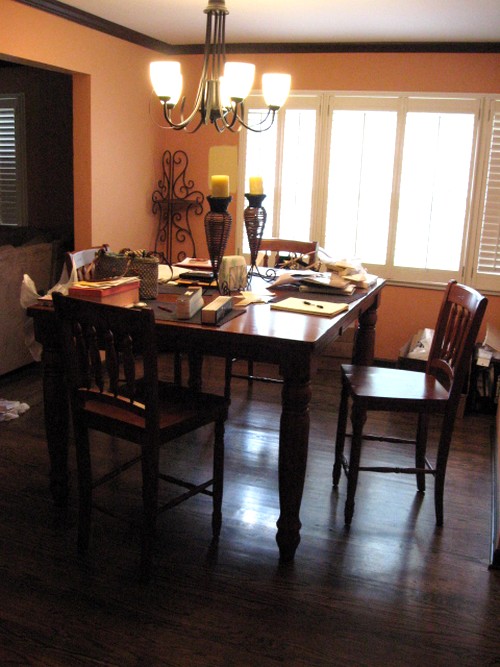 So, I'm happy to be working with Maggie on her new home and I hope to get some beautiful "after" shots for you when we have a chance to make some changes around here.  I'm not sure how much I'll be helping, but I look forward to the transformation.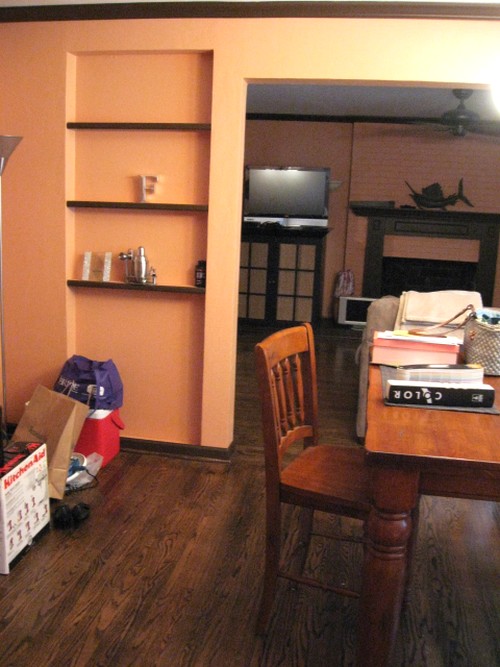 See? Orangey diningroom, not such a great color, looking into the orange familyroom.  I do absolutely LOVE the dark stained floors. Those are gorgeous.
Here's the familyroom.  They will be looking for new furniture for this space, as well as new diningroom furniture.
This is a small brick clad floor space, that leads out to a spacious and beautiful screened porch.  Oh, how I love this screened porch.
Tall beamed ceilings and a stacked stone fireplace.  Could you die for this space?
What a fireplace!  Maggie said this porch really sold them on the house.  I'd say, a big yeah on that.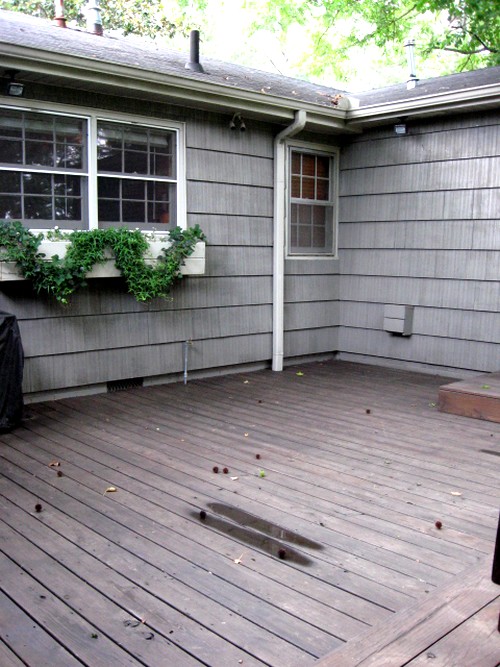 A small open deck is off the porch.
And back inside, this hallway leads into the kitchen.  This area is pretty dark, so it will be hard to pick a perfect paint color, but she is looking at green shades.
See, more orange in the kitchen.  Yikes!
One guestroom with a pretty antique bed.
And another guestroom which is holding all the extras for now.
Their master suite is really neat and has this little sitting room as you walk in.  I can envision a really comfortable relaxing spot here with some chairs and maybe a TV for lounging.
And a little hallway connects to the bath and bedroom. That's cute Maggie there at the end of the hallway.
And yep, more orange.  Orange has never been my favorite color to decorate with and I can definitely see why they'd like to get rid of it. 
The master bedroom is very spacious.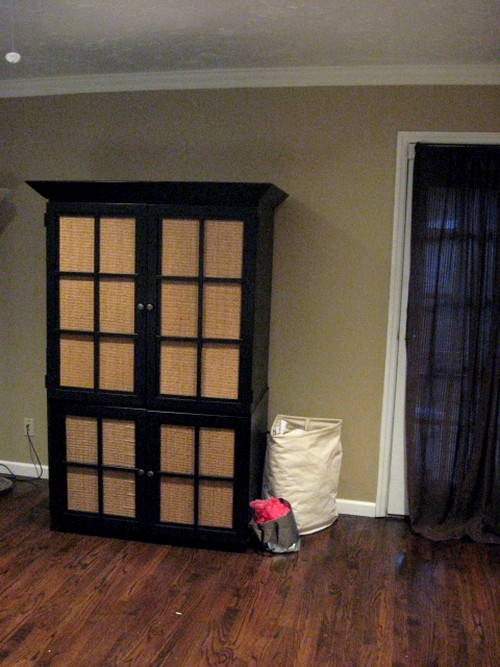 Plenty of room for furniture and it also has a door outside to the deck.
One more guestbath in the hallway and that's the grand tour of Maggie's cute cottage.
I hope to share more along the way as Maggie gets her house updated and makes it a real home for the two of them. I know it's going to be outstanding when some finishing touches are put on the home.
The Ritz Crackerfuls sweepstakes is coming to a close on the 31st, so if you haven't signed up, click over here to do so.  $100 will go to one lucky winner!
Don't Miss a Post, join my list!