I've had the pleasure of meeting and being around Mary Kay Andrews (aka Kathy) a few times now and she is just a delightful lady, down to earth and so friendly to talk to.  Mary Kay is her pen name that she uses for her fiction books and her real name is Kathy.  She has been in Atlanta forever now, writing for the Marietta Daily Journal in her earlier years, as well as the Atlanta Journal and Constitution and then her fiction writing career took off and she hasn't looked back.  I'm happy to read and feature her books on my blog, she's a Southern chick lit author and has thousands of fans worldwide.  I am the lucky lady who got to see her Christmas home this year and photograph it all to share with y'all!  I asked her if her home had ever been photographed and she said no, so I'm happy to have the Mary Kay home tour scoop.
You're going to enjoy this 1925 Craftsman Bungalow style home in historic Avondale Estates (near Decatur) here in Atlanta.  A little sidenote about Atlanta and neighborhoods.  There's a little acronym around here called ITP and OTP. Any guesses what that means?  You see, those who live inside the I-285 perimeter call themselves ITP's, because they live inside that circle of an interstate which goes around and around Atlanta.  Inside the perimeter is very desirable real estate.  It's usually older historic neighborhoods and homes and they are beautiful and desirable.  I love them too.    I, however, am a longtime 'burbs girl. I've never lived inside the perimeter, always outside and I'm quite happy to be outside.  I'm not a true city girl, although I do appreciate the older neighborhoods down closer to downtown Atlanta, I will more than likely never live in one of those neighborhoods. But, I love to visit and see how folks live in those historic homes.  Maybe I'll be invited into some others along the way, you never know.
This bungalow is a beautiful home and Mary Kay has it all decorated just the way you would expect.  She's a longtime junker, which is another reason why I love her so much.  She loves a bargain and shops the same way many of us do.  Yardsales and estate sales and finding deals at antiques stores and thriftstores.  She's a girl after my own heart, a collector of vintage things and things with meaning that have been loved on.  These things fill her home and it's definitely a homey, cozy place with an English feel of slipcovered furniture, collections of meaning, and pretty things.
In other words, you are going to LOVE THIS ONE!
Before we get to that, I've chosen the winner of the Christmas Bliss book and the winner has been emailed.  Just so you know, I always add a link when the giveaways close in a post once it has ended and Rafflecopter adds the winner's name to the widget in the giveaway post, in case you wonder who won a giveaway.  You can always go back to the original giveaway post and look at the Rafflecopter widget. I always post names too on older giveaways before I started using Rafflecopter.  Rafflecopter just makes it easy to keep up with winners!
I found her beautiful street in Avondale Estates and pulled up to this.  Gorgeous, isn't it?
When Mary Kay came to the door, the first thing I said was, "of course, your house would be turquoise!" I wasn't surprised since I've seen pics of her beach cottage in Tybee Island. She loves color and the inside is colorful as well.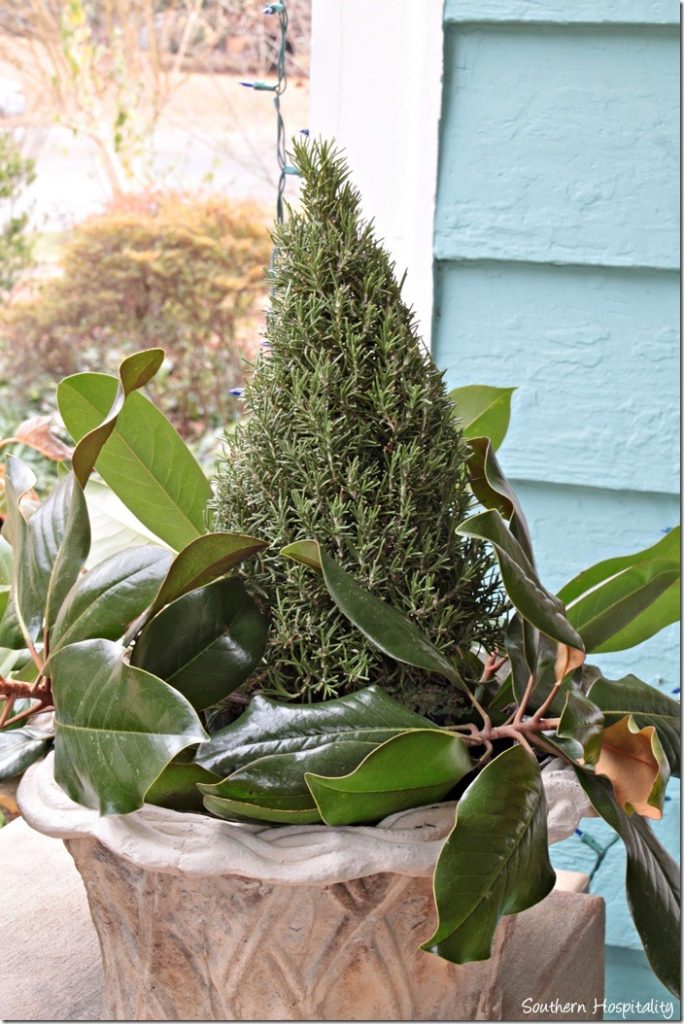 Natural greens outside are so welcoming.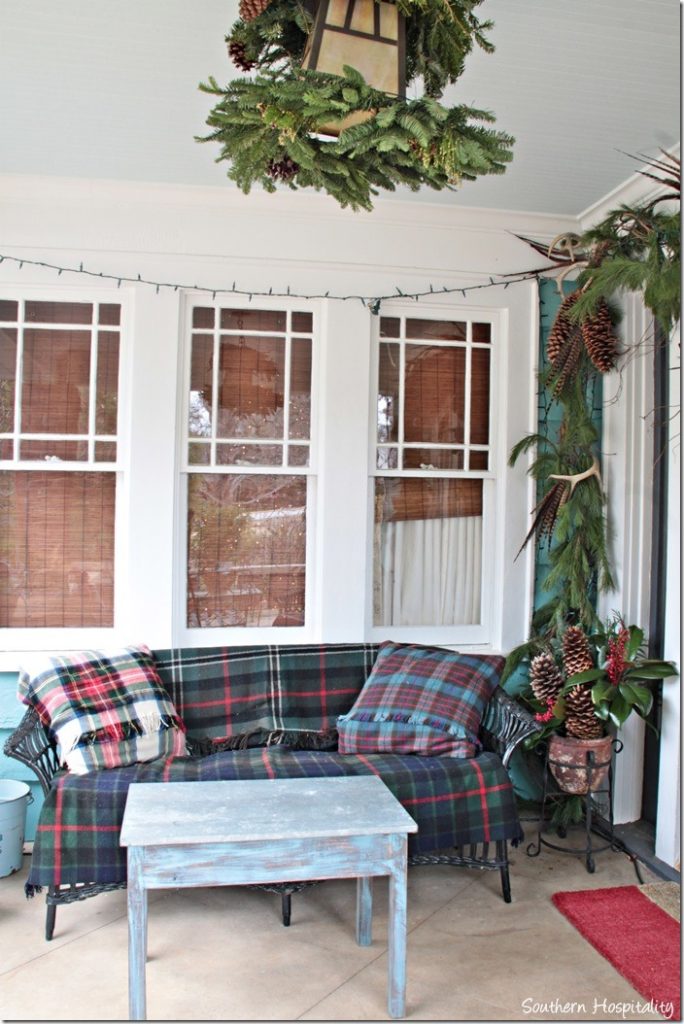 Greens are everywhere, along with magnolia leaves, a staple in the South at Christmas.
The front door was wrapped in real garland with pine cones and berries, pheasant feathers and magnolia.  Truly Southern!
Beautiful displays.
I adore this natural wreath with the simple green and burlap ribbon.
I took a quick photo of Tom and Kathy, before Tom left and I am so sorry I didn't get it focused correctly.  They are a super nice couple and have been married for 37 years, Kathy told me.  Two children and also grand children fill this house for visits.

Coming in the front door is the fireplace with 2 vintage chairs flanking it.  It also has built-ins on either side with a beautiful mantel, perfect for Christmas decorating.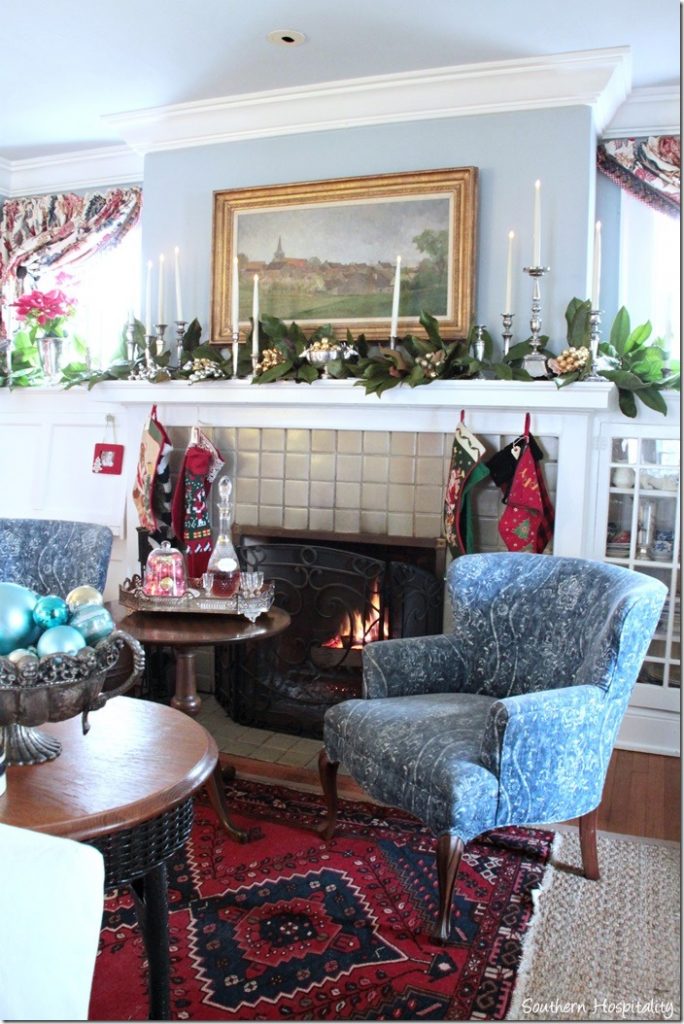 I love her layered and collected rugs over the seagrass rug.  She has some beautiful antique pieces from long time collecting. Notice all the beautiful millwork in this historic home.
The mantel all festooned with pretty Christmas décor.
These small windows above the builtins have pull back curtains and poinsettias inside silver cups.
She said these taper candles were an estate sale find and they are LED. I love them, they were so pretty and flickery.
I love how she tucked silver and gold balls into the magnolia leaves, creating an instant Christmas mantel with simple silver candlesticks.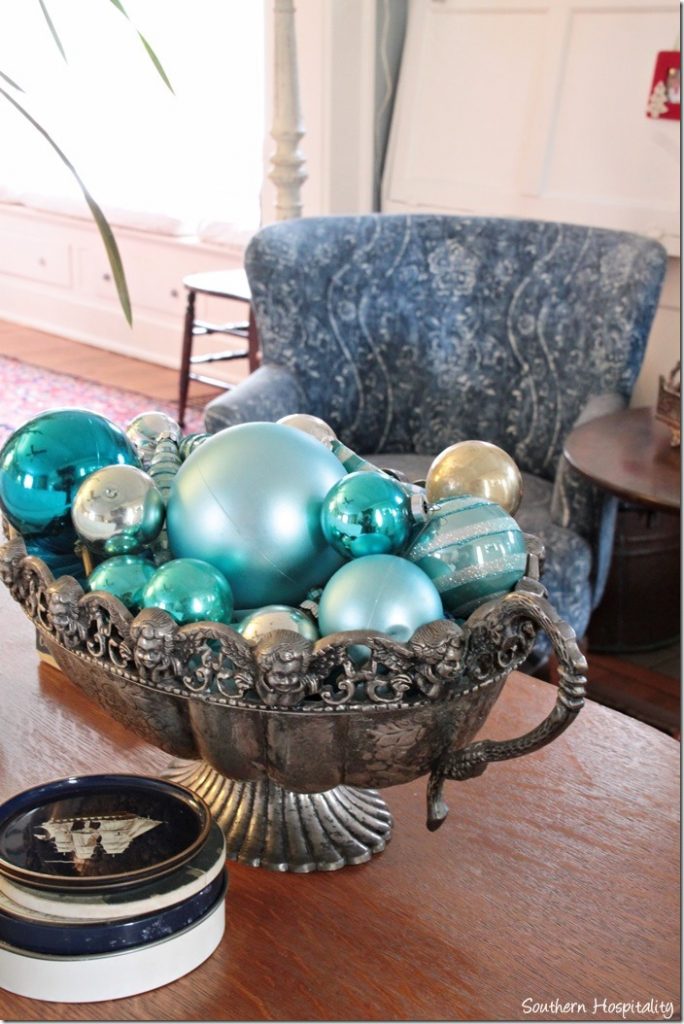 A pretty silver bowl gets piled with aqua blue ornaments, a favorite trick of mine too.
Loved this I had to take more than one pic. That bowl is awesome, isn't it?
From the foyer this is looking towards the very English Ralph Lauren feel dining room with red walls and navy blue accents.
Another look at the foyer area with the living room seating nearby.  Kathy was waiting for these 2 white sofas to come in so that I could come and photograph it all. They are beautiful slipcovered sofas.
The living room has a corner entertainment center, floral drapes and all those beautiful oil paintings grouped together.  I love this room.
A happy mix of pretty colors.
I'm sure this coffee table has a story, it's nice and large and oh so vintage.
She did tell me she's had this pair of chairs for a long time, found at a steal and recovered several times with slip covers.  Love the blue and white and the shape of these pretty chairs.
The corner round table has a beautiful nativity for Christmas.
More estate sale finds in this gorgeous chest and mirror, Kathy has scored some major pieces.
Adorned with some lustrous silver pieces and a small tree in a silver urn, this is a beautiful side table for the Holidays.
This looks to be a very cozy room to hang out in.
Looking towards the sunroom, you can see their beautiful large real tree in there.
It's a cozy space, just right for a sofa and chair.  The tree is stunning with all her collected vintage ornaments.
Side table.
Beautiful tree dripping with vintage goodies.
She had built-ins added in here too to help corral her book collection. I imagine an author would be a book collector.

The tree was so lovely to look at.  I spotted some similar ornaments that I have too.
There's nothing prettier than these old Shiny Brites.
Built-ins on either side, just shallow enough to fit and holds a lot of things.
I love how she added some ornaments on the shelves to Christmas it up a little.
Back in the living room, the secretary in there holds an adorable collection of snowmen.  So cute!
You can imagine that her grandkids love all of this vintage goodness, stored in the bottom of the entertainment center.
That tree is magnificent.
Back to the dining room, she has red walls and lots of pretty Blue Willow dishes.  Mary Kay shares all about this table setting and having a pretend dinner party over on this blog post, My Make Believe Christmas dinner party, so don't miss that read!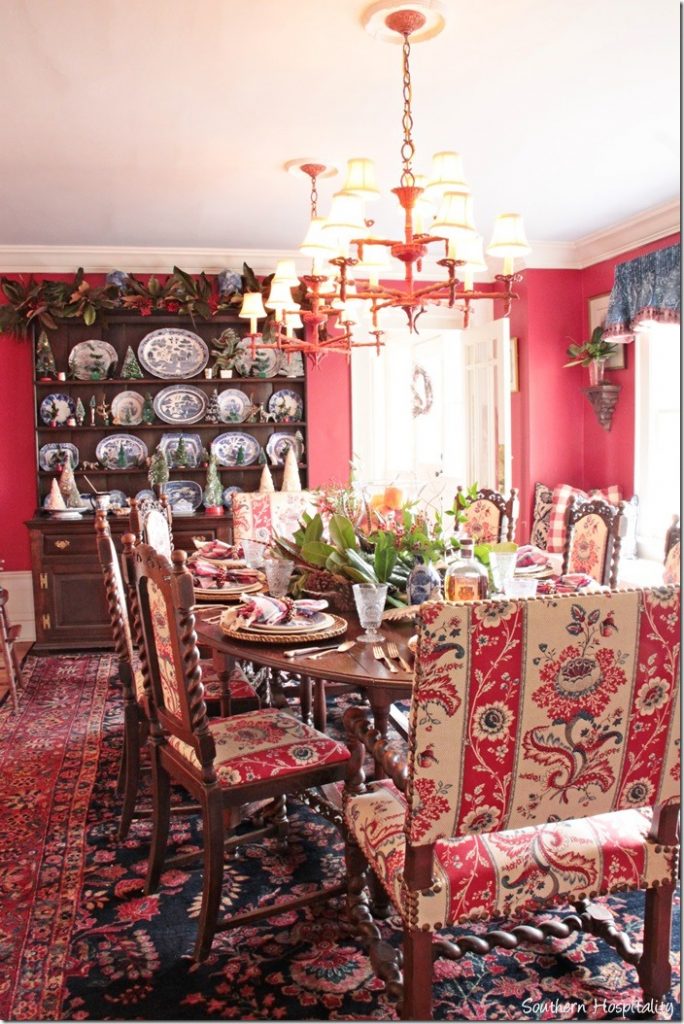 It definitely has a Ralph Lauren vibe.
A cozy window seat flanks one side of the dining room with huge windows looking out.
Pretty pillows in red and navy.
Cute Christmas display on a sconce.
The hutch is all decked out in fresh magnolia and her collection of vintage bottlebrush trees.  Love these too!
These little trees are the cutest!
The center of the table is gorgeous with fresh greens, antlers, pinecones and a glass container of apples.  So pretty and I am not sure my pics do it justice.
It truly was stunning to see.
Place setting with napkins she has scored along the way too.
She mentioned the light fixtures in here were a fun find along the way at some sale and she got them both hung up over her table, just the way she envisioned it.  They are beautiful too!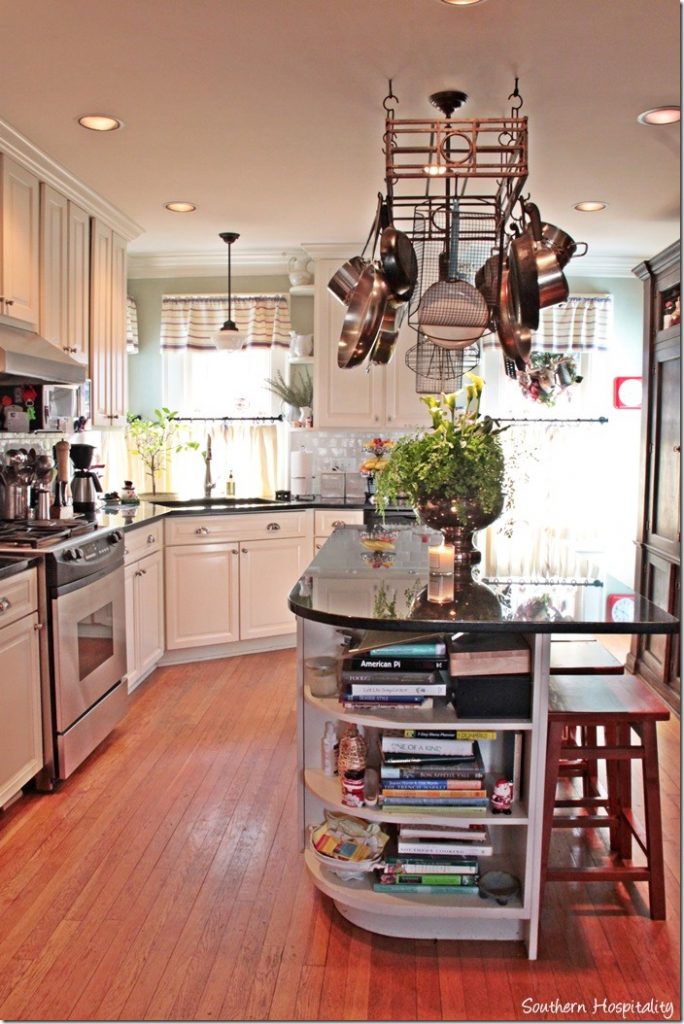 Now let's go into the kitchen. It's nice and spacious and I think Kathy told me they have lived here 8 years and the kitchen was completed before they bought the house, but they added a few things in here.
It's a nice and modern updated space, but still has vintage charm.
She did mention that they had that huge stained wood built-in cabinet built after they moved in and it looks like an antique. So pretty with lots of storage, I'm sure. Looks like it fits right in here.
The kitchen window treatments are so charming.
And I bet this deer head is vintage too.
A plant on the island adds some beautiful green to the room.
Isn't this all so pretty?  I can hear you all oohing and ahhing with me over Mary Kay's house.
Moving into the hall bath, I love the vintage tile on the floor. It's small gray and white checks and I love it.  She left the blue tiles that were here and worked with them and I think it's gorgeous.
A charcoal and white toile fabric looks just right in here.
The black and white wallpaper gives such an English feel too and that mirror is perfect hanging over the skirted vanity.
Gold sconces, an orchid in a trophy cup and a cute Santa towel, adds just the right touch in this bathroom.
I hope you enjoyed seeing Mary Kay Andrews home all decorated for Christmas as much as I did! What a treat it was to go in and get to take in all in and then photograph it to share with all of my readers.  Thank you, Kathy, for inviting me over to see your wonderful home. What a treat it was for me too!
I'm  sharing some gold and silver sparkly ideas for New Years Eve over at Wayfair today, so I'd love it if you check that out!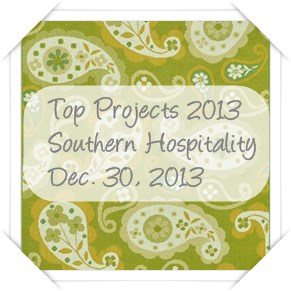 And don't forget Monday, I'm doing my Top Projects of 2013 link party to close out this year, so it will be very fun. If you have a post to link up, I hope you'll stop by and do so.  I got a lot accomplished this year, did you?
Don't Miss a Post, join my list!