You have already met my friend, Mary, who lives in a beautiful area of Birmingham called Montevallo.  I featured her home 3 years ago, but since we women are known for tweakin' our nests, I wanted to give you an update. Click on the link above for all the paint colors that Mary used in her home.
Mary and her hubby love the beach and have added touches of a beach style in their gorgeous home.  Mary's style is vintage.  Casual and easy, with a touch of classic traditional. Easy on the eyes for sure and the added hue of aqua really makes for a beautiful home.  My new camera takes much better pics than the old one did, but keep in mind these were taken very quickly and all the settings are not perfect.  But, you can see how beautiful Mary's home is.
Mary gets a lot of light coming in from all directions.  The open family room is very welcoming.
Chaise lounge in the corner is a comfy spot to relax. 
Mary has many pieces of furniture from family members and cherishes them.  This buffet greets guests just inside the door and speaks of their love for the beach.
With a collection of seashells, this is a perfect spot to display those things that are loved and cherished.
Fireplace mantel, simple and elegant.
With splashes of aqua and blue all around, this color is a great accent. 
I love this aqua urn with some organic sticks inside.
More aqua over the entertainment center wall.
The dining room is to the right of the front door as you come in.
Traditional and elegant, more family treasures are displayed on top of the china cabinet.
Mary loves collecting too, just like the rest of us.
Guest bath has a beautiful trim surround that is covered in fabric.  I love this clever idea on an old favorite.
She simply covered the wood trim with fabric and attached to the front of the mirror.  This fabric is over the window also in a cornice treatment.  Check out the trim on the inside edge too.  Don't you love this idea?
And this is how the corners come together.  One more great idea for trimming out those plain mirrors.
Three years later, Mary is now a young grandmother to 2 adorable children, so this guestroom now serves double duty.
She keeps her grandchildren often.
The other guestroom is now used for a playroom, with a cute rocking horse close by.
Still room for sleeping guests too.
Not a great pic, but you get the idea of the master bedroom.  Pretty shade of blue and lots of light coming in.
Brown, cream, and blue, such a beautiful room.  Love Mary's plates over the bed.
Looking into the master bath, it's such a pretty space.
Dreamy and spa-like.
Relax!  that would be easy to do in this space.
Looking into the kitchen from the family room, that's Mary there.  She's a sweet friend. 
The kitchen color is Sherwin Williams Rainwashed, which is one of the changes of the last 3 years.  I love this color!
Mary has done a fantastic job of turning her new house into a beautiful cozy home.  You can see her special touches all over.
Traditional table and chairs mixed with painted pieces.
I love this wall with the beachy painting and shutters.
An aqua chair in the corner of the kitchen with that cute pillow.
Aqua bakers rack in the  other corner.
A white painted corner cabinet holds more vintage treasures.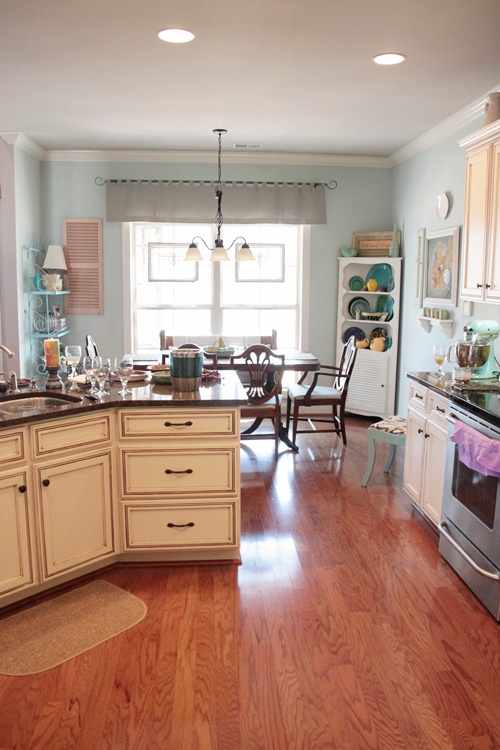 Beautiful kitchen that just oozes charm.

A vintagey apron hangs on a hook.

Did you spot this retro aqua beauty?  This Kitchen-Aid mixer is a piece of art on the countertops.
Kitchen table centerpieces brings in more color.
I know you love Mary's house just as much as I do.
Beautiful kitchen!
And a beautiful home.
Thanks, Mary for letting me show off your home once again.  These new pics are so much better than the old ones I took.
I hope you all got some great ideas and inspiration from Mary's gorgeous home too!
Don't Miss a Post, join my list!