Recently, I met Mollie when she did a giveaway for me of a custom stamp from The Paper Cafe and she is the delightful lady behind this cute business.  She showed me pics of her adorable cottage in Annapolis, MD and I just loved it.  So, I asked her if I could show it off on my blog and she agreed, so today we are taking a tour of Mollie's cute coastal cottage.   Besides being a small business owner, Mollie also does volunteer work with adults in her community who are in need of help getting a high school diploma.
Her story is an inspiring one, so I'll let her tell it:
We're a family of 5, empty-nesters, with 3 kids now in their 20's and I'm married to my high school sweetheart hubby of  nearly 30 years.

We lived about 15 minutes away for the past 12 years, but we wanted to move down into the city of Annapolis, because we are part of starting up a new expression of church (her hubby is one of the Pastors) here in the city. We wanted to live among those we are serving.  God has given us many opportunities to reflect His love to those around us, including midshipmen from the US Naval Academy, St. John's College, the poor and needy in public housing areas of the city, and young professionals in many of the neighborhoods surrounding our beautiful city of Annapolis.  It's also the state capital.
Housing prices in the area were astronomical, but we were able to purchase our home (miracle!!), which needed a TON of work, when the housing market hit rock bottom (that's another amazing story!!).
The  house was built in 1921, with a back addition added back in the 80's. It's in a fabulous location a few blocks from the water, restaurants, shops, the US Naval Academy, etc. We can walk or kayak downtown, or take the water taxi out to eat!!
The house was in very bad shape. With donated funds for the renovation, and over 60 friends (and even some strangers!) who volunteered hundreds of hours of demolition help, carpentry skills, electrical work, tiling, painting, refinishing the hardwood floors… we purchased the house in October of 2008, and moved in about 7 months later, in May of 2009.
(Kitchen BEFORE)
Some of the renovations included  Electrical:  had to rewire the entire house. Had the old knob and tube wiring,  not safe! Living room: tore out old radiators (kept one for nostalgia sake:), carpet, and a layer of concrete that had been poured to level out the floor (nasty!!), and refinished the beautiful wood floors underneath. Put new lighting in throughout the whole house. Kitchen: tore up 4 or so layers of old linoleum, laid down tile, new cabinets, knocked out a wall to open up kitchen into dining/living area. Sunroom, tore up carpet, put in tile, 2 Bathrooms: new tile, new vanities. Porch: put up ceiling fan. Painted whole house. Had to redo a lot of plumbing, too.
(Kitchen: AFTER)
(Living room BEFORE)
We accomplished a TON with very little money.  You wouldn't believe the deals I got at Goodwill (my cute rocker in the living room), my 3-tiered wire basket on top of the china cabinet, that cabinet was found on the side of the road, and I had glass shelves made for it! The living room table.    I sold the old stuff on Craigslist to buy new pieces that would fit the size and look of our new home. Curtains in kitchen are made from placemats.
I also love the living/dining room.  All the love that went into re-doing those old floors, fixing holes in walls, etc. what a transformation!!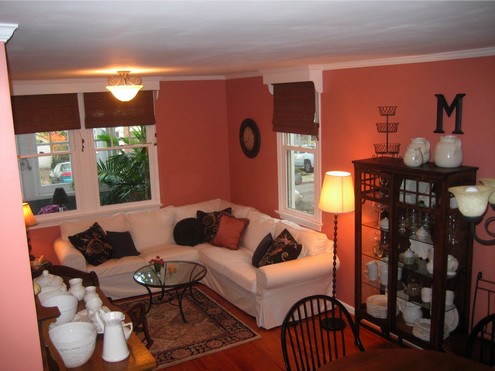 I refinished the top of the table, and painted the chairs and pedestal black; looks like a million bucks now!
Sunroom
(Front Porch BEFORE)
(Porch AFTER)
The rug on the porch from Pottery Barn I found on the side of the road.

My favorite room is hard to pick, but I love our blue, beachy bedroom! Looks so fresh in white and blue! Found the white matelasse cover in a 75% off bin:).  You'll notice there are words up around the border of the room. those are decals, with all of our favorite beaches/ocean/island spots, including places where we grew up, where we honeymooned, family vacations, etc! very special.
We had a wonderful open house when we moved in and invited all the people that helped us with the renovation, as well as all of our new neighbors that we are enjoying getting to know!
It's been so fun for us to watch this dream become a reality, with the help of so many wonderful friends. Have loved decorating, sharing our home with others, and being able to walk everywhere has been so much fun.
Mollie, thank you for stopping by and sharing with everyone! What a sweet story you and your hubby have and I'm so excited that you are living out your dream in this beautiful spot.  What a blessing that is.
Mollie doesn't have a blog, so I'm happy to show off her house here for all of you.  If you'd like to see more of Mollie's house, click on her Smilebox for a nice tour and music.
*************************************
I'm really excited to be a part of the Holiday with Matthew Mead blogger's Contributor panel, along with a talented group of other bloggers and you can find the whole panel of bloggers here.  I look forward to sharing and getting inspired by everyone else too.
Don't forget that you can pre-purchase your Holiday magazine and it will be delivered to your door in October of this year, just in time for Holiday inspiration.  You won't find this one on the news-stand!
As a special incentive, Matthew has a wonderful giveaway for those of you who purchase the magazine  this Thursday and Friday (so today is the last day) and the giveaway winner will be announced on Saturday, so if you'd like to get in on that, click over and check it out.  I will definitely be ordering my copy too.  No one does Holiday inspiration better than Matthew!
Here are the giveaway prizes, if you order  your copy by today!
Don't Miss a Post, join my list!