One of my longtime blog friends is The Nester, who recently shared her real name with her readers.  She and I started blogging the same year, me at the beginning of 2007 and she at the end of that year and it's been fun following her journey as well. She's a super talented DIYer of the home and she has taken a rental  home and made it her own.  I admire her courage with trying new things and really honing in on what her personal design style is. She and her sweet family  have really come a long way the last 5 years and I have so enjoyed her story.  If you haven't met The Nester, you're in for a treat.
She's bold and quirky in what she does in her home and is not afraid to try new things. This is Myquillin and her 4 guys and she has already been featured in Better Homes and Garden with another spread coming out later on. I love seeing all these bloggers in magazines!
She does fun things like making a chandy out of book pages and hanging up a disco ball. That's the little dots you see in this pic. I loved watching her change her space to an updated and lighter palette, with a few things at a time. You can see how she went from red, gold, and black to lighter and airier hues of blues and creams in this post. She shares a lot of practical ways to update on a budget and that we all can relate to.
She's one of the first bloggers I saw hang plates all wonky on the wall, but doesn't it look cute?!  She's a master at mixing up the quirk.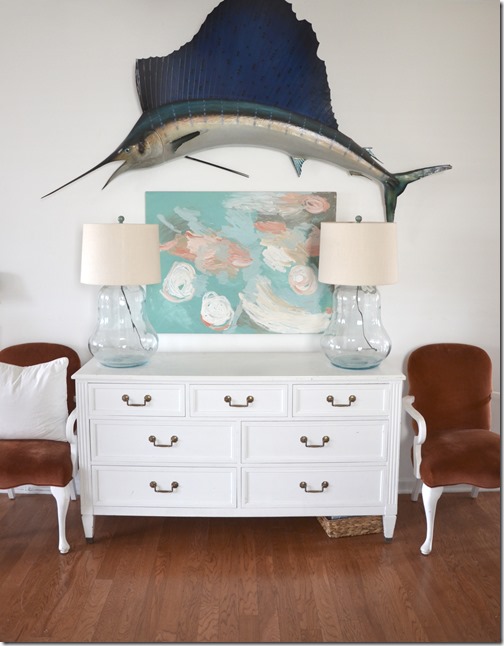 She might be the only person I know with a real sailfish hanging on the wall and she's also a fan of painting furniture.  We are yardsale buddies and both have a love of shopping thrifty.
She doesn't let the fact that she has 3 growing boys (and a dog) stop her from making her home pretty and liveable.
And she's made her rental home very  personal just by painting and adding a few things that give it the Nester stamp.
She even brought in logs from a tree that was cut down from her yard and painted them white.  And I do believe she may have started a trend of horizontal striped curtains in blogland.
She has a wonderful way of putting things together and is always moving things around to freshen things up.
And of course, since I'm also drawn to this pretty blue and green palette, I love it all with the neutrals.
Her pretty bedroom, curated over time.
And what a pretty office.
She used chalkboard paint around her fireplace and drew on bricks, clever girl.
A wonderful mix of fun, quirky and stylish.  That's the Nester!  She and I have met a few times at different blog conferences and I always enjoy catching up with her. It's really been fun to see how both our styles have evolved over the last 6 years.  Her motto is "it doesn't have to be perfect to be beautiful" and that one I agree with.  Nothing is ever perfect, but you can certainly take a room or piece of furniture and make it more beautiful without breaking the bank.
Stop over and say hello to the Nester if you haven't met her already and I can't imagine that you haven't.  She's all over blogland and has been for years, but I wanted to introduce you just in case!
As I am headed home today from the Southern Coterie Summit in Jekyll Island (of course, I'll be sharing all about it!), I'm also sharing this week at My Way Home on some ways to up the curb appeal at your home.  See ya'll soon!
Don't Miss a Post, join my list!