If you still haven't peeked under the carpet on your stairs, this one might give you some extra incentive. Inspired by my stair project, long-time friend and reader, Nicki, ripped off the carpet from her stairs too and redid them with just paint and some hard work.
Here are her carpeted stairs that she was unhappy with.   I know the feeling. 
And after the carpet was pulled up, she has what looks to be pine boards down.  Not fancy, but with a little wood putty and caulk, they are going to look great.
And they look fantastic with their new coat of black paint on the treads and white paint on the risers!  She also painted her post and top railing black too, which adds a lot of punch.
So, if you're still thinking about this one, get on up from the computer and take a peek at YOUR stairs to see what is lurking under there.  Nicki's stairs were in SO MUCH better shape than mine were and you might luck out on that too. For all the details on Nicki's project, go on over to her blog.
Fantastic job, Nicki!
****************************************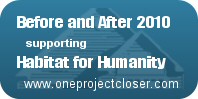 Our friends over at One Project Closer are starting their Before and After summer project contest this month, so if you'd like to get in on that, click on over here for all the details. They are choosing the best projects to feature every week on their blog and if your project is chosen, you will win a $50 giftcard to Home Depot, Lowes, or Amazon.  They will also donate to Habitat for Humanity on your behalf too.  At the end of the summer, ALL the projects will be compiled and there will be a final winner picked from a voting poll.

I entered a couple of years ago with our outdoor patio and won a $50 giftcard from Home Depot.  Any project that you've done this year is eligible, so go over and enter.  You might win too.  I've entered my stair project this year!
Don't Miss a Post, join my list!