It's Friday once again and that means Feature Friday day!  I've found another inspiring Instagram person to share with you today and she was very happy to hear from me that I wanted to share her home with all of you.  Meet Sonja from Our Craftsman Cottage. She used to be on Instagram, but apparently deleted her page.
She and her husband, Ronnie live in the Birmingham area in a newly built Craftsman style cottage home and it's so pretty!  I just found Sonja recently (she's  not a blogger) and have so enjoyed seeing all her decorating and her home styling.  Just this past week, she had a magazone shoot at her house, so sometime in the future her house will be featured in The Cottage Journal magazine.  So happy for Sonja!  She says he is the carpenter and she is the decorator.
Sounds familiar!
Sonja didn't share all her pretty house pics with me since she is going to be in the magazine, so enjoy these and go over to Instagram to see more of her decorating.  I just love this Craftsman style house!  And she has it decorated for the 4th of July, how pretty!
You'll see lots of patriotic touches around the house, just in time for the 4th of July.
I've never used red, white and blue bunting but it's so pretty.  And look at those hydrangeas!
What a cozy spot on the porch!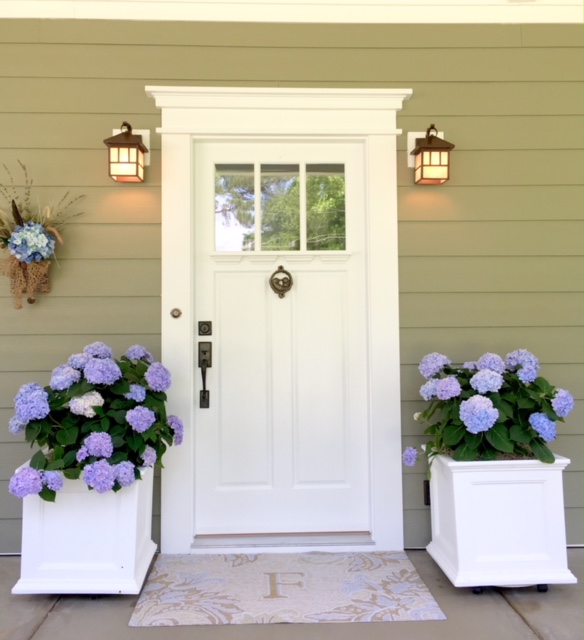 Wow, and look at those hyndrangeas in the white planters. Let's go in!
Entry hall with a pretty table.
More flags for the holiday.
Another pretty farmhouse style table.  I love the natural accents that Sonja uses and her decorating style in general.
The white kitchen looks beautiful and look at that patriotic cake.
Very pretty and welcoming.
Cookies on the counter.
She's got a beautiful built in that she added wallpaper to the back.
This round table is a pretty accent as well.
And here's the famous wallpaper that I've seen in a few blogger's homes.  It's called Raphael and is so pretty. I've actually considered it for one wall in my laundryroom.  Don't you think it would look good in our house too?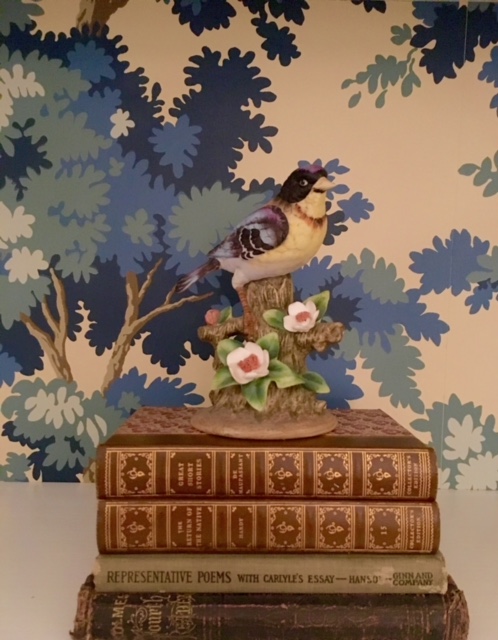 Sonja has a large collection of birds and you'll see lots of them on her Instagram feed.
Check out these beautiful Spode Woodland dishes with birds and animals, she has a whole collection of them.
Now that's a collection and I love this hutch which is the perfect spot for a pretty collection like this.
If that's not enough, get a look at the pantry.  I just love open walk-in pantries like this and have never had one. Sonja's is picture perfect and pretty!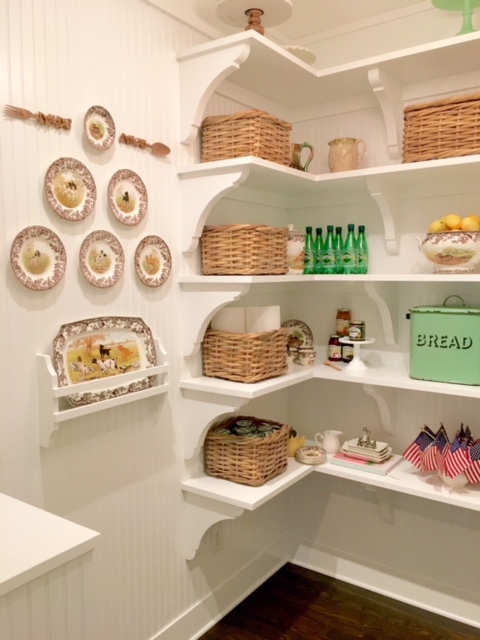 She's got plenty of room and those canisters make it look organized yet so cute.
More Spode Woodland dishes.
This is the laundry room and what a charming space it is.  That's such a cute ruffled skirt!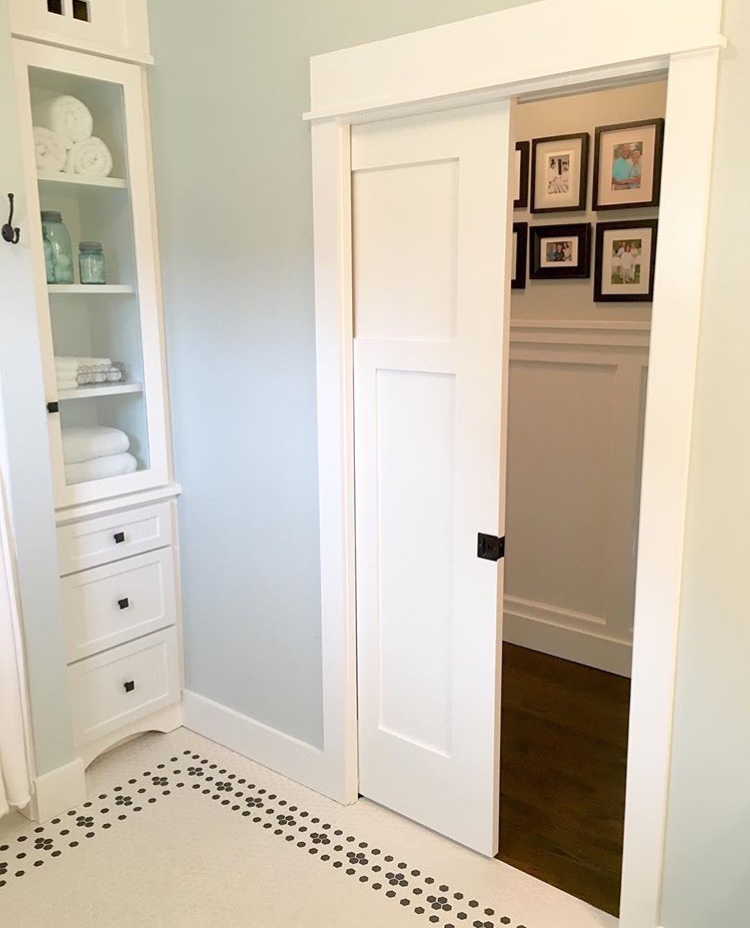 One bathroom with black and white tile, a yummy wall color and what looks like a pocket door.
Such a charming bathroom and so fresh and white.
A view of the vanity.
And lastly, the guest room, looks so comfy and welcoming.
I hope you enjoyed meeting Sonja and seeing her charming Craftsman home.  They've done a wonderful job, so I hope you'll check out her Instagram account under Our Craftsman Cottage and say hello. She is going through a really tough time right now and shared her family loss on Instagram this week, so prayers would be appreciated.  I'm so very sorry for her loss and my heart goes out to her.
Have a wonderful weekend friends!
SaveSave
SaveSave
SaveSave
Don't Miss a Post, join my list!