We all love a good before and after story with pictures, don't we? I've got a good one for you today from a friend of mine here in the Atlanta area. I met Betsy Manley last year and we had so much fun talking about home renovations as I learned about her business and what all she does. She's a house flipper, real estate agent, and home renovator. She lives on Lake Allatoona and specializes in lake properties too. She's got a lot of irons in the fire and does such a good job in her home renovations. I've seen pictures of her projects online, but I got to see one in person this week and I couldn't wait to share it with y'all!
Check out her website and if you're in the area and in need of a home renovation, but you don't know where to start, you will love meeting Betsy. She has a contractor that she works with on all her projects, as well as lots of sources to get the best products and she's really good at renovating homes and making them pretty. She does a consultation called Love it or List It, like the TV show where couples decide if they are going to stay in their house and renovate or move and find another home. Home renovation and everything to do with home has exploded in the last year as more and more people are fixing up their homes and making them a haven, as well as working at home now. Home is so important to all of us! Come along with me for a great before and after story of this house flip Betsy just completed. It sold as soon as it went on the market and was the highest price ever gotten in this neighborhood.
If you're in Marietta, the house is in Park Manor off Kennesaw Ave., a beautiful area of Marietta. This is an older neighborhood, built in the 80's. Really nice homes, but in need of updates and renovations. This brick traditional was prime for a redo!
Betsy went in and changed this home inside and out and I think you'll agree, it looks so fresh now. I dearly loved painted brick and white painted brick is all the rage now.
Dark and dreary exterior.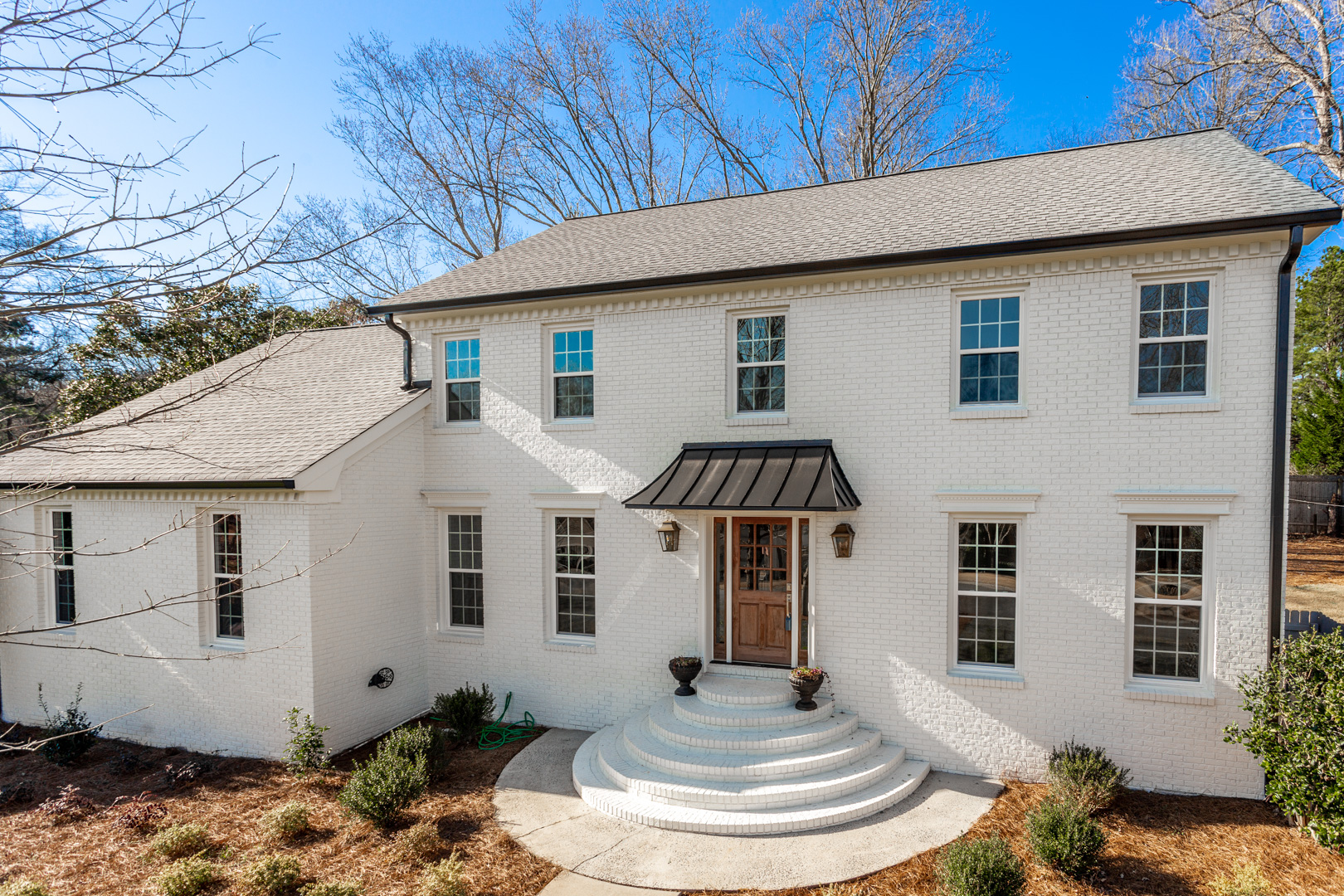 Changed to fresh and updated. I love the meal awning that was installed. Just that little change made a huge difference.
She also updated the landscaping too.
Inside, she made some really nice changes to make this home more open and flowing. Before foyer.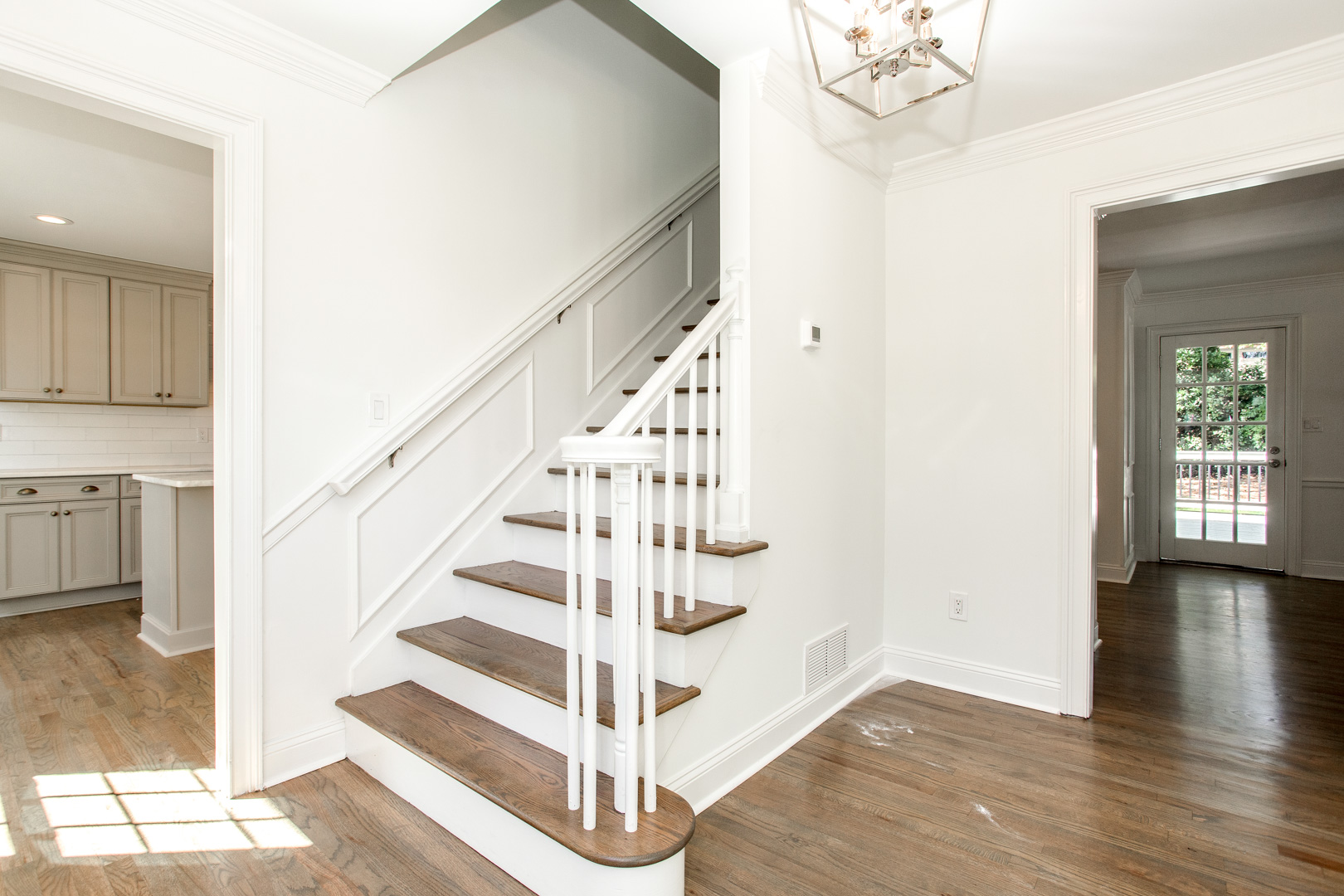 After.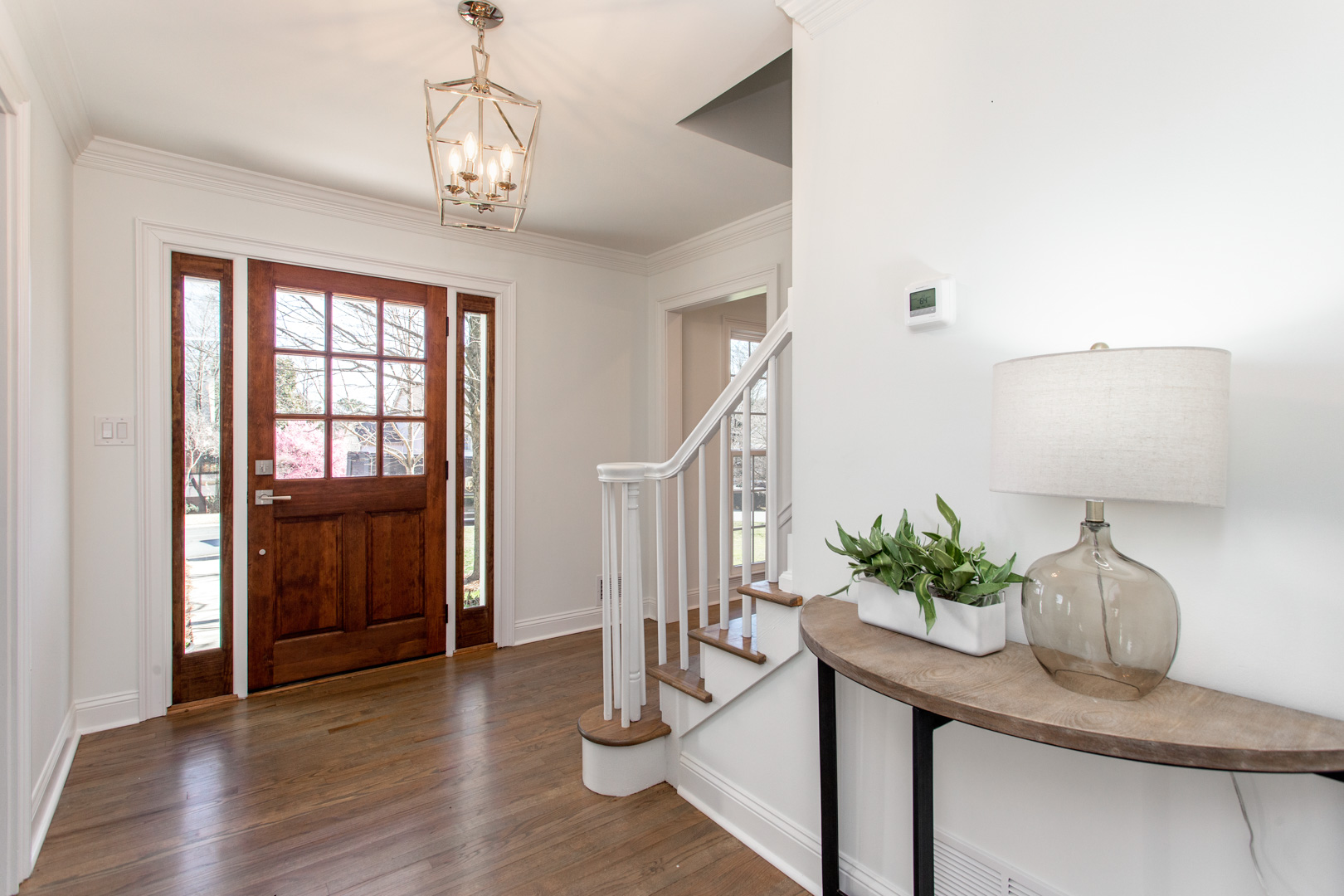 The entry feels so fresh and new. She had new red oak installed in some of the downstairs space and had them all stained the same. She did a custom mix of Minwax stains to get a more brown/gray look which updated the floors too.
You can see the difference in floor color here in the living room before shot.
The After living room, staged as an office.
She painted the inside Chantilly Lace, I think she said.
The big change was getting rid of the formal dining room. It was right off the kitchen, so she took down these entire 2 walls to open up the kitchen and make it much bigger.
The back side of the kitchen breakfast area with the laundry room in the back space.
Old kitchen was very square and boxy with the walls up and the dining room on the other side of this right wall.
Before
Before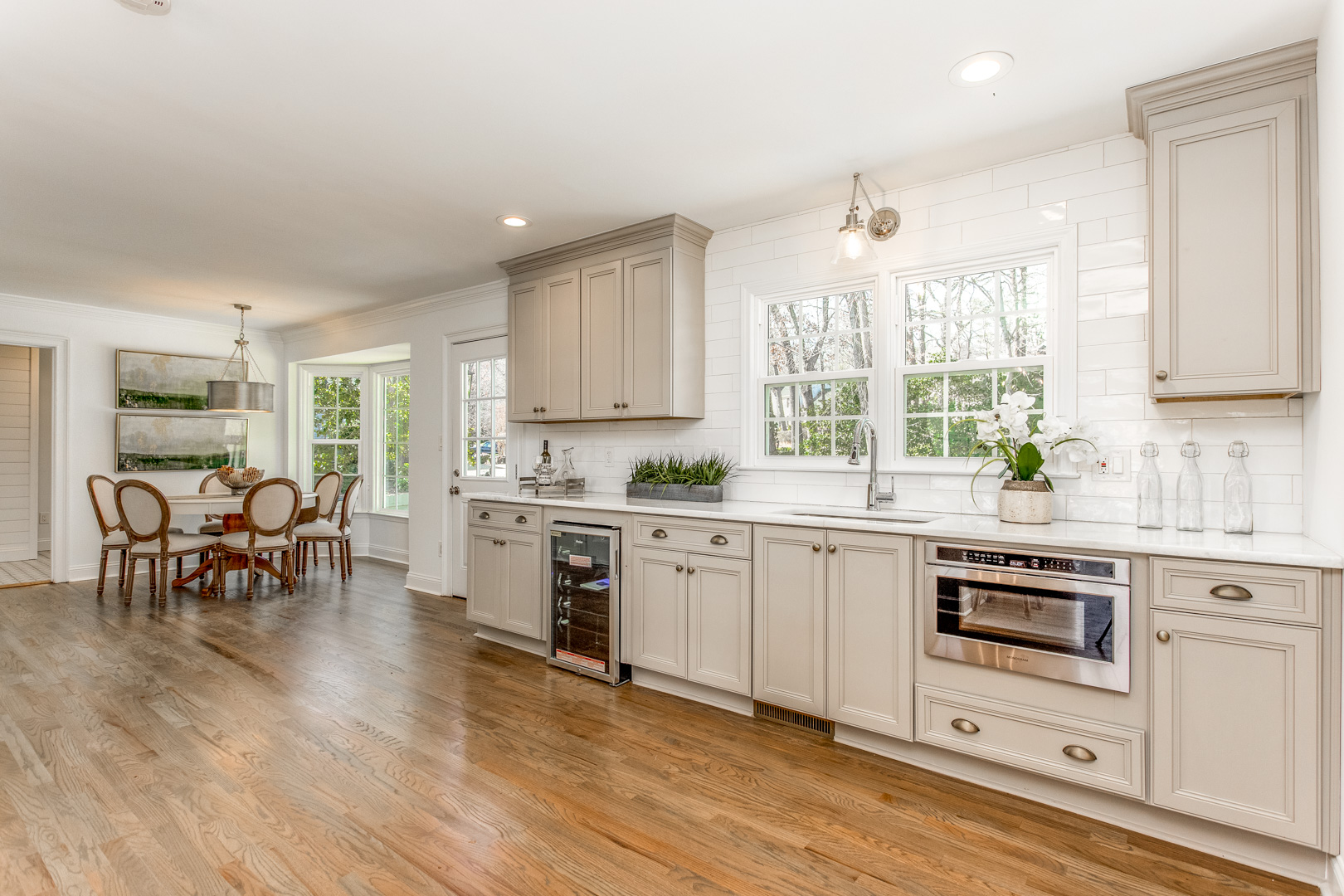 Same view, after. She put in all new cabinets with a pretty greige color and everything looks so nice and bright now.
Bank of cabinets looking out to the backyard.
This back area of the kitchen is more for prep and houses a wine fridge, microwave and sink. Lots of storage in this kitchen.
Breakfast nook.
Breakfast nook looking back to the new kitchen and into the new family room. She widened the door to the family room for a better flow and view. It was a tiny hallway before.
She built a shiplap wall to hide the hot water heater and added new tile to the laundry room.
Now looking to where the old dining room used to be, all the walls down and this space totally opened up. The island and cooking area are where the dining room was.
This is the  main cooking area with stove and sink.
The island is really huge and nice with a farmhouse sink.
What a change taking out those walls made.
Here's the family room before, all wood but perfect for painting.
I love the after on this space. I would have done the same, painting all that wood.
The built ins look great in that color.
Looking back to the kitchen.
Fireplace updated too. Light and bright!
Here are pics of the bathrooms and the afters are below.
Before of the master bedroom.
I think this was part of the master, not sure.
Master bedroom. After
She ended up going through to some attic space to make the bathroom bigger and it turned out so nice.
Double vanities.
Nice big shower.
Planked wall and hooks.
She added one more bathroom upstairs that didn't exist before and with 3 bedrooms upstairs, two bathrooms were nice to have. One bedroom has a bathroom all its own and the other 2 bedrooms share a bath.
Great use of space.
Back of the house had a hot tub but no deck.
She added a huge Trex deck and it's so big and spacious now.
Sodded backyard and new deck.
Fire pit area too.
I thought you all might enjoy seeing a beautiful before and after on this classic Colonial 80's house. I loved seeing it. Betsy is so talented and has a good vision for transforming a house. If you want to see more of these let me know and I'll share more of Betsy's renovations. It's inspiring to see what you can do with an older house to update it all and bring it to the new century.
Don't Miss a Post, join my list!