Happy Friday, friends!  I hope you are all ready for the weekend. I know I am!  I've been helping my sister this week, since her grands, Parker and Iris, have been with her all week. And let me tell you, running around after a 4 and 2 year old will wear you out!  I know she is too and we will both need to recover next week.  I had Parker spend the night with me 2 nights to give Renee a break, since they are better alone than they are together, they tend to fight over things.  It was fun having her here, but little ones are a handful to keep up with and entertain, that's for sure.  Mom and dad saw them a lot too and we always enjoy having them around.
Let's get on to Feature Friday! Today's Feature Friday is a gal I've met recently, in fact she was at Haven this year, although I didn't really get a chance to chat with her, I saw her.  Tracey's blog, Porch Daydreamer, is so pretty and she shares all sorts of decorating ideas along with furniture painting and other DIy projects on her blog.  She lives in Charlotte, NC and is a single mom to a son who is in college and she's learned a lot along the way about making a house pretty.  After going through a divorce, she was forced to get back out to the career world, learning lots of good stuff along the way and building her confidence as a DIYer.  Later she started her blog to share all that she has learned about DIY and decorating.  And I'm glad she did!  She has lots of great things to share on her blog.
Here's Tracey, such a pretty lady.  I saw that her followers on Instagram were telling her she looks like a young Christie Brinkley and I have to agree, she really does favor the model.
Her blog name came from times after her divorce when she would sit on her porch (another house) and daydream about the next chapter in her life.  She's doing great now and her mission for her blog is to help inspire others to get through stressful times with a purpose and come out the other side a better person.
I  love that! I feel the same way about my blog and the tough times I've been through.
Tracey's home is beautiful and looks so Southern and cottage from the outside. I love those double porches.
Wait til you see how cute her front porch is!  I really have a thing for porches.
Her front porch is big enough for a swing and seating area.
Adding a rug and cozy cushions and a few accessories is all that's needed to really make a porch comfy.  That's her cute doggie, Mick. You'll see him all over her blog.
What a great space to hang out.
Mick looks pretty happy, doesn't he?
Inside Tracey's beautiful home is filled with lots of gorgeous pieces that Tracey has made over and improved upon.  Her soft colors of pale blues and sandy hues are very complementary to each other and flow so well with her coastal cottage vibe.
She recently remade her dining room and painted that buffett a beautiful blue shade and it all looks so soothing together.
Tracey has a great eye for details and fabrics.
She has a tutorial on how she hung those plates in a circle, such an eye-catching look.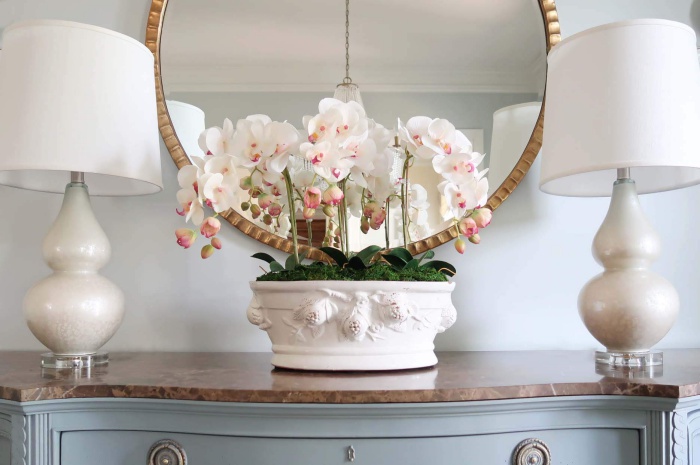 Beuatiful orchids!
Looking towards the kitchen.
The living room in soft shades of sand and blue.
I love that painting over the fireplace and everything is so soothing and calm feeling.
And I love how Tracey has divided her open concept home by placing her furniture just so.  She added this seating group on the back of her sofa that faces into the living room. This grouping faces her kitchen and I think it's a fabulous idea for an open concept home.  Float that furniture!
Here's another view of the space and how it relates to the living room.
Here's the spacious kitchen and that island/table looks like a great place to hang out too.
Tracey has a nice mix of traditional and modern pieces.
She also has another all season porch inside the house with lots of windows.
I think she had this enclosed after she moved in and what a great space this is as well.
Upstairs is her son's loft bonus area along with her carved out home office space.
Great place for young folks to hang out and watch TV.
It has a youthful feel without being too themey at all.
She has a table and chairs upstairs too for more entertaining options.
Tracey's office is a favorite of mine, what a great use of color and texture. I love the navy painted base cabinets and the wallpaper is very bold and beautiful.
Tracey had laminate countertops and did a DIY on those, adding this marble contact paper to them to elevate them a bit. I love the result!
Tracey's bedroom is very feminine in shades of soft blues and blush pink.
What a pretty and feminine space all her own.
I love her master bathroom to and how she kept the granite and worked with the color that was there, by painting the vanity a pretty sea blue, making it all harmonize together with the right choices of rugs, paint, and fabrics.
The vanities were a dark wood tone and this really jazzed them up a lot.
The guest room is pretty and spacious too, great place for guests to feel at home.
Another painted piece Tracey updated.
More blues finish off this space.
I hope you enjoyed this pretty tour of Tracey's coastal cottage home, it sure feels inviting and cozy, doesn't it?  Stop on over and take a peek at Porch Daydreamer and say hello to Tracey. She's doing a great job over there!
Don't Miss a Post, join my list!