It's the end of the year and my last Feature Friday of 2016!  I'm always excited for the new year to get here and looking ahead to 2017 is fun.  I've got several bloggers in line to share with all of you and today's feature is one of my long time blog friends, Brittany, from Pretty Handy Girl.   She lives in Raleigh, NC and has been blogging a long time now, so we go way back in this blogworld. Somehow I had missed featuring her on my series.  She's a genuinely talented DIYer who is not afraid to tackle any projects, from woodworking, to building and painting, she's a wonder woman around the house.  Her pretty Cape Cod home has come a long way since they moved in a few years ago and she has step by step transformed it in into a warm and beautiful home for her family, including her hubby and 2 boys.
Join me for a tour of Brittany's beautiful home in NC!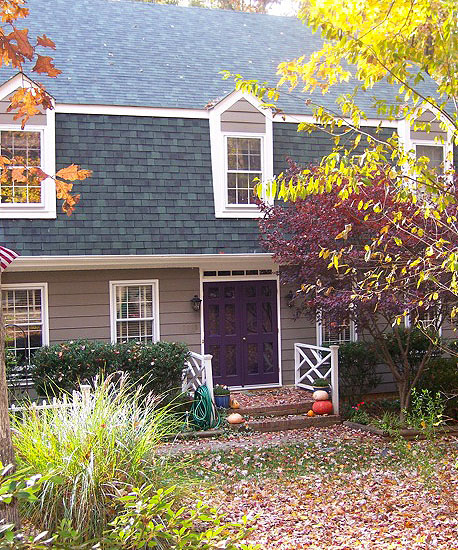 I love her exterior and Cape Cod's really capture my heart.  Love their timeless style.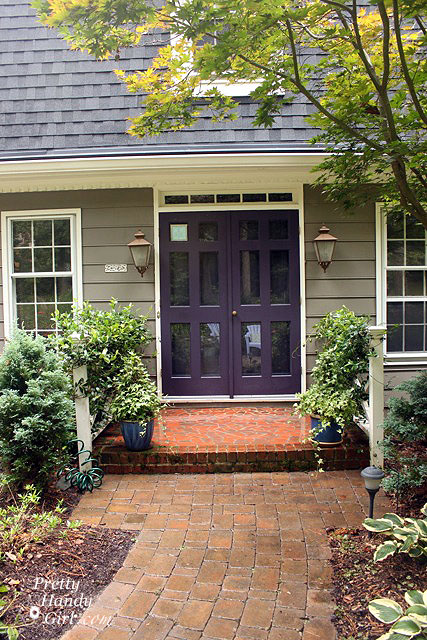 Front Door entry.
Brittany said her friends use the side door and she painted it a bright green, which will fit in with the color on the year next year.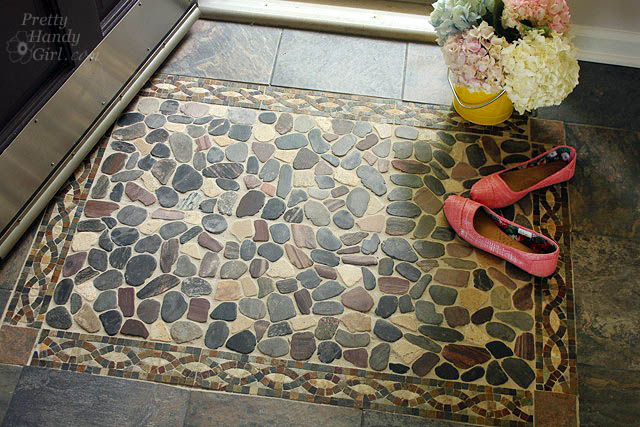 A pretty stone rug is embedded in the tile inside the door.
Her family room is bright and cheery.
Looks like a cozy place to hang out.
And this is the TV wall with a gallery art wall around it.
Brittany had  leak over 3 years ago and ended up redoing her entire kitchen. It turned out fantastic.  She did a lot of the work herself.
I love the built in window seat.
And those corbels and shelves are so warm and rustic, adding just the right touch.
These pics are from several different home tours, so you'll see some seasonal touches.
She installed a cork floor in the kitchen and gives it rave reviews.
I love what she did over the stove.
She also DIY'd this desk area and shelves above. She is a whiz at this stuff!
To prove that point, she built her dining room table.  How impressive is that?
Her master bedroom got a makeover awhile ago.
She repurposes furniture with paint adding personal touches to her home.
The laundry room is so cute!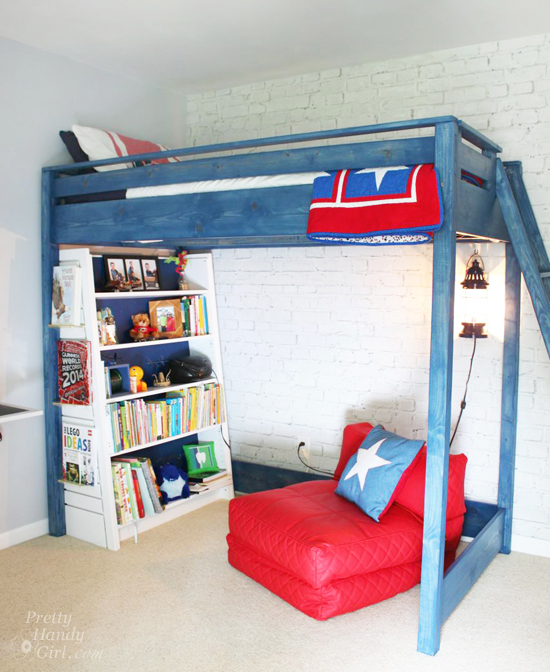 As is one of her son's rooms that also got a big makeover.  This bed is too cute!
Great little boy space, isn't it?
Cozy and calm guest room.
And I really love her spacious screened porch with the vaulted beadboard ceiling. I love a porch so much!
Last year saw a huge transformation on the outside of their house, with paver walkway and lots of stonework int he backyard.
It's gorgeous and a great before and after story.
I don't think she DIY'd this project, but it sure is pretty.  I so admire stonework along with landscaping.
A nice large patio was part of the project.
Lots of tiers and walls and also sod in the backyard.
This looks like a really inviting backyard to enjoy with her family and I'm sure she does.  Gorgeous work back here, Brittany!
Stop on by Brittany's Blog, Pretty Handy Girl for lots more details on all her projects. She's been a busy girl and has accomplished a lot in her years of blogging.
Don't Miss a Post, join my list!