I'm so excited to be part of a project such as this. Today's Feature Friday is in progress pics, with true afters coming later on.
My new client here in Atlanta, Lynn, is letting me document her newly built house and all that goes along with it.  Today, I'm sharing the progress pics and where the house is at the moment.  It's been completely rebuilt since a house fire last year in November that started in an outdoor fireplace, took everything they had.  They lost all possessions and have spent this year rebuilding.  Lynn is choosing everything that will go in the new house and I'm going to be helping her.
How fun will that be for me?
It's a beautiful 6K s.f. home in the north of I-285 area of Atlanta.  Lynn and her family had purchased this home just about 18 mos. before the fire.  This time, Lynn gets to choose everything herself, which I think would be really fun to do.  Build from scratch!  How many times in life does that happen?  This is the front exterior of the house.
And this is the backside with the garage doors.
It's a beautiful exterior, with a mix of stone, brick and shingles.
Inside in the greatroom, Lynn chose dark wood beams on the ceiling this time.  The previous house had coffered ceilings, so she was ready for a change.
The house has a lot of windows, so plenty of light coming in.
Stone on the fireplace detail.
Turning around in the family room looking back is the kitchen.  This is one large and open space, which I love. She chose Alder wood for her cabinets with a black glaze and they are very warm and pretty.  There will be a large island in the center.
Cabinets are just being installed.
It's going to be a stunning and large kitchen.
Just off the greatroom is the hallway going to a guestroom and the master bedroom and bath.
Here's the guestroom.
Guestroom.
Master bedroom
Master bedroom with hidden bookcase, which opens into the paneled office in the front of the house.  Clever!
Master bath has the same alder cabinets as the kitchen.
A tub will sit in front of this window.
Upstairs from this area is a large light office space that will be Lynn's office.
It has a nice little kitchen area too.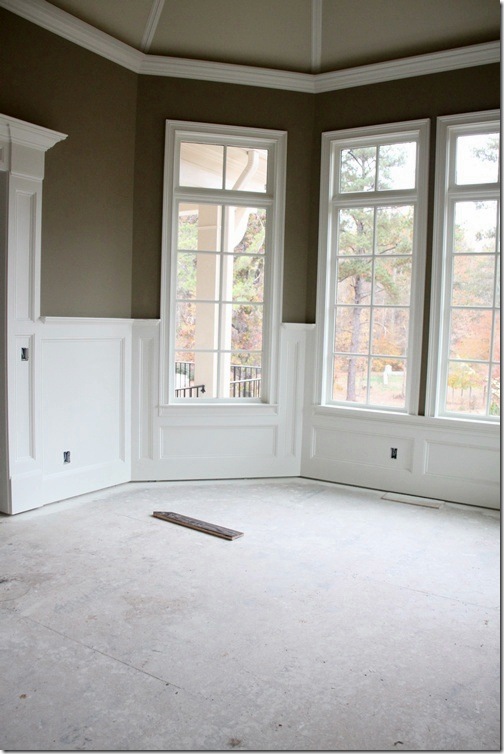 Back downstairs and through the kitchen to the front of the house is the dining room.
Beautiful ceiling detail.
The front door is gorgeous too.
Just inside the front door is a richly paneled office space. On the left wall is the hidden bookcase that goes into the master.  Just a fun little feature they decided on from the builder's suggestion.
Coming in the front door, stairs go upstairs to the boys' room.  They have 2 boys.
Lynn chose a dark stain for the prefinished rustic floors and they have stained the stair treads to match.  It is beautiful and I love dark stain!
Downstairs will be a finished walk-out basement with lots of light coming in.  She is still deciding on flooring for this space, but is leaning towards tile and straight ahead in this area is a media room, with a small platform, so she may do carpet in that area for better sound acoustics.  This is a huge area and will be broken up into several spaces.
Looking back towards the stairs from what will be the media area.
To the left of the stairs is a wine cellar.
And further on from there an in-law suite, complete with bedroom and bath.  This is a very spacious house with a very nice floorplan.  It's going to be so fun to watch this house all come together.
In the garage, the builder added beadboard to the walls and going up the stairs.  All these little touches make such a difference.
Outside the greatroom is a nice stone terrace with outdoor fireplace, the culprit for starting the fire.
And last but not least, a stone pool is under this plywood.  It's small, but a nice addition to an Atlanta backyard, with all the heat we get in the summer.
Here's a shot of the original fireplace after it fell in post-fire.  Can you imagine walking into this after a house is gone?  Devastating!
What a gorgeous new house, don't you think?!  I'm so excited that Lynn asked me to be a part of the process on getting her house back together.  There is a lot to do,but the finished product is going to be stunning. 
I can't wait to show more of the progress as we go along! 
If you're in the shopping mood,  Saturated Colors is having a Black Friday sale this weekend offering 20% off everything on Black Friday, Saturday, Sunday and Cyber Monday? The code is HOLIDAYS20.   She has beautiful vintage prints!
Hadley Pottery will be offering selected items at a discount on Black Friday, as well as a 15% discount on all Christmas 2011 pieces on Cyber Monday. 
Don't Miss a Post, join my list!