Another blogger that I've recently run across in blogland is Remodelando la Casa.  Cristina, who lives in Maryland with her hubby and 2 kids, is a major DIYer and you are going to be amazed at all she has accomplished by herself in her home (with a little help from her hubby).  She has a fun modern vibe and it comes across in her decorating.
But the one that made my jaw drop is her kitchen.  Yes, I've got kitchens on the brain these days, as you can imagine!  You won't believe the Before and After on that one.  If you are in the mood for a kitchen remodel and you have builder's grade oak cabinets, you'll want to pay attention to the kitchen.
This is her fun and funky family room which adjoins the kitchen.
Through the dining area looking towards the kitchen.
Fireplace in the family room with some modern art above.
Another version of the fireplace mantel.  And now let me show you the kitchen before:
How many times have you seen this kitchen?  It has to be the most popular kitchen style in the last 15 years.  Builder's grade oak.  Raise your hand if you have them?  Cristina decided after 10 years of living in her house that she couldn't live with them anymore, so she took her DIY skills and transformed that blah kitchen into this beauty.
Big WOW now!  You will not believe all the changes she accomplished in here herself.  Here's her entire kitchen remodel post.  You have to go and look at it all.  I'll wait right here!
She built her cabinets all the way up to the ceiling, added moldings, painted them all, built a range hood, built in the fridge, painted the island and added the marble backsplash.  All herself!  Now that's impressive!  Here's the post on her entire kitchen renovation cost breakdown.  She did it all for just over $10K and it looks like a million now.  Check out that fab lighting too.
Dining area is really pretty and elegant.
And her laundry room is so cute and perky.  Who wouldn't want to do laundry in here?
Another neat project that Cristina accomplished was taking her old builder's vanity and turning it into this open shelving beauty.  She explains that on her blog too.  Lovely!
She also added paneling to her tub which gives it a real custom look.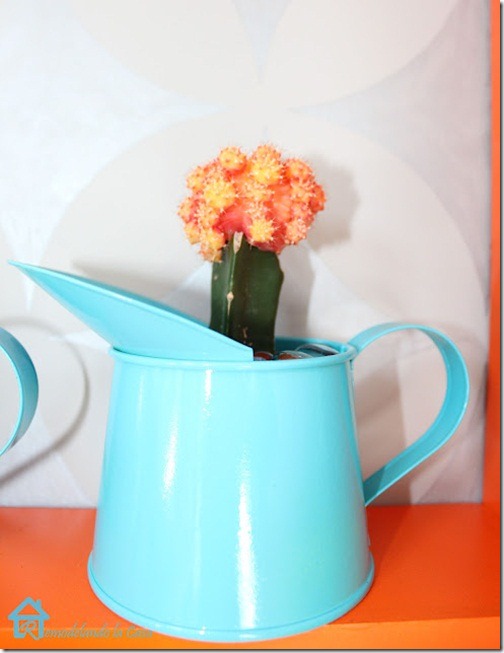 I'd say that Cristina is one smart mama to do all of these projects in her home.  Stop on over and say hello to Cristina and take a look at the entire kitchen renovation.  It's amazing and you'll come away as inspired as I was.  Kitchen updates make such a huge difference in a home and since I started my kitchen renovation, I've been extra interested in seeing beautiful kitchens and how they are put together.
Don't Miss a Post, join my list!