I've been friends with Ruby for many years now. She is a Bible study teacher and mentor to me and I love her dearly.  She is a breast cancer survivor and has had a rough couple of years.  She and I have had a lot of fun decorating over the years and I've helped her in several rooms of her house and when I left for Birmingham going on 6 years ago, she had done her room in reds and golds, that were so very popular back then.
But, it's time for change and Ruby was craving something lighter and brighter in her traditional styled bedroom.  She found the color strip from Sherwin Williams that has been all the rage in blogland for the last few years and Oyster Bay was chosen for the wall color.  It's soothing and beautiful!  I know you are going to love seeing Ruby's new bedroom and master bath.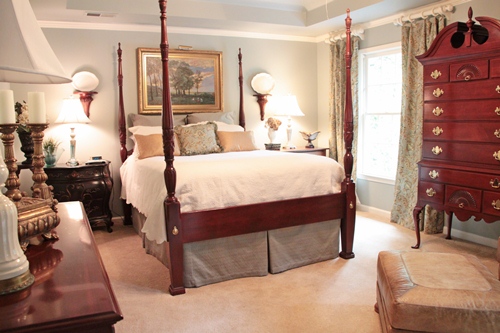 With soft colors of blue/green, cream, gold and brown, it's a very soothing space.  She previously had red walls in here and it looks like a totally different room now.
Traditional, but not stuffy.
That leather chair was an inexpensive find bought 2nd hand and even though it wasn't her first choice for a chair and ottoman, the colors work fine in here.   She will be looking for a rug to anchor the chair.
Beautiful, yes?
She asked me what she should put above her bed and I saw this oil painting just sitting.  She had taken it out of her living room.  It was the obvious choice and looks wonderful here.
She shopped for some creamy white dishes at an antiques shop and added those in. 
They add some vintage appeal.
I met up with her at our favorite fabric store, Fabric and Fringe Warehouse and I already knew she was using that soft blue/green floral, so I looked in the clearance bin to see what was there that might coordinate.  I spotted the soft blue with pin dots and those dots just happened to be the exact same colors in the floral, so that was a win-win.  The subtle gold leopard print was in the clearance bin too.  She had plenty to do shams, pillows and a bed skirt.  And it was all on clearance for a great price.
The floral is so pretty and soothing.
Aqua accessories on the nightstand.
It's a lovely room and she is enjoying it so much.
We decided to do short rods instead of one long one and she painted the rods and finials to match her trim.  I went over one day to help her hang them and she sewed all the panels herself. 
I think they turned out so great and really frame the windows.   Now take a look at the new and improved bathroom.
They added travertine tile floors a couple years ago along with a new vanity and granite counters.  It really looks WOW now!  The oil rubbed bronze shower surround was added then too.
It's a spacious and beautiful bathroom.
She went to Homegoods and found several things for this space.
Like these pretty gold/aqua bowls that we hung on the walls.
Ignore that lady in the mirror, there was no way to get my big head out of the pics. 
Ruby said this pretty pottery plate was her inspiration for color and I can definitely see why.
Tip of the day:  This is why you need an inspiration piece. It's a great jumping off spot for decorating a room! 
Gorgeous tub and shower.
She picked up this painting at Homegoods on our shopping spree a few weeks ago and it is perfect in here.
She loves the beach too, so it's extra perfect.
A few seashells are a must.
This one brings out all the blue greens in the room. 
I love Ruby's new bedroom, don't you??  You can see she kept her metallic gold ceiling from the old version and it fits in just fine with this one.
Hope you got some great ideas on this one!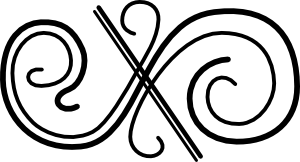 The lucky winner of the 5 freebie Zatarain's coupons is:


Beckie with Ponderings of Life.  Congrats, Beckie!

Don't Miss a Post, join my list!