Happy Friday, my friends!  I'm always happy when the weekend rolls around, because it means Mark will be home and I get to see more of him which is always fun.  Our bathroom project starts next week, so that's going to be a busy week getting things done around here.
We decided to gut the entire bathroom ourselves and most of it is already gutted, but Mark is going to remove the old one piece bathtub this weekend.  I'll be sharing progress on it all soon as well.  It will be awhile before the whole thing gets finished and I've ordered those wallpaper samples to check out, so I'm pretty sure that will happen too once the bathroom is complete.
Today's Feature Friday is a blog I've just found, Tonya with Rustic and Woven.  She's a newly single girl living outside Chicago with her rescue dog and she lives in a historic Dutch Colonial built in 1939. She loves old houses, mixing old with new and doesn't follow trends, but instead embraces classic and timeless appeal, a girl after my own heart. I think you'll love her cute and quaint home. She says she has no DIY skills, so it's going to take her awhile to get things done, but I think her home is as cute as can be and I love how welcoming and homey it feels, with the wood tones and her pretty furnishings.
Isn't this a cute home?
There's her rescue pup, Alice, what a sweet girl.
I love the newel post and the gorgeous hardwood floors in Tonya's home.
Such a pretty shot into the dining room with that curved doorway and those floors. In love with those floors!
Peeking into the dining room.
She definitely has a nice vibe going on with all neutrals.
Another variation of her winter dining room.
To the right is the living room with a gorgeous fireplace.
Card cabinet inside the door.
This looks like a great place to hunker down for the winter and enjoy the cozy fire and a good book.
So welcoming and peaceful.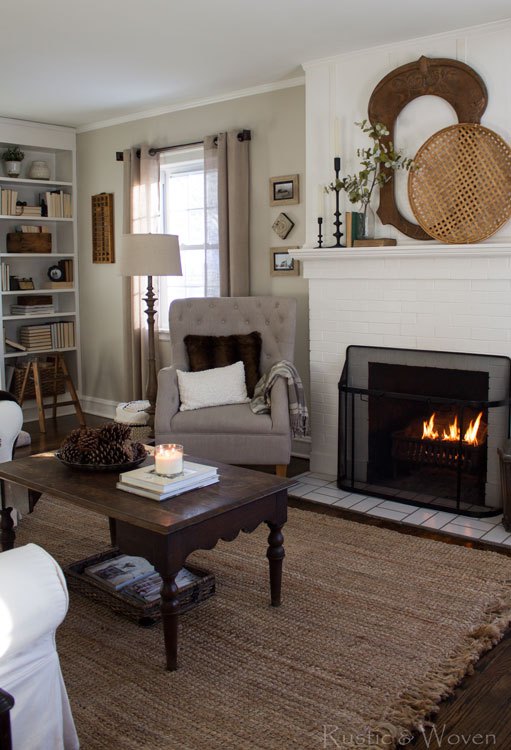 Doesn't it feel so homey?
One little peek at her kitchen. She hasn't touched it yet, but  hopes to update it in the future.
Home office looking so cozy and cute.
Master bedroom
And the guest room.
I hope you enjoyed this tour of Tonya's home as much as I did.  I love to see how everyone decorates their homes and it's so fun to take tours of so many different styles. I can appreciate them all and it's inspirational to see so many ways to put homes together.  The feeling evoked is always welcoming and cozy! Stop by Rustic and Woven and meet Tonya!
Don't Miss a Post, join my list!