Sometimes when I am putting together these Feature Friday stories, it is hard not to be a little envious of the home pics I'm seeing all over blogland.  Today is one of those days.  Oh my gracious, Sarah at The Yellow Cape Cod is one talented mama.  She does this for a living too and it certainly shows.  The girl knows how to put things together and make a cohesive home.  So, let me get over my wee bit of envy and show you the goods at Sarah's house.
Here's Sarah.  Isn't she adorable?!  It was hard to pick only a few photos to represent this beautifully adorned home, but you can hop over to Sarah's for more details on her home tour page.  Talent, yep it is oozing over there.
So, I've loved Cape Cod style homes forever, they are so classic and pretty.  In fact, I put a bid on a rustic Cape Cod that I didn't get, so that is another story.  The hunt continues though, I cannot wait to find my own fixer to spruce up.
Lovely and welcoming front porch.
You won't believe this story from Sarah!  She took her plain steel door and had it cut out and added a glass insert for $100.  Now, that project I'm filing away for later.  Love this!
Her living room is calm and classic as well.
Of course, I love this sassy zebra chair.  I think this was a thriftstore find.
Love her touches of black, that is one of my fave things to do around the house.  Painted black fireplace surround.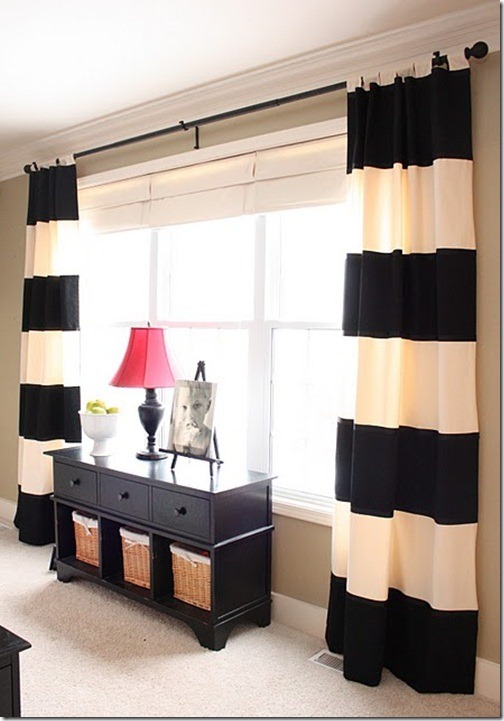 Check out these horizontal striped drapes, now those are pretty!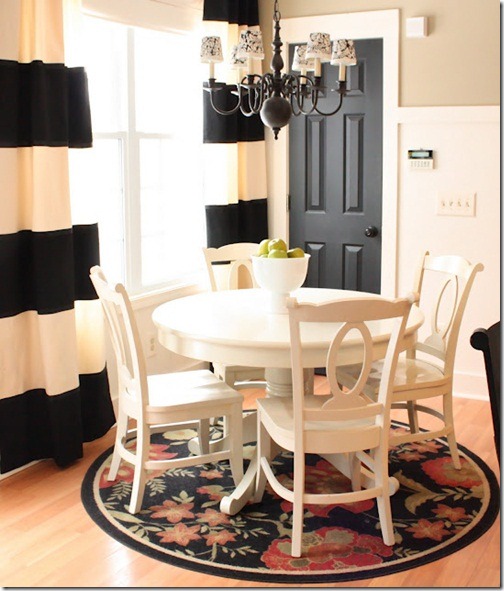 She added them in her breakfast nook too. Note the black interior doors. I love this when you have lighter walls.
The Dining room.
Which in 5 minutes can turn into an office space where Sarah can bring clients for her interior design business.
Master bedroom in soothing shades of chocolate and blue.
Adore this blue chair
Master bathroom has lots of personality.
Love this shelf for needful things.
Her daughter's room gets a fabulous touch of color and whimsy.
Aren't those paper pompoms just the cutest hanging from the ceiling?
I am guessing that Sarah's daughter loves horses.  This is so cute!
Her son's room is adorable and masculine.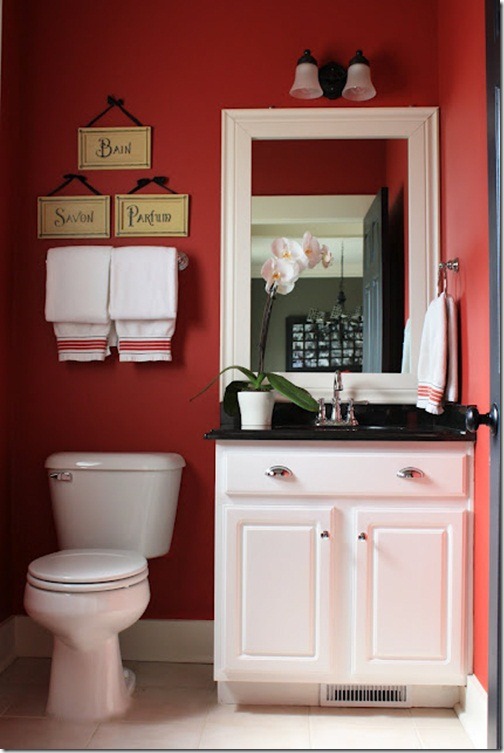 A red powder room got an update too.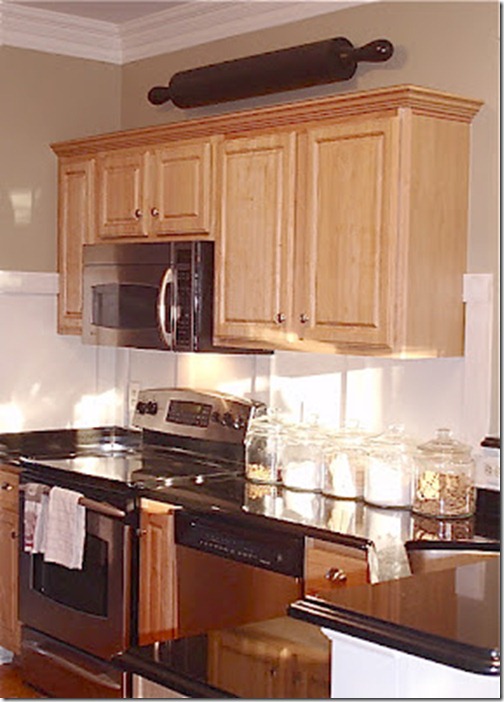 Sarah is in the process of DIYing her kitchen. She has grand visions of a white kitchen and lots of details and I'm sure, looking at the rest of her house, that she will pull it off with so much style.  I can't wait to see the after on the kitchen!
Thank you Sarah, for dropping by for a Feature Friday.  I just know all  my readers are going to love meeting you as well.  I love featuring beautiful homes done on a budget and Sarah has some great tips for saving money on home renovations.
I hope you'll take time to go over to The Yellow Cape Cod and say hello to Sarah.  Don't forget to tell her I sent you!
I'm headed down to Scott Antiques tomorrow with a couple of girlfriends, if any of you will be there.  Look for me!
Don't Miss a Post, join my list!