Today's Feature Friday is a great summer home! I love coastal homes and can just imagine how fun it would be to live near the water. The low-country of South Carolina with its marshland and beauty of the sea is a charming area.   Maria and her hubby built their dream home in South Carolina, a low-country home that just evokes so much Southern charm and coastal living.  I am not sure how far they are from the water, but it has the feel of a beach cottage.
Maria is the blogger behind Simple Nature Decor and I just love how she's put this home together and all the wonderful features it has.  She and her family have been in the home for over a year now.  It's an award winning home, the Prestigious Lighthouse Award for Coastal Carolina Home Builders Association and features awards in Best Bath, Best Kitchen and Best Overall in the Custom Homes category.  So, sit back and enjoy this one! I know you're going to enjoy it as much as I did!  The builder and architect took total advantage of the natural setting of the home and the outdoors are spectacular.
It features a detached garage with a breezeway connecting to the house.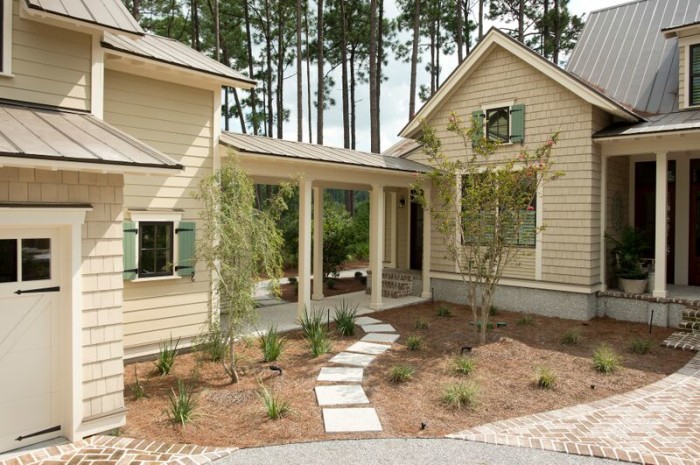 Those front doors are so charming and so very Southern, as is the lantern.
They are working on the landscaping and hardscaping and have created wonderful outdoor entertaining areas.
That screened porch looks fabulous.
See what I mean, beautiful outdoor spaces.
I know it's hot in SC, but I can imagine sitting outside a lot with these views.
And a fire pit too!
Inside, the homes architecture is very pretty with rustic reclaimed wood, lots of shiplap and those huge windows with transoms let in so much light.
The fireplace is made of tabby, a very coastal low-country type material made out of oyster shells.
These sliding barn doors out of reclaimed wood add so much appeal to the interior spaces.
The white kitchen is very functional and pretty with lots of natural wood added in as well. Tabby was also used on the stove hood.
Check out those industrial shelves using plumbing parts to hang them.  Chic and rustic!
I love the rustic wood beams used throughout the house and if you peek really close, you can see that this entire floor is stained concrete, which they chose to do when the house was built.
Just look at those views out the windows!
The master bedroom has equal gorgeous views with those huge windows.  Notice the reclaimed wood on the ceiling that gives such a warm and cozy feel to the room. Who wouldn't love waking up to this every morning?
The master bathroom is award winning and so gorgeous.  The concrete floor was cut into to install the tub. Notice the oval shape underneath filled with river rock with the tub placed on top.  Very innovative!
A powder bath, simple and elegant.
More reclaimed wood and plumbing parts used to hang these shelves in the laundry room.  It's such a pretty house, with a coastal feel that includes the use of so many natural materials, creating a very vibrant house that lives well, I'm sure.
I hope you enjoyed this beautiful coastal home in SC and please stop over and meet Maria, the homeowner and blogger at Simple Nature Decor.  I'm in a new Facebook group with a number of over 50 bloggers and I'll be featuring more of my new Boomer friends too.
Don't Miss a Post, join my list!