Hey friends and welcome to Feature Friday today!  I have a really fun and special feature today.  I met Sara not long ago on Instagram as Simply Southern Cottage, when I saw her beautiful cottage style home pictures and started reading her story on her blog.  Her story echoed my own so much, that she had gone through a divorce as I did a few years ago and was starting over with her cottage home and renovating it for herself.  I loved her courage and story and wanted to share it with you today. Sara wrote a great narrative about her story, so I asked her to share it in her own words so that's what this Feature Friday will be.
You will love Sara's story, as I did, so enjoy every bit of this feature today! Sara has created a wonderful home for herself and you'll see just how special it is when you read her story.
Hi friends! I feel so incredibly fortunate and honored to be featured on our sweet Rhoda's blog today! I'm Sara! By day I am a senior educational consultant for an amazing publisher, and by night I love to write and dabble in real estate investing. You should know upfront… I am not an interior designer. But somehow I've managed to create an amazingly beautiful home, following dreams and visions the Lord laid on my heart.
I am normal and plain, just a girl who fell in love with old houses on a visit to Jefferson, Texas, in the fourth grade. From that moment on, I was completely smitten with historic architecture even though it took me nearly 30 years to finally own a piece of history! It's funny, the twists and turns life takes you down to get you to EXACTLY where you were meant to be. To get to this precise moment in history, my story is filled with heartache, accomplishment, love, forgiveness, joy and an immense peace that passes understanding.
Born and raised in Webster Parish, I said once I left for college, I would NEVER come back. But isn't it funny how we often eat our own words? Across the span of the eighteen years post college graduation, I lived in Louisiana, then Arkansas, a whirlwind, life-altering two and half years in Utah and six, glorious years of healing in deep south Texas. But in February 2014, I audibly heard the Lord telling me it was time to move back to Louisiana. He graciously placed me in a unique position where I had more choice and opportunity than ever before in my life! So upon Him telling me it was time to move home to Louisiana, I challenged Him with an ultimatum. "Fine, I'll move home, but I want an old house, near an airport, near my parents, in a safe community with walkable amenities." (Thinking there's NO WAY He will make good on this.)
Never thinking He would accept my challenge, and even a smidge fearful He would punish me for giving him such a demand, in December 2014 while researching where I might live IF I decided to move home to Louisiana, I stumbled upon this magnificent, broken down cottage.
And in that instant, my move home to Louisiana was set in motion.
Convincing the owners to sell took me twenty-two VERY LONG months, but it was absolutely worth the wait. You can read the entire story here at Simply Southern Cottage.   
Finally in September 2016, I closed on my dream house. And after planning all fall for the restoration, demo began in January 2017.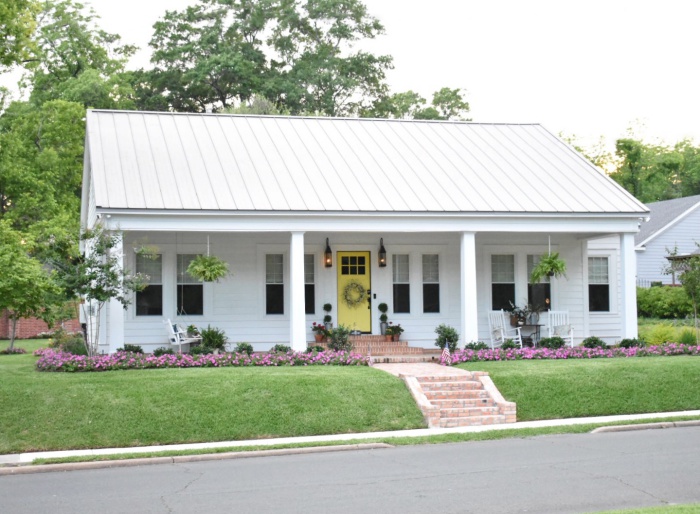 It was a major undertaking as I'm sure you can tell from the before picture. I reconfigured the entire floor plan and completely finished out the upstairs attic space. My goal was to have a simple, southern home, maintaining the original architectural details while incorporating modern conveniences.
Once restoration was complete, I began the hard process of styling. I've renovated a lot of houses in my life and honestly, that part comes pretty easy for me. But décor does. not. come. easy. All I have to say is this…. If I would've restored this cottage before Pinterest and Instagram, it would be a hot mess! I spent HOURS on both platforms saving and pinning. So THANK YOU to those of you who walked before and sent tons of inspiration my way.
Every choice I made about the design and décor was VERY intentional and thought out. I didn't make any flippant decisions. If I couldn't find just the right piece, I waited until I did. And every single time, when I laid eyes on what I was looking for, I knew that was it! It's like certain aspects spoke right to me saying, "Bring me home." (For example, see the vanity in my guest bathroom. It was in a dusty corner of a sketchy junk shop, but when I saw it, I KNEW. And the fit for that space in the bathroom couldn't be any more perfect (or tight).)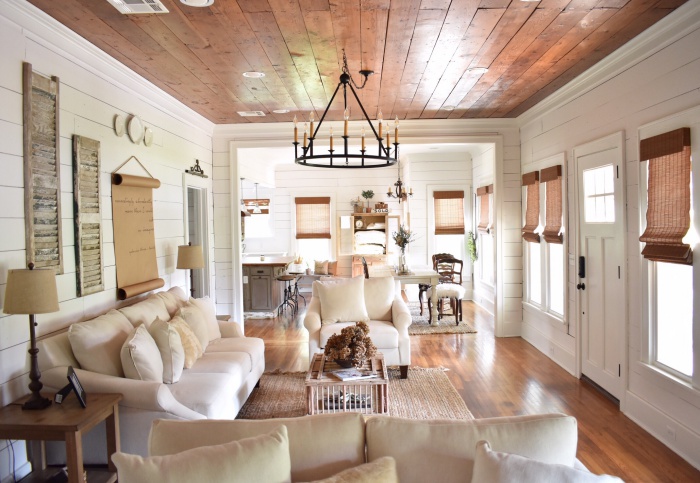 I hope you enjoy the pictures Rhoda will share with you. Every day I wake up and can't believe I get to live in this adorable cottage. It truly is a dream come true! And my hope is that my story and home, will inspire you to dream big dreams for your life AND for your own little cozy corner of the world.
Library and fireplace area.
Living room space.
Dining space
Fall tablescape
Master Bedroom
Master Bath
Guest Bath
Mudroom
Stairwell to 2nd Floor space.
Greenhouse
Gorgeous backyard swing
Garage
Exterior: All original wood siding, Color: Extra White by SW, Door color: Lemon Twist by SW
Roof: Standing seam metal roof
Gas Lanterns: Custom made by CopperWorks Custom Lighting in Shreveport, LA
Pink flower border: Petunias
Porch ceiling color: Atmospheric by SW
Talling bushes flanking sidewalk: Yuletide Camillas
Short bushes: Buford Hollies
Pink: Petunias
Door was handcrafted by a local artisan: Webster Door Company
OK, y'all!  Are you blown away by Sara's story and beautiful restored house?  I just loved Sara's story and had to share it with all of you. The girl persevered in getting this house and restoring it to the beautiful cottage home it is now.  Sara has done a fantastic job of saving this home and making it new again.  Sara was also featured on HomeBunch and has a lot more details about her home over there, so click over if you want to know more about the designs and furnishings in Sara's home. 
Thanks for stopping by and have a great weekend!  Give Sara some love and check out her blog and Instagram. 
Don't Miss a Post, join my list!