Meet fellow creative blogger, Marianne, who blogs at Songbird, a pretty  place on the web all about vintage and repurposed finds.  Marianne has a wonderful sense of style using lots of whites and naturals and sort of a beachy vibe and she's all the way across the world in the Netherlands, always being creative and making her house a home.  There's no barrier on that.  Women all over the world are into their homes and Marianne has created such a pretty oasis in her own.
Her significant other loves modern, so they mix it up a bit, but Marianne's style definitely takes precedence.
This cute reading room/guest space is such the cozy spot.
Marianne's tiny kitchen has been organized for maximum usefulness, like this chalkboard wall.
Spaces in Europe are not very large, so Marianne has taken advantage of all horizontal spaces too.
These open shelves are pretty and practical.
Marianne's office/craft space is to die for, a tiny tucked away spot full of organizing ideas.
Soft blues and creams are her faves.
And her romantic vintage style is apparent everywhere.
Every nook and cranny is filled with organizational items.
Marianne paints furniture too and loves repurposing older pieces.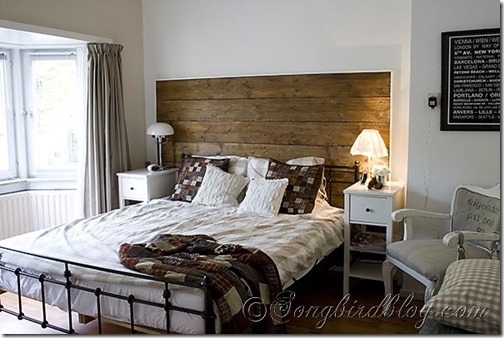 Her bedroom with its rustic headboard gets changed out for seasons. This is the Fall version.
And this is Summer, so pretty in blue and white.
Marianne shares how she paints things, like these vintage suitcases that got a coat of white paint.  So cute stacked on a wall.
She repurposed old pallets to create a beautiful summer bouquet.
Outdoors is not forgotten, with a pretty farmhouse table and mismatched chairs.
A perfect spot for outdoor entertaining.
I hope you enjoyed getting a peek at how someone in the Netherlands lives.  Just goes to show that style and flair knows no boundaries and Marianne is into her home just as much as we are here in the USA.  Thanks, Marianne, for letting us peek into your pretty home and I hope you'll all go over and say hello, I know she would love to meet you all.
Don't Miss a Post, join my list!