Today's Feature Friday is a sweet lady who I got to meet this year at Haven, Yvonne from StoneGable.  I've "known" Yvonne online for several years now through blogging, but she is a sweet Christian sister and she also has a beautiful way of keeping house and sharing the beauty in life.  Her home sits in rural PA, in the heart of Amish country, Lancaster County, surrounded by neighboring farmland.  Aptly named StoneGable, this American country farmhouse style 18 year old home, has been lovingly decorated by the owner and you can definitely tell that Yvonne is a homemaker extraordinaire.  Her pics just ooze beauty and contentment and I know you'll enjoy seeing this beautiful home.  I loved reading about the history of StoneGable and how they came to live there.  This is one area of the country I've never been to, but Yvonne makes it sound and look heavenly.
StoneGable from the front.
I love this plaque built into the stone at the peak(yes, gable) of StoneGable.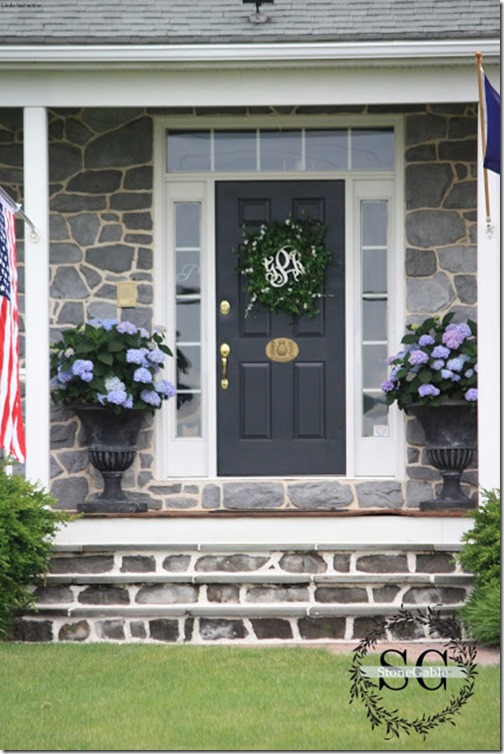 The front door is so welcoming.  Check out those urns with hydrangeas, reminds me of a French farmhouse.  This part of the country is known for limestone and that is the stone used on StoneGable. It's just gorgeous!
The wrap around front porch is made from mahogany.  What a beautiful setting this is!  Ahhh, just makes me relax looking at this.
Inside the house, the living room with a warm fireplace awaits.  Yvonne's style is traditional, yet so warm and cozy.  Nothing stuffy about it at all.
I love these drapes that Yvonne stenciled with a damask pattern.  So pretty now!
She's got  so many beautiful pieces of furniture that she's collected and that's what makes a home really inspiring.  Collected and put together over time. You can't duplicate that in a short amount of time.
This chest is another unique piece.  She believes in fresh flowers as you can see by the abundance of hydrangeas. I'm sure she grows these prolifically in her outdoor gardens.
Her kitchen is one beautiful masterpiece.  I do love a white kitchen and Yvonne's is beautiful with a black countertop and black pulls.
This large island with stools is so very welcoming.  I can imagine that guests congregate to this spacious and pretty kitchen every time.
Lots of cabinets and storage in this kitchen.
The range hood and tile over the stove is so unique and pretty, as is the pigs head.
That fits right in with Yvonne's rural setting and I love it.
As I said, Yvonne emulates beauty with how she keeps her home and beautiful dishes and fresh flowers are part of that.  Traditional Home magazine comes to mind.
The dining room is equally stylish.
With a beautiful traditional rug, wingback end chairs and a bench for seating, this is quite the dining room.  It oozes country charm, but also elegance.
Her guestroom is spacious and I'm sure has some awesome views outside those windows.
Wouldn't you like to stay in this room?
Oh yeah, now we're talking.  See what I mean about Yvonne?  She is quite the hostess.
If that is not enough, the outdoor eating areas on the porch are equally inviting.  This shot is just dreamy.
Raised beds mean they grow their own food too.  My dad would like these folks!  What a beautiful setting!  God sure makes a beautiful world we live in.
A potting bench with plenty of flowers and plants looks right at home on this rustic porch.
I know you loved this tour of Yvonne's house as much as I did, so I hope you'll stop on over and stay hello. She's a sweet lady with a lot of inspiration with her decorating, food, and countryside that she shares on her blog.  I love seeing how other folks live and Yvonne and family live well.  Very well indeed.  There's something special about living in rural America and I'd say Yvonne's views are right up there at the top of the want list.  Enjoy StoneGable for yourself!
Don't Miss a Post, join my list!