I love featuring all sorts of houses on my Feature Friday series, from modern, to cottage, traditional, French country, new country, eclectic, there are so many design styles out there that I enjoy.  When I ran across Kelly's blog, Talk of the House, a fairly new blog this year, I was really impressed with her home and how she designed it herself.  It's warm and cozy, a 1996 Southern Living home plan that she and her hubby built themselves.  Kelly confesses to being a house lover as far back as 10, when she collected house plan books.  She wanted to study interior design, but ended up being a teacher and has been teaching students for 30 years.  Blogging is her creative outlet and after reading blogs for a few years, she decided to jump in the mix and share her own creativity.  And I'm glad she did!  Kelly's blog is full of beauty and inspiration and she's a Southern girl, so I can definitely relate.
She lives somewhere South of Atlanta in middle Georgia and her home reflects the rural beauty of her surroundings.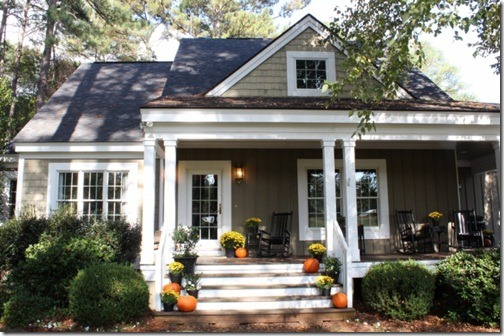 Her home from the outside, is right at home in the trees and what I imagine to be a beautiful countryside.  I love cottage homes like this and you certainly can't go wrong with a Southern Living plan.  If I could choose the perfect exterior of a home, it would be a similar cottage look like this one.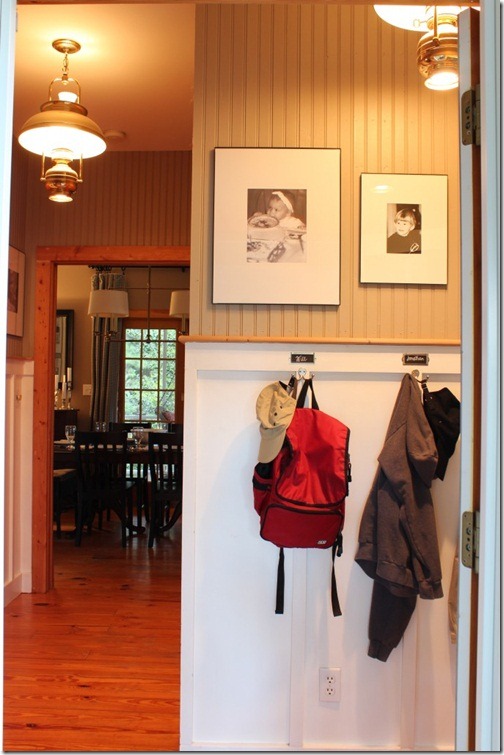 Inside the back door, this is where Kelly's guests mostly enter.
And this pretty antique is in the front door entry area, a beautiful welcome to guests.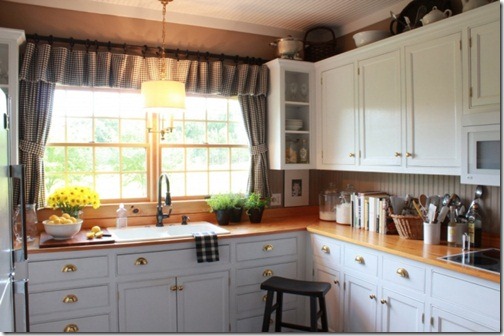 Kelly's kitchen isn't too large, but very functional and pretty with a country cottage aesthetic.
Check out the beadboard ceiling.
Her cabinets are simple, but elegant in white.  You can see she chose wisely when building her house.
Looking down the hallway to the master bedroom, lots of board and batten are added for such a pretty architectural detail. Love those hanging fixtures too.
A cute country bench in the hallway is set against the board and batten.  Kelly loves blues, reds, and khakis, with black as an accent.
Her master bedroom is accented in blue and red with khaki painted plank walls that her hubby did for her.  So pretty!
The dresser in the master bedroom showing off family photos.
The master bath with pine floors, an antique cabinet and beadboard.
As well as a clawfoot tub, it's the picture perfect modern country bathroom.
The dining room has a very nice view.  Kelly has made many of her own drapery panels and they look great in her home.
Another pretty antique in the dining room.
The family playroom is cozy and comfortable with a green punch in the wicker chair, pillows and the frame on the chalkboard.
Kelly even braved painting the wood closet doors green and I love that punch of color.
A cute sentiment on the chalkboard.
A spacious screened porch is such a lovely place to gather.  Kelly told me she loves entertaining and throws lots of parties.
Like a 4th of July bash.
Complete with red, white and blue dessert on a plate.
She helped with her niece's very beautiful rural wedding, all decked out in a rustic old barn.
These weddings are gaining in popularity and I love how unique they are.  Check out these beautiful table settings.
Kelly is also a master calligrapher and hand letters invitations for special folks in her life. She hand lettered a whole bunch of wedding invitations for that niece and what a treat that was!  Calligraphy is a beautiful artform and one that I'm not skilled in at all.
So, I know you enjoyed this beautiful tour of Kelly's Georgia home as much as I did.  Kelly has fantastic taste and artfully decorates her own home in a very traditional, yet warm way and I hope you'll all stop by and say hello to Kelly.  She might be a teacher, but she's loving the blog community.
Don't Miss a Post, join my list!