Today's Feature Friday is a mother/daughter duo who blog together, Janette and Jordan from The 2 Seasons.  I love that there are many sister blogs and family duos out there in blogland and a mother/daughter blog is a great idea.  Even though they live 700 miles apart, they can each share experiences and creativity from their own generation and homes to speak to other women who might be in the same season in life.  Hence, 2 seasons!  I met Janette and Jordan at Haven this year and they are delightful and each bring a lot of creativity and insight to their blog.  I  love that they are doing this blog thing together!
I'm sharing Janette's townhouse today. She and her hubby downsized a few years ago from a big house in the suburbs to a townhouse in the historic part of their city, Lexington, KY.  The townhouse is not small, at 3,000 s.f. quite a large home to live in and Janette said they had extensive remodeling work done on it before they moved in and now it's the perfect place for them at this time of their lives.  I can see that townhouse living wouldn't be bad at all!
Janette is also quite the busy lady, having bicycled all over the world, as well as headed up work projects with her husband in numerous third world countries.  I love women that make a difference in their world!
Here's the exterior of Janette's townhouse in downtown Lexington, KY.  A brick fronted townhouse is so classic.
Inside the foyer, a welcoming bench and pretty rug greet guests.
The townhouse has 3 levels and crams a lot of living space into this 3,000 s.f. home.
I love the eclectic gallery wall in the foyer hallway.
Janette's décor is mostly traditional, but has a nice warmth and feel to it.
Dark wood antiques and a few quirky items are part of her décor.  Love the transoms over the windows.
This powder bath is very pretty with the marble sink and storage baskets beneath.
Dining room area off the greatroom.
They had extensive work done on their kitchen and it really turned out nice.
I love this big built in butlers pantry.
And the farmhouse sink is pretty too.
How about a cow painting?  So cute and colorful.  Love that wall of windows and doors to the right.
Walk in pantry for more storage.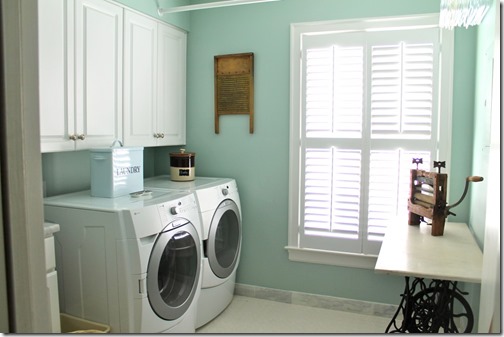 And a spacious laundry room.
Upstairs hallway has many interesting things to look at.
The guestroom in blue and yellow, always a cheery combo.
Love this wall of built-ins too in the guest room.
The guest bath with marble floors and that yellow and white striped curtain is so happy.
One shot of the cozy master bedroom.
She has some nice outdoorsy areas to enjoy too, like this brick floor mudroom.
And a sunroom. Those brick walls are a beautiful bonus.
Outside a patio with table and umbrella await use.  What a pretty space she has!  I think townhouse living would be just fine, as evidenced by Janette's pretty place.  Stop over and say hello, I know they would love to meet you all too!
Don't Miss a Post, join my list!