One of my longtime friends, Roeshel from the DIY Showoff, bought an old neglected 1927 farmhouse in PA back in 2007 and she and her hubby have spent years fixing it up and making it pretty. You'll enjoy seeing what they have accomplished in this older house, taking it from drab to fab.  She's one of the sweetest bloggers I know and the first time we met up was at the Shaw design event at the Biltmore back in 2011 and we have been friends ever since.
Her farmhouse is so quaint and charming and I have loved seeing all the projects the two have accomplished over the years.  This is a mudroom area, with slate floors and she's changed it up a few times. That mirror was taken down from another area, framed out and that initial added (I think with etching crème).  So cute!
I love her dining room too with the sliding green French door.  That's a cool project and you can see everything on Roeshel's blog.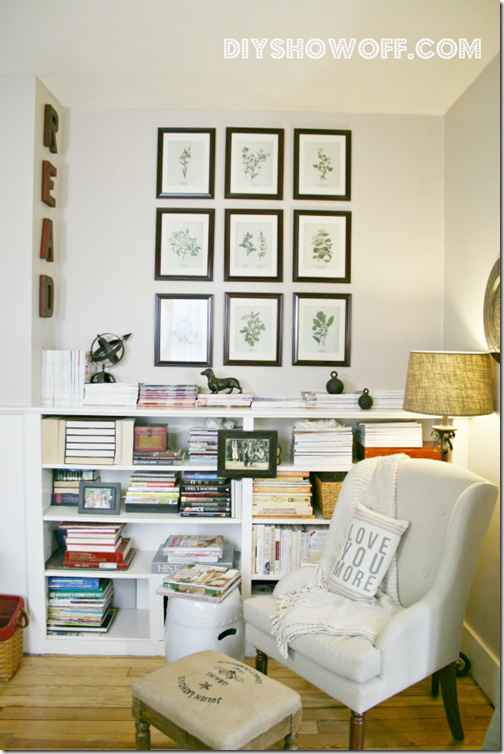 Her reading nook is so cozy and inviting.
And this console table with gallery wall is an eclectic mix of happy pieces.
They have done some serious renovations, from this bathroom makeover (that's a painted rug on the floor, I KNOW!), to outside projects as well.
A girlie dressing room in lime green, what's not to love about this?
Her guest room was put together with lots of thrifty finds and it's a cool and calming space.
She even has a dedicated craft room.
Banner making for the fireplace mantel.
And the kitchen, oh my, the kitchen is a dream!  They did a complete renovation on it, adding a beautiful marble backsplash and new flooring.
Isn't that dreamy?
She and her hubby are a DIYing pair, for sure.  The kitchen is just amazing.
Loved this desk in there too, this was before the new flooring was installed. The old flooring wasn't bad either, very charming.
Another version of the mudroom slate floor space.
Roeshel has such a great eye for detail and makes lots of things for her home to personalize it, like this globe light fixture she dreamed up.  Adorable!
At the top of her stairs landing, she created a diamond pattern with FrogTape, since she and I are both on the FrogTape blog squad.
This is such an eye-catcher and adds a lot of interest to a small space.
She built this pallet shelf for her hubby's home brews.  How clever is that?!
Outside, they've done a ton of work too, like this grape arbor.  So peaceful and serene!
And they had a new patio poured, dressing it with seating and table and chairs for entertaining.  What a nice space right outside the back door.
This swing is adorable too, I'd be sitting here all the time.
And last but not least, those pallets got another innovation with this herb garden.  This one is so useful and pretty, she even put casters on it to wheel around.  Talk about vertical gardening, this is it!
I hope you enjoyed seeing all the creativity that Roeshel and her hubby have created in their old farmhouse.  It looks amazing and all the extra details have made a huge difference in personalizing their home.  I know she would love to meet you, so click on over and say hello to the DIY Showoff!
Don't Miss a Post, join my list!