It's been so much fun to keep finding creative talent to feature and Kristin, with The Hunted Interior is one talented blogger.  She is actually a "real" designer, unlike most of us and graduated from the Art Institute of Atlanta, so she is right here in the metro area.  She's a wife, mom, DIYer, and like most of us, has expensive taste, but not the pocketbook to go with it, so she DIY's her way through decorating her house.  What's not to love about that! I love seeing a home come alive by using creativity and 2nd hand objects in such a great way and Kristin definitely has that talent.  She's got a great eye!
Her living room is a mix of traditional and modern, just the way I like it too.  She mixed up the fabrics adding some punch to the room and also hand painted those chevron curtains by taping them off with tape.  Love this room!
More 2nd hand finds, this green dresser was painted by Kristin and a found chair on the curb got a beautiful upholstery job.
And here's the chair with a fun fabric backing.  Beautiful!
Kristin knows how to take the room up a notch with special details like this skirted table in black and white.
I adore her dining room with built in's surrounding the French doors.
To add more charm to the dining room, she and her hubby added this faux fire place filled with cut chunks of wood from their yard. This has been one of those trends I've seen last year.
Chalkboard painted walls is another fun trend that's been all over blogland and Kristin added one to her kitchen wall.  It looks great with her white cabinets.
And check out the custom light fixture she made for over her sink, using a thrifted brass bowl.  Very clever!
The master bedroom got a fun update with this DIY'd upholstered headboard.  Kristin gives the complete how-to on her blog and that nailhead trim really takes it up a notch.  This is one beautiful headboard.
And she shares all of that one at her blog.  Gorgeous fabric!
Her daughter's room is fun and colorful.
With a gallery wall and cute storage, it's a little girl's dream.
The outdoor spaces are not forgotten either with this pretty deck area.  Check out the cinderblock wall treatment.
Along with that pretty colored glass window, these blocks holding succulents are a fun conversation piece.
One more DIY project, this live edge tabletop is so pretty.  I've been hearing more about this process too and it's a really neat look.
I hope you enjoyed touring Kristin's beautiful home. Check out her complete home tour at her blog, The Hunted Interior. She is one talented girl and her degree has been put to good use in her own house, she has certainly made it a beautiful home for her family.  On another fun note, Kristin will be speaking at the Haven conference this year and we are happy she is!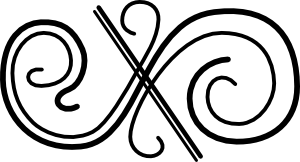 I've got a new post up today about Bringing Spring inside over at My Way Home, so go over and have a look if you have a minute!
Don't Miss a Post, join my list!