Just recently, I received an email from Trey Laird, telling me he enjoyed my blog and wanted to see about exchanging links with me.  Well, when I clicked over to his blog, Period Homes, I was completely blown away by what I saw.  And I wondered why in the world he was reading MY blog. 🙂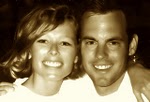 (Trey and his lovely wife)
Trey's bio reads like this:
My love of houses and their interiors started as a young child. I was fortunate to grow up part of my life in Baton Rouge and being surrounded by the beautiful architecture there and in New Orleans and St. Francisville where my grandparents lived. Today I am a designer and builder of period revival homes with a goal of making every house a place someone will call home.
When I saw the absolutely stunning pictures on Trey's blog and found out that he built the last Southern Accents 2009 Riverhills  Showhouse in Texas,  that really got my attention.  The pictures spoke for themselves and I asked Trey if he would let me feature him on my blog and he graciously agreed to share with all of you.  I think you're going to be blown away too when you see it all.
I'll let Trey take over and share his story of the house with you:
When we were first approached to build the 2009 Southern Accents showhouse, we were more than excited. We were ecstatic. The Southern Accents showhouses have always been my favorites. I have kept every issue of the past showhouses in my library along with almost every other issue of the magazine.
Southern Accents has always had a knack for incredible design, great photography, beautiful and liveable homes.
It was a publication that just got it right – not overdone, no crazy houses. Just great design. That is what attracted me most to doing this house. In addition, when they told me that Larry Boerder was going to be the architect and Joe Minton was going to be the interior designer it was like icing on the cake.
Larry Boerder, the architect, did an incredible job of designing the house in a Cotswold style that would sit beautifully in the English countryside.  The house is set on 2/3 of an acre and was designed to appear as if it had been added on to over the years with two wings off the main portion of the house.  The  hand-chiseled stone is as close as we could find to a Cotswold stone and is beautiful.
Joseph Minton and his staff did an incredible job of making sure the exterior and interior blend perfectly.  We actually had one lady tour the house who had come from England and commented that the house would fit perfectly in the Cotswold region.
We all worked tirelessly to produce what we believe is the best Southern Accents showhouse ever published.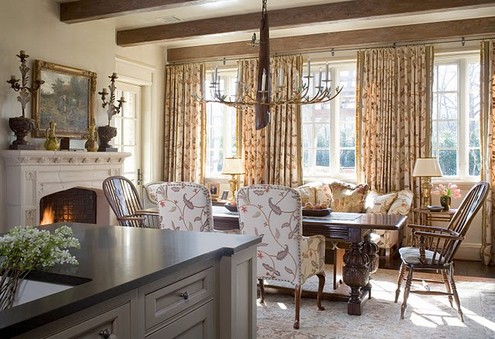 From the setting to the architectural design to the interiors that fit the house perfectly, this house is my favorite we have ever built.
To say that we were a little disappointed (and shocked) that the magazine was shutting down and the showhouse issue was not going to be published the week we completed the house, is an understatement. I was flabbergasted. At first didn't I didn't know what to say, except, "Excuse me?"
Regardless, the outcome of the house is what we are most proud of.  I hope you enjoy.
Trey, thank you SO much for letting me share your absolutely outstanding showhouse with all my readers. I know their jaws are on the floor right now too. Houses like this aren't built every day.  It's a crying shame that the house didn't get published (boo-hoo Southern Accents is gone), but hopefully now that the photos are online for all to see, they will still be enjoyed for years to come.
If you'd like to see all the details of the house, click over to Trey's blog to see Part I and Part II of the showhouse in all its glory.  You can also check out Southern Accents online article about the house too.  There are a TON more pics and lots of great information that I didn't share on all of those links, so click on over and enjoy the eye candy.
Thanks again, Trey! You obviously have the gift of design and building and this masterpiece is truly a gem.
Don't Miss a Post, join my list!