Happy Friday! This is another repeat Feature Friday today, but it's one of my favorites and especially good during the summer months. Enjoy this lake house feature!
******************************************************
I just love Fridays as I've mentioned before and I'm always excited to share a new Feature Friday with all of you.  They're all good, aren't they?  I love featuring different houses, not all one style, big and small, all uniquely designed by the home owners.
Today's Feature Friday is a blogger I've shared before, Kelly with The Lily Pad Cottage, but she has a brand new house, so it's only fitting to revisit her home and see the beautiful new home they've created.  I had to go back and read the back story of Kelly's story and exactly why they decided to take on a new home build.  You see, they live on a lake in Michigan and her previous house was absolutely gorgeous, but when a house went up for sale on their lake just down the street from their first house, the lightbulb went off and they bought the house and tore down the structurally unsound original house and built their dream home.
Here's the house that Kelly passed by numerous times a week and when the For Sale sign went up, she and her hubby decided to go to the Open House, just for fun.  Well, needless to say, that turned into them selling their house, purchasing this one and then building their gorgeous new dream home.
Are you ready for the after?
Isn't this absolutely stunning? I just love all the cottage details which are so crisp and beautiful.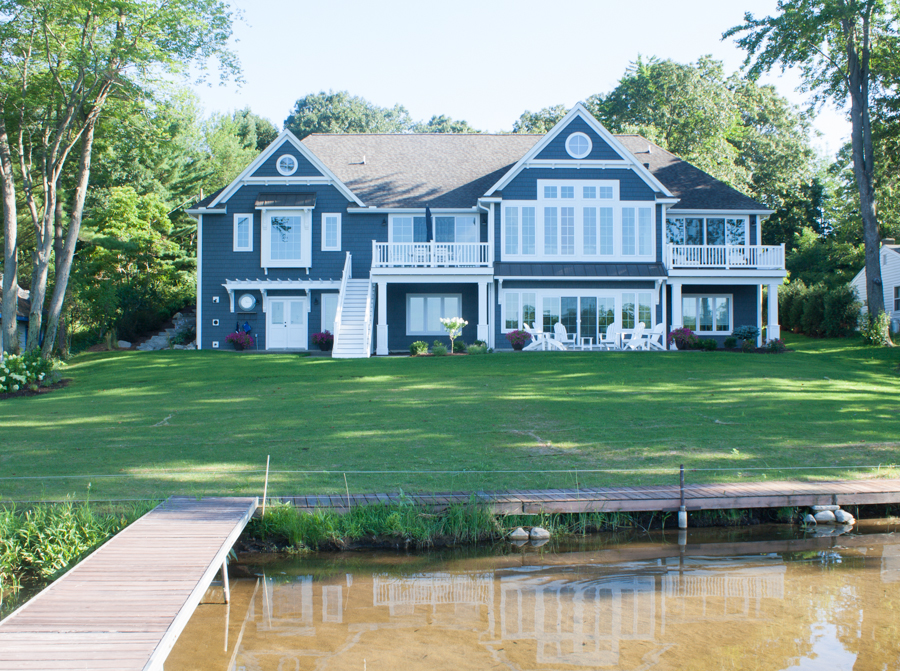 Can you even get over this gorgeous lake view?
They designed and excuted such a beautiful  and unique home, with drop dead views of the lake.
Shingle details and the color is spot on with white trim. I'm in love with it all!
Let's go inside, shall we?  The front entry is very welcoming.
And then there's the view from inside with that soaring white vaulted ceiling.
Pretty much the dreamiest house ever and the views are what makes it.
Fireplace view.
All open to a spacious and gorgeous kitchen.
Even though Kelly uses mostly neutrals, she has some color sprinkled throughout.  I love all the texture too.
That island color really pops.
One gorgeous kitchen!
I love how they used reclaimed wood around that breakfast nook banquette.
Such a pretty view.
And a happy little spot to eat breakfast.
Don't even get me started on the pantry, oh my gosh, I have major pantry envy!
Wouldn't this be a dream pantry?
The master bedroom takes advantage of the views as well.  Views for miles with so many windows on the back of the house.
Master bedroom is on the main level.
Master bath vanity.
A little jewel box of a powder room.
Equally striking laundry rom.
Her son's room is so cute with a nautical slant.
And her daughter's bathroom is so cute and girly.
Love that wallpaper and that vanity.
Downstairs is a big and spacious bonus room looking out to the lake.  More views!  And this area doesn't even feel like a basement, does it?
Love all the texture and the blues.
I hope you enjoyed Kelly's new house tour on her lake in Michigan, The Lily Pad Cottage. Kelly is trying to come up with a new name for this house, so I'm sure it will be fitting of the beautiful views they have out those gorgeous windows toward the lake.  And what a view it is!
Don't Miss a Post, join my list!