If you haven't met Jennifer yet, with The Old Painted Cottage, you are going to love her home and style. I met Jennifer pretty early on blogging and have always admired her distinct style and the way she renovated and put her home together.  From Southern California, she and her hubby bought a fixer upper house about 3 years ago and put their signature stamp on it, making it over from top to bottom, installing an Ikea kitchen (yay!) as well.  It's been fun to watch her journey online too and see how her home has evolved.  She's an antiques dealer and definitely has an experienced eye for it.
You're going to love the tour! She's no longer blogging, but enjoy this tour.
She calls her home Cottage 8, since they bid on and lost the previous 7 houses they were going for.  Number 8 was the winner and I love what Jennifer has done to it.
With her vintage and European style, Jennifer has transformed her home into a peaceful oasis for her family, using lots of 2nd hand finds and repurposing.
Her industrial coffee table is a rustic cart with weathered and worn wood.
A cloche holds some memorable mementos.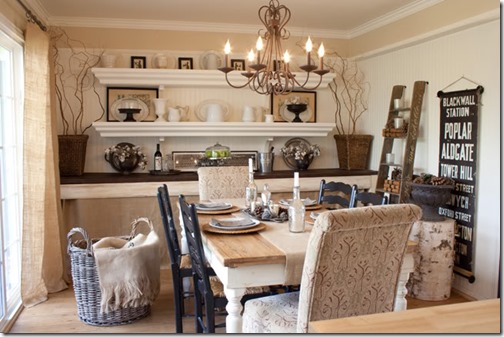 Jennifer's dining room wall is one that I've swooned over many times.  With beadboard to the ceiling and those free standing white shelves, this was one of the earliest open shelving features that I saw and loved in blogland.
Subway art and ladders for display.
Jennifer's kitchen was a true DIY project and she and her hubby tackled it with no prior experience.  They bought cabinets (just like I did) at Ikea and installed them and really made this a beautiful kitchen.
I love the Bakery sign and how open and airy her kitchen is now.  Isn't it beautiful.
The fridge was a DIY project she did several years ago (adding beadboard and hinges to the front) and she says it is holding up just fine.  Of course, I love their subway tile backsplash.
The Bakery sign up close.  Jennifer answers all the questions about her home renovation over at her blog too, so check it out if you want to know more, like sources and particulars.  Here is more on the kitchen reno.
Her use of burlap and natural elements is so soothing.
Don't you just love the mantel for a headboard?  With Jennifer's flair for finding treasures, she has made over her home on a budget, just the way we like to see it done.
Beautiful linens.
Jennifer's home, The Old Painted Cottage is truly a delight for the eyes.
Don't Miss a Post, join my list!